Microsoft Edge web browser in Windows 10 now lets you add a Home button to it. While some of you may not find any use for the Home button, there are others who like to have a Home button, visible on the browser interface. When you click on this Home button, it will open the page you set it to open – maybe even your favorite website.

Add Home button to Edge
Edge browser lets you show the Home button should you wish to. The procedure is quite simple. To show the Home button on your EDge (Chromium) browser, do the following:
Launch Microsoft Edge
Go to Settings
Customize browser Appearance
Enter a URL
Once you have configured the browser to show Home Button, it will open a 'New' tab page or a website you prefer in the current tab. See how to go about!
Launch Microsoft Edge browser, go to 'Settings and more' (visible as 3 dots) and select 'Settings' from the list of options displayed there.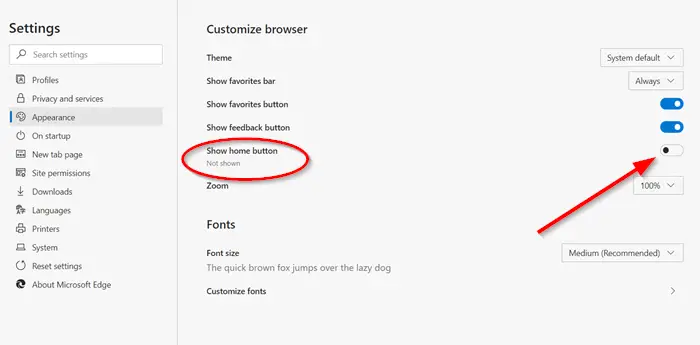 Now, from the 'Settings' panel visible on the left side, select 'Appearance' setting to customize the browser appearance.
Toggle the switch for 'Show home button' to 'On' position.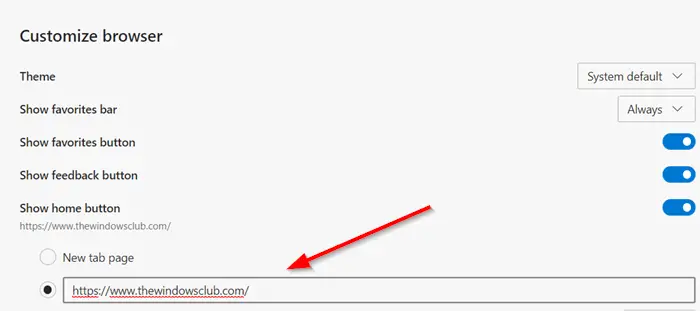 Then, in the 'Enter URL' field that appears, enter the address of a website.
Once enabled, the Home button will appear on the address bar.
Similarly, you can change or remove the Home button on the toolbar.
To remove the Home button, simply toggle the switch to Off position.
While this is an addition of one small feature, we hope Microsoft will continue adding more – especially context menu items like Search with, Paste & Search and so on.
Do let us know how you like using Edge browser. And go here if you want to take a look at some Edge browser tips and tricks.