Microsoft Edge seems to be smooth at working and many have started to replace Google Chrome on their computers with this browser. In this article, we will learn how to manage this Data Sync capability on the new Microsoft Edge browser.
How to sync Data on Microsoft Edge browser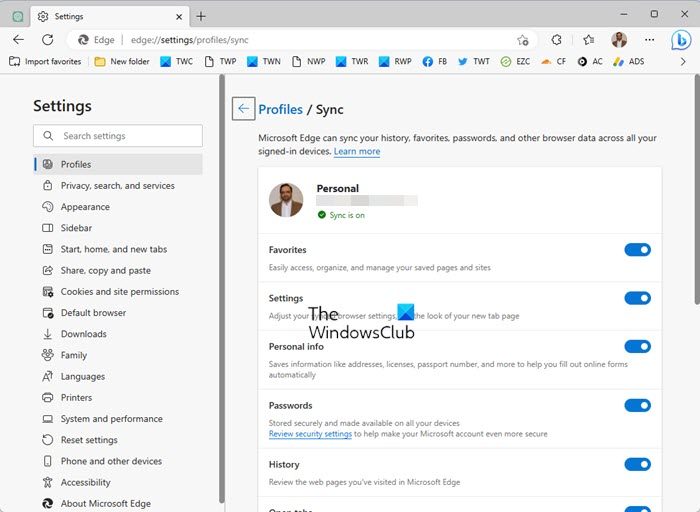 After signing in to your Microsoft account, you can sync Favorites, Extensions, History, Settings, Addresses, Phone numbers, Passwords, etc. in the Edge browser on Windows 11/10.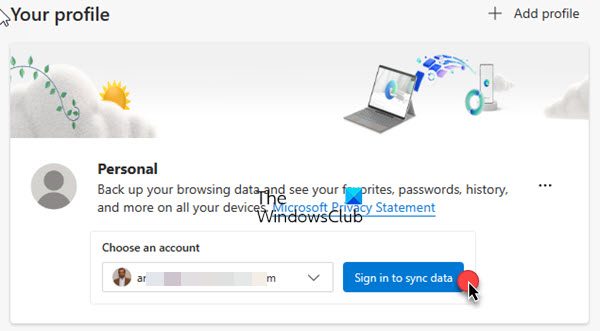 Click the 3 horizontal dots to access the drop-down menu on the top right corner and select Settings.
It will open a new page where you can manage your settings.
On the left side navigation panel, select Profiles.
On the right side panel, click on Sync, and you will find a list of items that you wish to sync.
You can either turn on or turn off the toggle for sync at once for every entry too.
Alternatively, you can simply copy-paste edge://settings/profiles/sync in your browser address bar and hit Enter to open the Sync page.
You will be able to sync the following items from your browser-
Favorites.
Extensions.
History.
Personal info
Collections
Apps
Payments
Settings.
Open tabs.
Addresses, phone numbers, and more.
Passwords.
You can individually select the toggle as per your choice as per the screenshot above.
Just close the tab for the changes to take effect.
Related: Fix Microsoft Edge sync issues on Windows 11
Do you use your new Microsoft Edge browser on multiple devices?