Microsoft's new browser, Edge on Windows 11/10, brings forth some new features. In this post, we're not going to focus on everything, but mainly on the New tab page, one that is similar to what Opera has done in the past. The New tab features allow users to change the way tabs behave when they are created, and what is shown. Folks can choose to only display a Blank tab, Top sites or Topsides, and suggested content.
Edge (Chromium) browser New Tab page
When you open the new Microsoft Edge browser, this is how it will look like.
At the top right side of the browser, you will see three dots. That is where you will find the settings, history, downloads, apps, and extensions. The keyboard shortcut is Alt+F. Click on Settings.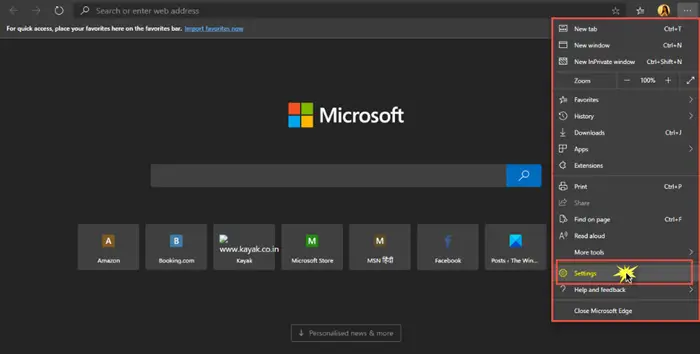 Next, click on New tab page.
Here, you will be able to configure Microsoft Edge New Tab page experience.
Click on the Customize button to the right.
As you can see, under Page Layout, you have four options – Focused, Inspirational, Informational, and Custom. Check out every layout to find out what suits you the best. Choose the desired option under change language and content.
Need more? Check out how to customize the new Microsoft Edge Browser in Windows 10.
Edge (Legacy) browser New tab page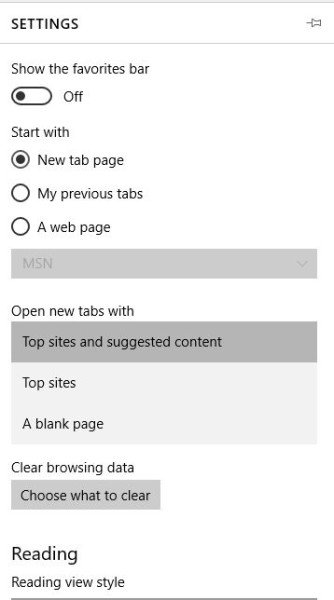 A Blank tab is the classic tab behavior, preferred by me, but considered by some to be too boring. Hence, the reason Top sites tab behavior was brought into play. When a user chooses top sites to be shown when a new tab is created, every time a new tab is open, it shows the websites most used. This makes it easier for Edge users to quickly get to their favorite websites without having to type in the URL bar or perform a Bing search.
Finally, there's the Top sites and suggested content feature. This one is similar to top sites, but it goes one step further. The tab shows the top sites along with suggested web content from MSN. It means if users want to get the most out of this tab, then they will require to have an active internet connection.
The question right now, is how does one gain access to these settings. Well, Microsoft has made it quite easy to understand. In fact, the configuration section on Edge is more simplified than Chrome and Firefox, and far more than Internet Explorer.
To get there, just click the "More action button" at the top right corner of the browser. Scroll down to the button that says, "Settings." Click on it, and then simply scroll down until the option that says, "Open new tab with" is in view. From there, users can change tab behavior to suit their needs.
I've been using Edge for quite some time now, and it is safe to say the new tab features work really well. However, the top sites and suggested content feature in my find is not very well done. Suggesting content is great, but Microsoft does not give users the option to customize and choose the type of content they would rather see.
You can also customize or turn off MSN News Feed in Edge browser Start Page.