Microsoft has launched the Edge browser (Chromium) for Android, and iOS. If you have downloaded this browser, and want to figure out what you can do with this, here are some tips and tricks that will help Android and iOS users get the best out of this browser.
Edge browser Tips and Tricks for Android & iOS
1] Change page layout
Like the PC version, the mobile version of Microsoft Edge also allows users to change the page layout so that people can get the most out of the new tab page. By default, it starts with Informational. However, it is possible to change it to something else so that it shows what you want to see.
To change the page layout in Microsoft Edge, you have to do the following. At first, open up the browser on your mobile and tap on the three horizontal lines visible on the top-right corner.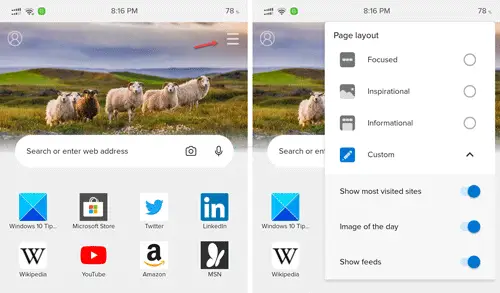 Following that, choose a different page layout – Focused, Inspirational, etc. If you select the Custom option, it allows you to show or hide a few things such as most visited sites, image of the day, and feeds.
2] Change default search engine
By default, Microsoft Edge uses Bing as the default search engine. If you do not like to use it and want to opt for Google or something else, here is what you should do. At first, tap on the three-dotted icon on the homepage and select the Settings option. Following that, find out the Search option, and tap on it.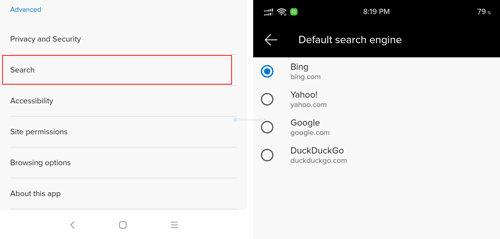 Here you can see an option called a Default search engine. If you tap on this option, you can select a new search engine as the default.
3] Set it as the default browser
If the pre-installed Chrome or Safari browser doesn't excite you and you want to change it as soon as possible, Microsoft Edge will be a good option. For that, the following steps need to be followed.
Tap on the three-dotted icon, and select the Settings option. In the Settings page, find out Set default browser option, and tap on it. Then, tap on the Change default apps button.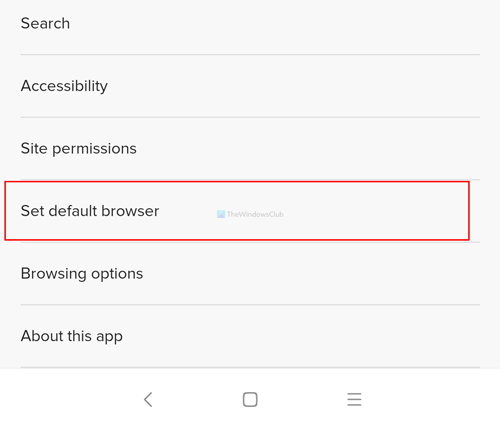 It opens your mobile's Settings page from where it is possible to set Microsoft Edge as the default browser. Tap on the Browser app option, and choose Edge from the list.
Read: How to close all open Tabs in Edge at once on Android and iOS.
4] Continue browsing
Some browsers allow users to close all browsing tabs on exit. If you want to obtain such a feature in Microsoft Edge, this functionality is for you.
By default, if you close the browser in the middle of a search when some tabs are opened, you can find the same when you re-open the browser. However, if you do not want to continue using that feature, you can close all opened tabs on exit. To enable this feature, go to Settings, and find out Browsing options > Continue browsing.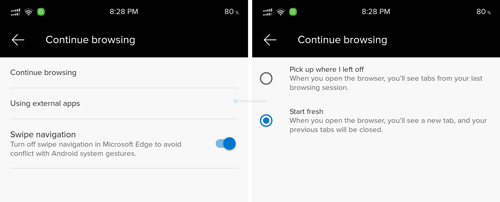 From here, select Start fresh option.
5] Manage saved passwords
Although it is not recommended to save passwords in the browser, many people often do that to speed up the sign-in process on a regular website. If you have done that already and you want to manage them from one place, you are in luck.
To manage saved passwords, open Settings, and visit the Saved passwords section. Here you can find all the saved passwords. Tap on any of them, to view or delete.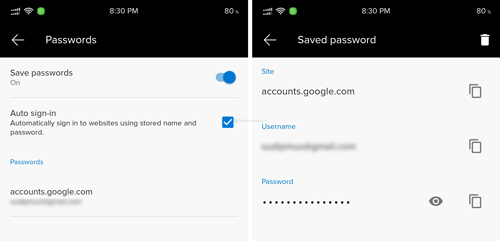 If you want to delete a saved password, you must enter the password/pin/fingerprint to verify.
6] Use Dark mode
By default, it shows your device's theme. In other words, if you are using a system-wide dark theme, Microsoft Edge will show the same.
However, if you want to use dark mode in the Microsoft Edge browser, here is what you will do. At first, open the Settings, and go to Appearance > Theme. From here, select the Dark option.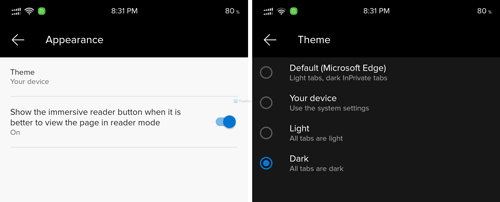 It doesn't require restarting the app as it affects the change immediately.
7] Use Reading mode
If you often read long articles on your favorite website, the reading mode might be a bliss for you. It blocks all the unnecessary elements of the webpage and shows only the article on your screen.
If you want to utilize this functionality, open a webpage in the browser, and tap on the "reading mode" icon in the address bar.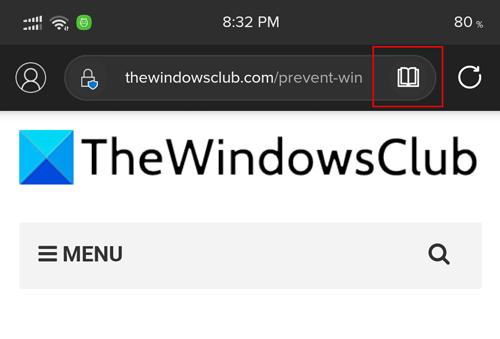 Now you can read your article without any distraction.
8] Enable Do Not Track
When you visit a website, the administrator can track various things, including browser information. However, if you want to share minimal information with the website owner, the Do Not Track feature can be handy for you. Like most of the other browsers for mobile as well as PC, Microsoft Edge also includes the same functionality. To turn it on, visit the Settings page, and go to Privacy and Security.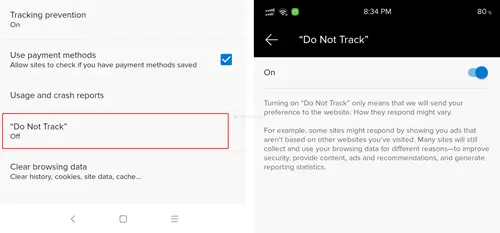 From here, tap on the Do Not Track option, and toggle the corresponding button to enable this feature.
These are some of the essential Microsoft Edge tips and tricks for Android and iOS that can help you get started.
Related read: Edge Browser Tips and Tricks for Windows 10.