Many a time, we close the Edge browser in a rush and forget that there were few critical pages which you should have bookmarked. While you can, it is difficult to get all of them. In this post, we will show how you can open the previous tabs that you had open when you last closed Microsoft Edge. It will make sure you start exactly from where you left.
Make Microsoft Edge launch with Previous Tabs opened
You can use either of the methods to make sure Edge opens with previous sessions, which you close every time.
Use Edge Settings
Group Policy
Both the settings have the same effect, but later is useful when you want to deploy it to multiple computers.
1] Use Edge Settings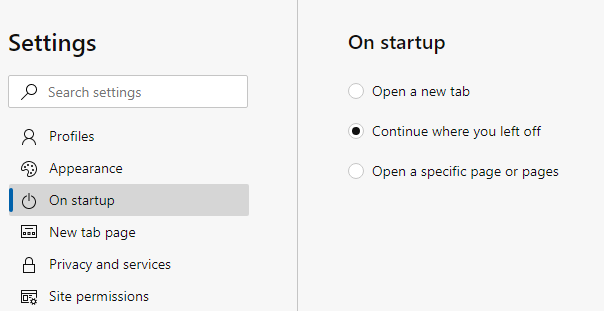 To make Edge browser open with all the previous tabs opened:
Open Edge, and click on the three-dot on the top left
Then click Settings
Switch on Startup, and select the radio button which says — Continue where you left off.
Exit.
The next time you launch Edge, it will work as expected.
2] Group Policy Configuration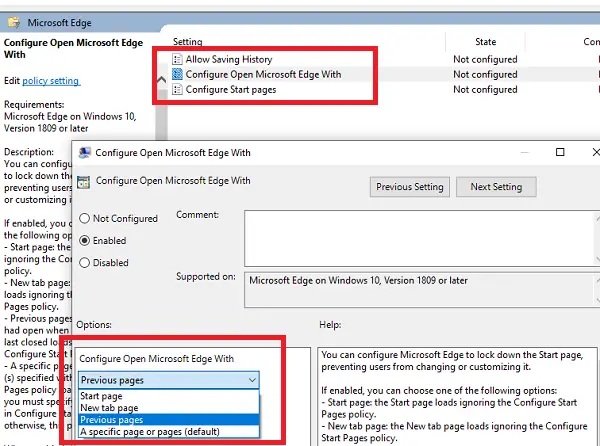 Open Group Policy Editor by typing gpedit.msc in the Run prompt followed by the Enter key
Navigate to Computer Configuration > Administrative Templates > Windows Components > Microsoft Edge
Locate "Configure Open Microsoft Edge with" policy, and double click to open it
Click on Enabled and then choose Previous pages from the dropdown.
You can also change the following:
Start page: the Start page loads ignoring the Configure Start Pages policy.
New tab page: the New tab page loads ignoring the Configure Start Pages policy.
A specific page or pages: the URL(s) specified with Configure Start Pages policy load.
There are two more policies you can configure along with it. One is Disable Lockdown of Start Pages, which makes sure Start pages configured in the Configure Start Pages policy cannot be changed and remain locked down. The second is to Configure Start Pages where you can set default start pages.
How to keep Microsoft Edge from reopening the previous tabs
If you wish to keep Microsoft Edge from reopening the previous tabs then in Edge settings you have to select the Open a new tab on startup option.
We hope the tutorial was easy to understand, and you were able to start Microsoft Edge open with previous tabs.