Microsoft Edge browser lets you remember and manage passwords in Windows 10. Although the feature is pretty basic, it is good enough and meets the purpose. Like most browsers, Edge also supports Form-fill. This feature remembers your oft-filled information and offers to fill the web forms automatically for you. This post has now been updated for the new Microsoft Edge (Chromium) browser.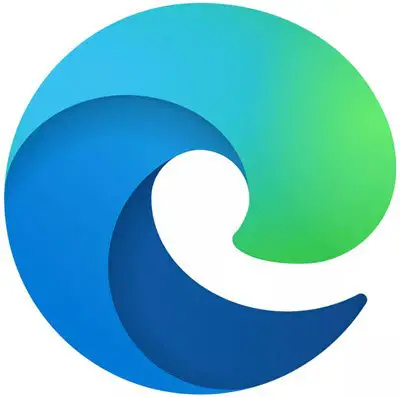 Enable Passwords & Form-fill in Microsoft Edge
To enable Passwords and Form-fill and manage saved passwords:
Launch Edge browser
Go to Settings
Enable Offer to save passwords' option
Edit or remove passwords here.
Read the instructions below for more details.
Open Edge Settings
Launch Edge browser
Go to 'Settings and more' option (visible as 3 dots) and choose 'Settings' option.
Alternatively, you can enter this in the address bar, and hit the Enter button to access these password settings.
edge://settings/profiles
Read: Microsoft Edge keeps deleting saved passwords
Enable 'Offer to save passwords' option in Edge
Next, select 'Passwords' option under your profile.
Here you can find four options: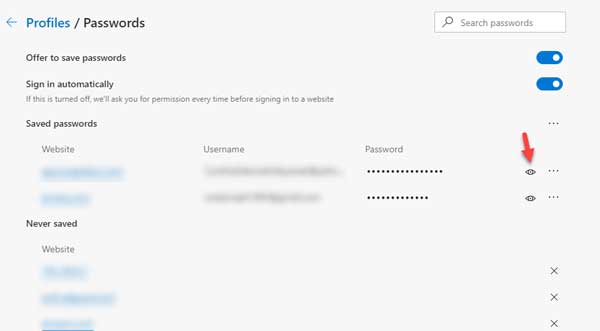 Offer to save passwords: If you disable this option, your browser won't show the Save passwords message that appears after you enter a username and password on a website.
Sign in automatically
Saved passwords: It shows all the saved passwords.
Never saved.

Simply toggle the slider fo 'Offer to save passwords' to 'On' position to enable passwords & Form-fill in the browser.
Read: Edge not remembering passwords.
Edit or remove passwords in Edge
If you wish to manage the passwords, just below 'Offer to save passwords' section, you'll see 'Saved Passwords' panel. Here you will see the list of websites for which Edge has saved your login username and passwords.
To edit it or remove passwords saved for a website, click on the 'More Actions' menu (visible as 3 dots)  sign on the right side.

Then, to remove it, either select 'Delete' option.
To edit the same, choose 'Details'.
Note: In recent versions of Edge, you may now directly see the Edit password link.
Then, in the 'Saved password details' window that opens (displaying the website URL, the username and password) change it as desired.
The password will not be visible but will be represented by dots.
To view the password, you have to click on the eye-shaped icon.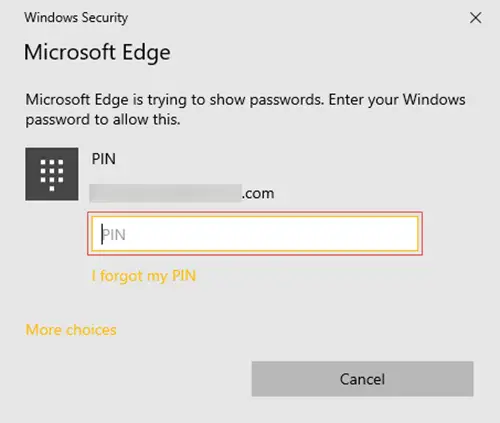 A Windows Security pop-up will open wherein you have to enter your Windows password or PIN to view your password.
That's all there to it! This way you can easily enable Passwords & Form-fill in Edge and manage it to your liking.
If you need a feature-rich password management tool, you may check out some of these free password manager software or online password managers.
Related reads: