In this post, we will see how to manage and view saved passwords in Google Chrome web browser. Chrome will save your login usernames and passwords for the various websites you visit. When you save them, it will automatically complete the sign-in fields for you the next time you visit the websites. Earlier, we have seen how we can how to manage Saved Passwords in Firefox and in Internet Explorer– now let us see how to do it in Chrome.
Manage passwords in Chrome
Open your Chrome browser and from the top right Chrome menu button, select Settings to open the following panel.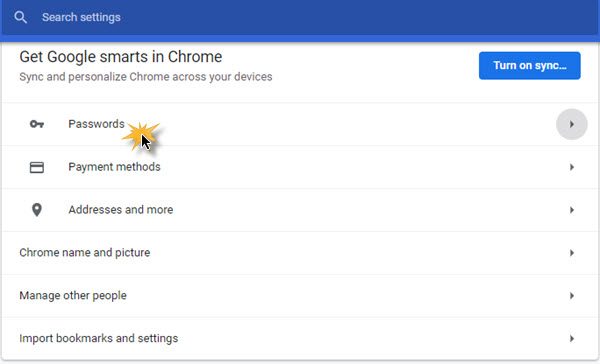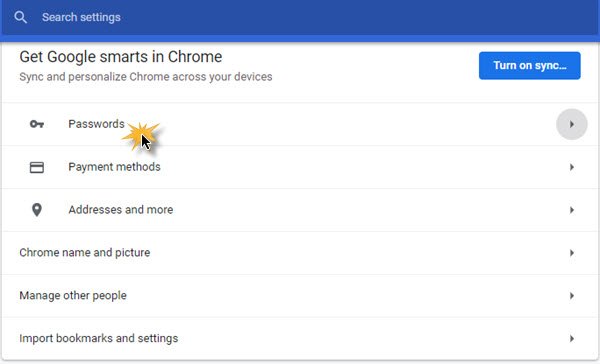 Select Passwords to open the following panel.
Here you can turn off or on the feature to save Passwords, by toggling the Offer to save passwords switch.
You will also see a list of all the websites, usernames and the passwords that Chrome browser has saved for you.
To export your passwords, click on the vertical 3 lines against Saved passwords and a small flyer will pop out. Clicking on Export passwords will save the passwords list in the .csv format.
You will be asked to enter your Windows login credentials.
If you wish to remove the password or edit the details of any saved password, click on the vertical 3 lines against that particular password and a small flyer will pop out.
To remove the saved password, select Remove.
To edit the password details, select Details.
You will be asked to enter your Windows login credentials before you can proceed to edit the details.
When Chrome offered to save a password, if you clicked Never for that site, your password will not be saved, and the site will be added to a list of passwords that are never saved.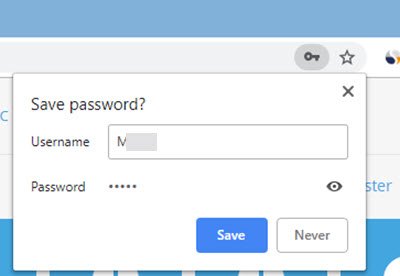 You can also remove any URLs you have saved in the Never Saved list.
If you wish, you can sync the passwords to your Google Account, so that they are available on other computers you're using. For this, you will have to be signed in, into your Google account. If you decide to sync Chrome settings with your Google account, you will also be able to view, manage & edit the saved passwords in your Google Account by clicking on the link given in the Passwords panel.
Not many of you may know this. Google Chrome browser includes a built-in Password Generator, which can generate complex passwords for you. Go check out the built-in Chrome Password Generator … or perhaps you wish to use our freeware PassBox, or other desktop password manager or online password managers, to generate or save your passwords.