Opera web browser includes a built-in password manager that will save your username, password, and online forms which may be required for logging into websites. We have already seen how to manage passwords in Chrome. Now let us see how we can see and manage saved passwords in Opera in Windows.
Manage saved passwords in Opera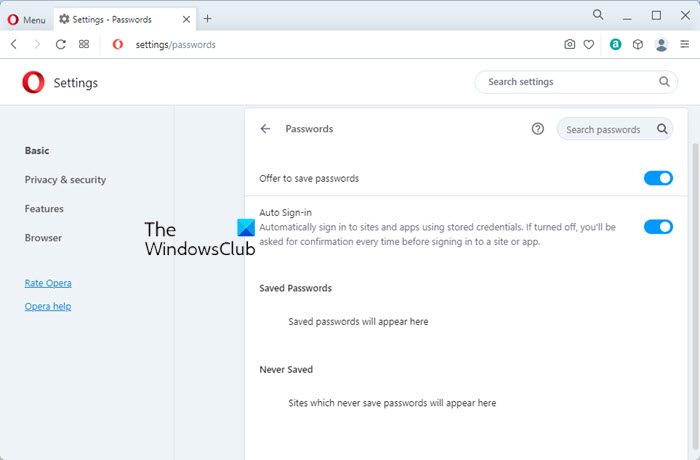 To do it, open your Opera web browser and from the Options button in the top-left corner, select Settings. Next click on Privacy & security link from the left panel.
or you can simply type opera://settings/passwords in the Opera address bar and hit Enter.
If the Offer to save passwords I enter on the web option is checked, Opera will save all your credentials.
To view the passwords, click on Manage saved passwords. You will a list of all your saved passwords. The passwords will be hidden by asterisk marks. To see them, click on the Show link.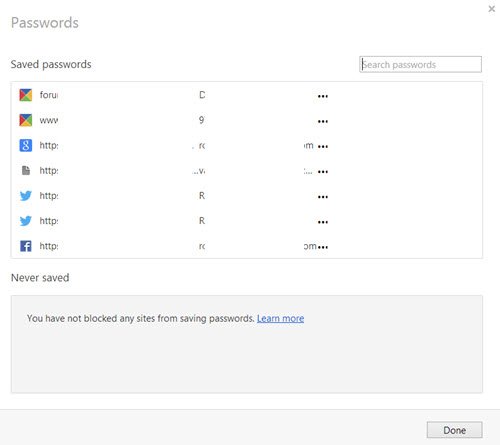 Opera will ask you to enter your Windows login password. This is good security measure added by Opera, recently.
Once you enter it, you will be shown the password.
Here you manage and delete the saved passwords by clicking on 'x'. When Opera offered to save a password, if you clicked one 'never', your password will not be saved and the site will be added to a list of Never saved passwords. You can also remove any URLs you have saved in this list Once you have finished, click on the Done button.
How to view saved passwords in Opera?
To view saved passwords in the Opera browser on Windows 11/10, you need to follow the guide mentioned above. That said, you need to open the browser, click on the three-dotted icon, and select the Go to full browser settings option. Expand the Advanced section and click on the Privacy & security menu. Following that, scroll down and click on the Passwords option. Here you can find all the saved passwords. You need to select a password and click on the reveal button to view the password.
Although Opera saves the passwords in an encrypted form, if you do not wish to use the built-in password manager on Opera, you can check out some desktop password managers or online password managers to save your passwords.