Microsoft Edge (Chromium) allows the installation of extensions but to install browser extensions in Edge, you have to visit the Windows Store. There can be instances where you might want to install extensions not from Windows Store but elsewhere. Edge browser supports this capability.
Also, if you are a developer and would like to test new extensions you'll have to sideload Edge browser extension from outside the Windows Store. However, you'll be required to enable extension developer features. Microsoft Edge allows sideloading (installation and running unverified extensions). Microsoft WebDriver supports the automated side loading of extensions in Microsoft Edge sessions.  WebDriver is a platform and language-neutral interface that enables developers to create automated tests.
Install & enable Edge extension from outside Windows Store
Although Edge allows installing extensions from outside Microsoft Store, it does not prefer them. A message bearing the following description confirms it – Want to enhance your browser experience? Try adding extensions from the Microsoft Store.
1] Sideload Edge browser extension from outside Windows Store
Open Microsoft Edge and type 'about:flags' into the address bar.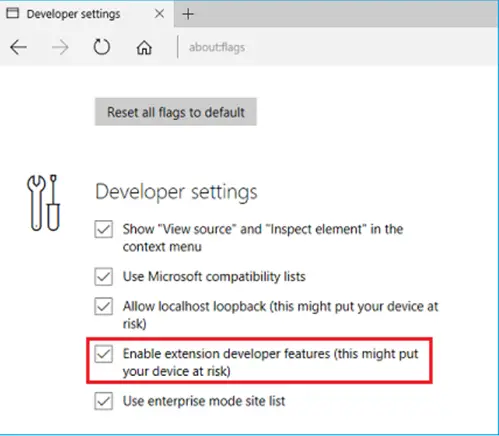 Select the 'Enable extension developer features' checkbox.
Go to 'Settings and more' menu(…) to open it.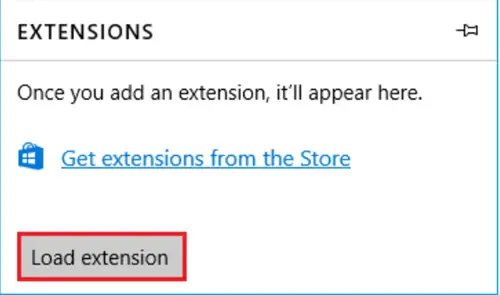 Select 'Extensions' from the menu and hit the 'Load extension' button.
Navigate to your extension's folder and choose the 'Select folder' button.
You should now see the extension listed in Microsoft Edge's extension pane.
2] Install Edge browser Extensions from Chrome Web Store
Go Settings and more' menu(…).
Select 'Extensions' .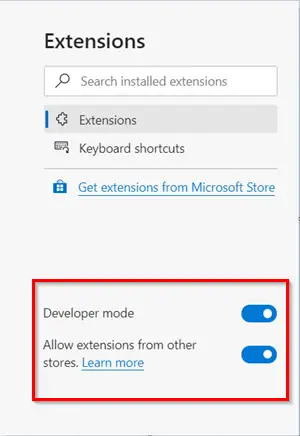 Here, you will find 2 options visible at the bottom-
Developer mode
Allow extensions from other store

Enable the second option by toggling the switch. Then, to add an extension, simply search for the extension and hit 'Add to Chrome' button.

When prompted, click 'Add extension'.
The extensions should be installed without any problem. It is important that you load extensions only from sources that you trust completely, lest you end up compromising your Windows computer.
Once you have selected and loaded the extension, restart your Edge browser again.
Want to learn how to SideLoad apps on Windows 10 PC or add Search with Google to Edge context menu?