If your computer has become slow and the Task Manager shows high CPU and Memory usage by SetupHost.exe, you should check out this article. Here are some suggestions to troubleshoot high CPU or memory consumption by Modern Setup Host on Windows 11/10 PC.
What is Modern Setup Host (SetupHost.exe)

Modern Setup Host is an executable file (.exe file) found in the $Windows.~BT folder inside your system drive. This program runs in the background with the user's permission when a user upgrades his/her PC to Windows 10 or from one build to another build of Windows 11/10.
It should stop the process automatically after completing the upgrade/update. However, if it is running and working as a resource-hogging program, you can follow these suggestions to get rid of it.
Modern Setup Host high CPU or Memory usage
To fix Modern Setup Host high CPU or Memory usage error, follow these troubleshooting suggestions-
Close the process using Task Manager
Disable Windows Update Service temporarily
Clear SoftwareDistribution folder
troubleshoot in Clean Boot State
Run Windows Update Troubleshooter
Before you begin, restart your computer and see that sometimes, a simple restart can fix many problems.
1] Close the Modern Setup Host process using the Task Manager
Although the Modern Setup Host program is integrated with the Windows Update, you can close it from the Task Manager. This is probably the easiest way to eliminate this resource-eating process. As the Task Manager is already showing the Modern Setup Host program in the Processes tab, you do not need to spend much time to find it. Open the Task Manager on your computer, select the program, and click the End task button.
2] Disable Windows Update Service temporarily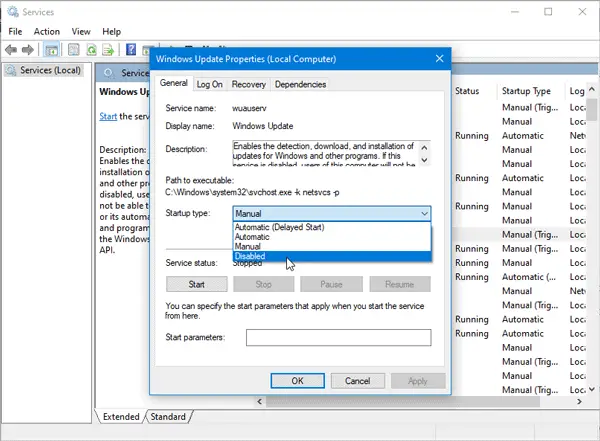 As mentioned earlier, this program is connected to Windows Update and upgrade. Therefore, if you have already installed the update and you do not need it anymore, you can temporarily turn off the Windows Update and check if it solves the issue.
It is possible to disable Windows Update computer as you can use the Windows Service Manager to get it done. Alternatively, you can use a third-party tool called Windows Update Blocker to disable Windows Update instantly.
Please remember to re-enable Windows Update after maybe a few days so that you continue to get security and performance updates.
3] Clear SoftwareDistribution folder
The SoftwareDistribution folder stores all the Windows Update-related temporary files. You should clear this folder if the Modern Setup Host creates issues while running. To remove the content, you must run some commands in Command Prompt. You should follow this tutorial to delete the contents of the SoftwareDistribution folder.
4] Troubleshoot in Clean Boot State

As this problem mainly occurs in the beta version of Windows 10 (Windows Insider Program), it might also be a bug. It can appear due to a driver or software compatibility too. Perform Cleat Boot and see – maybe it will help you understand the situation better.
5] Run Windows Update Troubleshooter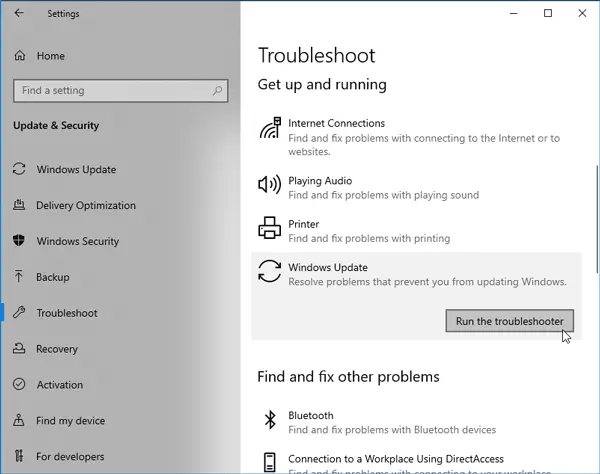 Windows Update Troubleshooter can fix typical Windows update-related problems within moments. Therefore, it is recommended to run it on your Windows computer. All the troubleshooters can be found in the Windows Settings panel. So open the Troubleshooter page in windows 10, and select the Windows Update Troubleshooter option. Then click the Run the troubleshooter button, and follow the screen instructions.
TIP: See this post if the Modern Setup Host has stopped working.
Is Modern setup host needed in Windows?
Modern setup host is a process used in some Windows versions to perform various tasks related to system configuration and installation. It is typically used during the installation of Windows to manage the installation process, and it may also be used to perform other tasks, such as updating the operating system or managing system settings. In most cases, a modern setup host is a necessary part of the Windows operating system and should not be removed. However, suppose you are experiencing problems with the modern setup host process. In that case, you may be able to resolve the issue by restarting your computer or by using the Task Manager to end the process.
Posts about processes using high resources: