If you observe that without making any changes, your laptop slows down to a crawl, and your CPU usage exceeds a high figure of up to even 100% then you need to investigate the Windows processes running on your computer. One of them, vssvc.exe is also known to cause high Disk or CPU usage.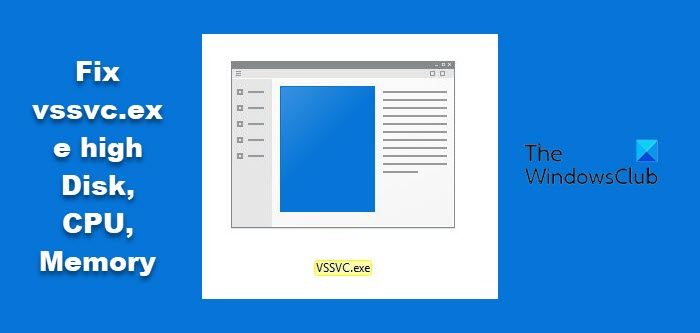 What is vssvc.exe?
The .exe extension on a filename indicates an executable file. Executable files may, in some cases, be malware, and malware is known to take the names of other legit files. So in this case the first thing you need to do is search for and locate the vssvc.exe file using Start search. If it is found in the System32 folder and its Properties indicate that is a Microsoft Volume Shadow Copy Service file then it is the legit Microsoft process. But if it is found in any other folder location, it could well be malware.
Fix vssvc.exe high Disk, CPU, Memory usage
The Volume Shadow Copy Service manages and implements Volume Shadow Copies used for backup and other purposes. If this service is stopped, shadow copies will be unavailable for backup and the backup may fail. If this service is disabled, any services that explicitly depend on it will fail to start. VSS helps back up your system drive. Moreover, disabling this Service could make some applications lose their functionalities.
Volume Shadow Copy Service (VSS) does not normally consume much resources, but if you are facing a vssvc.exe high disk usage issues, try these suggestions.
1] Re-enable System Restore
Disable System Restore and then re-enable System Restore and see if it helps.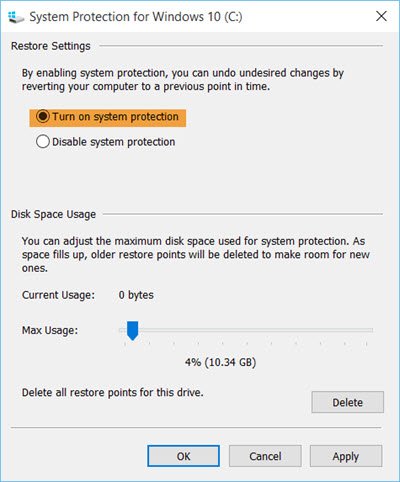 You will be able to do it via Control Panel > System > System Protection.
2] Check Volume Shadow Copy Service status
Type, services.msc in Start search box and hit Enter to open the Windows Services Manager. Locate Volume Shadow Copy Service, and then double-click on it to open its Properties box. Stop the Service and then Start it again. Or else right-click on it and select Restart.
If this does not help, then as a temporary measure, you could Stop this Service if it is interfering with your work.
You may also use the Task Manager to end this Task.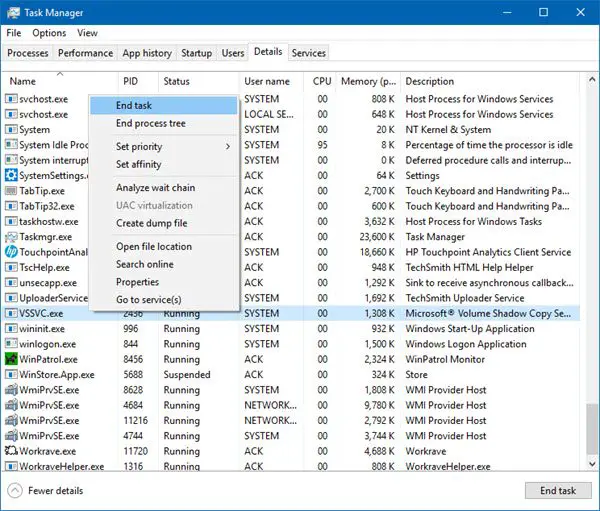 If you do not use the System Restore feature or the Volume Shadow Copy feature, you may choose to disable this Service.
3] Run System File Checker
Run System File Checker to replace a possibly corrupted vssvc.exe file.
4] Run the Performance Troubleshooter
Open an elevated Command Prompt, type the following and hit Enter to run the Performance Troubleshooter.
msdt.exe /id PerformanceDiagnostic
This troubleshooter helps the user adjust settings to improve operating system speed and performance. Here are more suggestions that can help you troubleshoot Performance issues.
5] Reset Windows 11/10
If nothing helps, you may want to consider using the Refresh Windows Tool to reset Windows 10.
This post has some generic suggestions that could help you fix 100% Disk Usage in Windows 11/10.