System Restore is different from System Backup. It captures resident programs, their settings, and Windows Registry as an image and backs up a few things that are necessary to reconstruct the system drive to the point – if you opt to go back. By default, System Restore is enabled on all Windows operating systems, including Windows 11 and Windows 10. But some users who upgraded their computers are reporting that their System Restore feature was turned off.
When you try to run System Restore, you may see a message:
You must enable system protection on this drive
It is therefore imperative that all users check if System Restore is enabled on their systems and if not to turn it on. This post will show you how to turn on and enable System Restore in Windows 11/10.
Turn On System Restore in Windows 11/10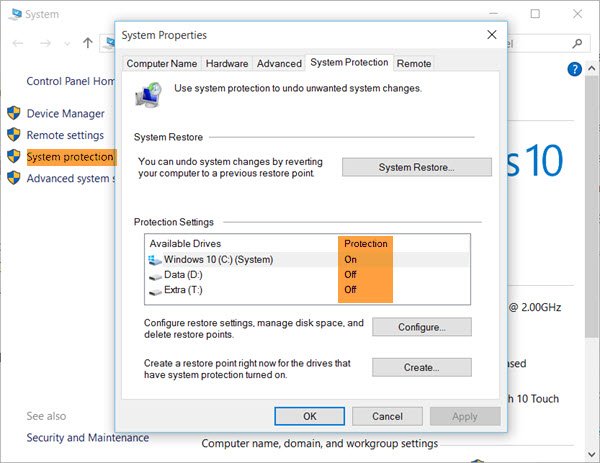 To check if your System Restore has been disabled or not, type Control Panel in Start Search and hit Enter to open it. Click on System to open Control Panel's System applet.
In the left pane, you will see System protection. Click on it to open System Properties. Under System Protection tab, you will see the Protection Settings.
Ensure that Protection is set to 'On' for the System drive.
If not, select the System Drive or C Drive and press the Configure button. The following box will open.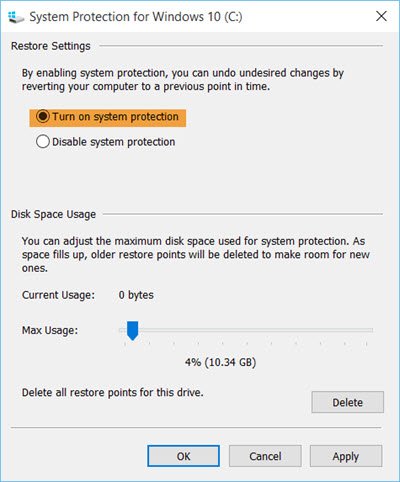 Select Turn on system protection and click on Apply.
That's it! You will have enabled System Restore on Windows 11/10/8/7.
Having done this, you will want to immediately create a system restore point first. Do that and check if it has been created.
Turn on System Protection is greyed out or missing
If the Turn on System Protection option is greyed out or missing on your Windows computer, maybe System Restore is disabled by your system administrator.
You may also use the Enable-ComputerRestore cmdlet. It turns on the System Restore feature. So run the following command in an elevated PowerShell window:
PS C:\> Enable-ComputerRestore -Drive "C:\"
This command enables System Restore on the C: drive of the local computer.
If System Restore is not working and system restore points are not created, you may want to open Run box from the WinX menu, type services.msc to open the Services Manager and ensure that the Volume Shadow Copy & Task Scheduler & Microsoft Software Shadow Copy Provider Service is Running and set to Automatic.

Using system protection on a drive that contains system image backups will cause other shadow copies to be deleted faster than normal
If you see this message after you turn on System restore, then you need to know this.
System protection (System restore) uses a reserved space to backup file versions for every Restore point. Now as this reserved space starts filling up, older versions start getting deleted. Now if you have configured your Windows Backup to save System Image Backups to this drive, then because these image backups take up large disk space, the other file backups (shadow copies) will start getting deleted faster. If this is your case, then Windows warns you about this.
So in this case, you can let the reserved disk space settings remain as it is knowing that the shadow copies will get deleted faster or you may increase the Reserved Space allotted to System protection.