One of the problems some users are reporting on Microsoft Answers & Reddit is that they have encountered a Modern Setup Host has stopped working error while upgrading to Windows 11/10, using the Windows 10 Media Creation Tool. While Microsoft has not responded with a proper fix, scanning through Answers & Reddit, threw up several ideas that could work. See if any of them work for you.
Modern Setup Host has stopped working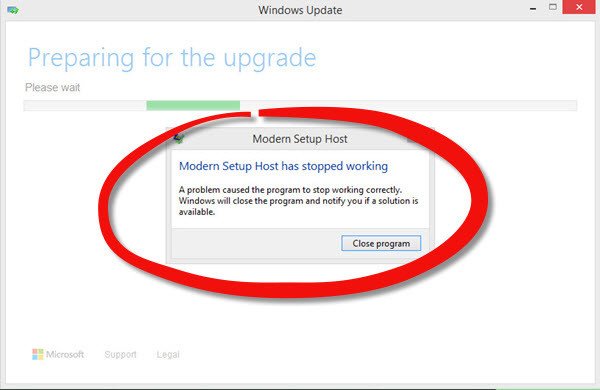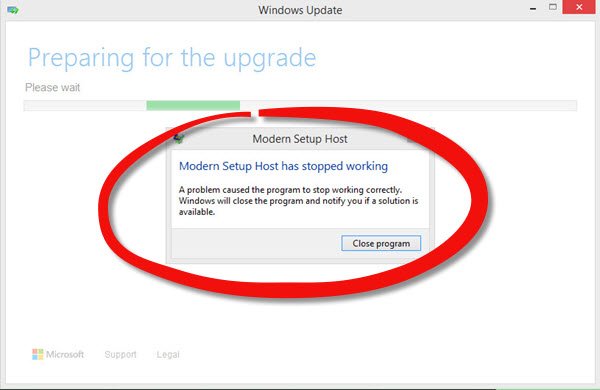 Modern Setup Host or SetupHost.exe is is a self-extracting archive and installer, located in C:\$Windows.~BT\Sources\ folder, which runs as a scheduled task every time a user logs in, to execute a process with the local user's privileges within the context of its parent windowsstoresetupbox.exe. It is required when you are running the setup to upgrade your PC to Windows 10. If it fails for some reason, you see this error, and the upgrade process aborts.
A few precautions you could take first. If you have installed any 3rd party antivirus or firewall sofware, disable it. Disconnect all the unnecessary external devices connected to the computer. Some are reporting that a Low Disk Space can cause this problem. So ensure you have sufficient Disk Space of at least 20GB. Having done this, go through the list and see what could suit your system the best.
1]  Boot in Clean Boot State
Perform a Clean Boot and see if you are now able to carry out the installation.
2] Change Language
Others have said that changing Language helped. So change Language to English (United States) and set  a match Windows display language, including System Locale to English (United States). See if this works for you.
3] Clear the SoftwareDistribution folder contents
From the WinX Menu, select Run. Type the following path and hit Enter:
C:\Windows\SoftwareDistribution\Download
Now Select all the contents and delete everything in this folder.
Next, from the WiX Menu, click on Command Prompt (Admin), type the following command and hit Enter:
wuauclt.exe /updatenow
This will clear the SoftwareDistribution folder contents.
Restart your computer and start the upgrade process again.
4] Repair-Upgrade
Ben Wil has suggested the following solution. Download and run the Windows Media Creation tool. Let it download and verify the download. Once this process is completed, close the tool and pressWinKey+R to open the Run box.
Paste this path and hit Enter:
C:\$Windows.~WS\Sources\Windows\sources\setupprep.exe
Your installation should begin and the upgrade should complete successfully.
Please do let us know if anything here helps you.
If you are facing other issues, this post will help you troubleshoot Windows 10 Installation or Upgrade Errors.