The Windows Task Manager, a watchdog for Windows processes helps you find processes that may be consuming high computer resources like high Disk usage, CPU, Memory, etc. In this post we will see what is Spooler SubSystem App & why does it at times give high CPU usage problems.
Spooler SubSystem App (spoolsv.exe)
Sometimes, upon launching the Task Manager service, you may discover that the Spooler SubSystem App uses more than half of the CPU and over a gigabyte of memory. So what is the Spooler System app in particular and why it is running on your PC? We'll find answers to these questions in a while.
Spooler SubSystem App is a process that helps a user manage his printer and fax systems. Whenever a program sends a document to the printer, the spooler subsystem app adds it to the print queue. The Print Spooler service saves these print jobs in memory and sends them to the printer one by one when the printer is available. It only requires internet access if you're using the printer on your network.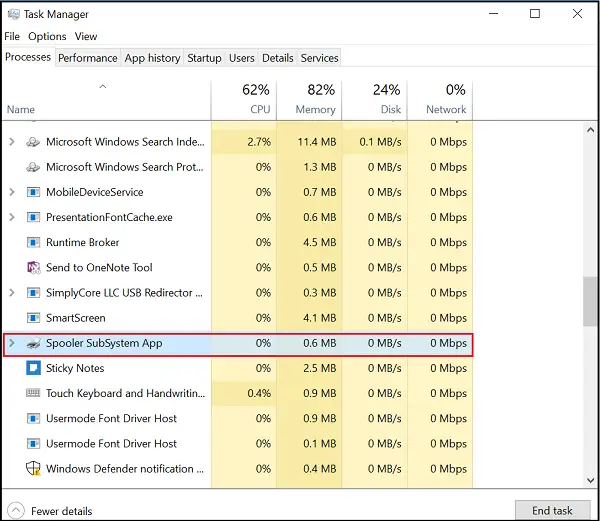 In normal situations, the entire process proceeds as usual (as seen in the screenshot above) and shouldn't use many of your computer's resources. It will only use some CPU resources when printing, and that's acceptable. However, at other times, there can be a significant amount of  CPU resource usage by the spoolsv.exe process. This is likely to occur when there's an issue with the Windows printing system. The possible scenarios could include a print queue that is full of tasks or a wrongly configured printer.
Read: Spooler subsystem app has encountered an error and needs to close.
Spooler SubSystem App high CPU usage
The first thing you want to do is to run the Printer Troubleshooter and see if it helps you.
If it doe not, open the Control Panel. In the Control Panel double-click the Administrative Tools and then Services.
Within Services locate Print Spooler and right-click it and select Stop.
Once this process has been stopped, leave the Service Manager window open and Windows File Explorer and browse to the below folder.
C:\Windows\System32\spool\PRINTERS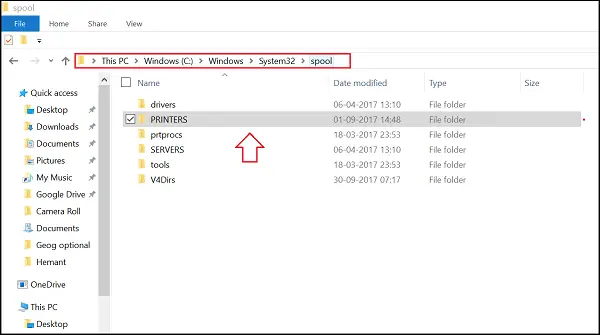 In this folder delete all the files in the PRINTERS folder to clear possibly jammed print jobs. Once these have been deleted, you can right-click the Print Spooler in the Services window and click Start to re-enable the service.
If this does not resolve your issue it's likely you have an issue with the printer drivers you have installed for your printers. Manually update the Driver and make sure you have the latest printer drivers for your printer.
Trust this works for you!
Is Spooler SubSystem app a virus?
If the spoolsv.exe process is located in the System32 folder then it is not a virus but the legit Windows OS file. If located elsewhere, it could well be malware and you need to run an antivirus scan.
Other posts about processes using high resources: