The variety of problems some users who upgraded to Windows 11/10, is truly astounding. While the upgrade went smoothly for me on all my devices, several users have been facing a plethora of Windows 10 problems. While Microsoft has been quick to release several automated solutions to fix Windows 10 issues, the frustration among some who still face issues is understandable. There is one set of users who are facing Printer problems after upgrading from Windows 8.1 or Windows 7 to Windows 11/10. Some are reporting that the Printer is not being detected or recognized, the Printer is disconnecting, the Printer cannot scan or print, the Printer or Scan is busy or in use and the Printer is offline kind of messages.
Microsoft has updated and released its Printer Troubleshooter to specifically fix issues being faced by users in Windows 11/10.
Printer Troubleshooter for Windows 11/10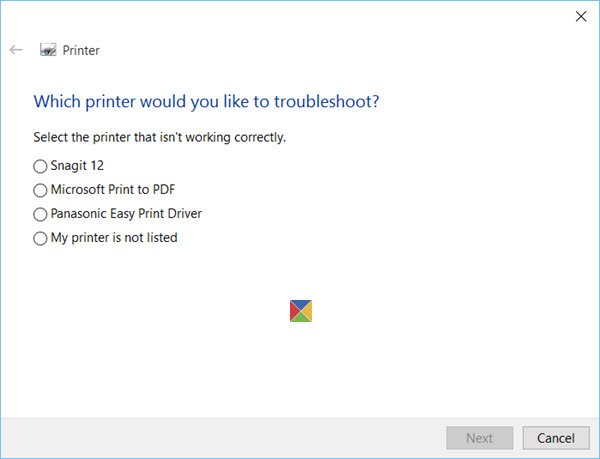 This Printer troubleshooter will check if:
You have the latest Printer drivers, and fix and or update them
If you have connectivity issues
If the Print Spooler and required Services are running fine
Any other Printer related issues.
Read: How to reset Printer to default factory settings.
What this Troubleshooter fixes:
You are unable to install a printer, connect to a printer, or print more than one job at a time
You receive an error indicating your Print Spooler service is experiencing problems
You receive an error indicating your <PRINTERNAME> is not the default printer
You receive an error indicating: <PRINTERNAME> cannot be contacted over the network
Identify if your printer is turned off
Identify if your printer toner is low or empty causing your print job to appear faint or it does not print at all
Identify if your printer paper is low or empty
Identify if the printer has a paper jam which is preventing it from operating normally
Identify if a print job that is in the print queue is preventing other print jobs from printing
Identify if you need to update your print driver
You receive an error stating that your Plug and Play printer %PRINTERNAME% has encountered a driver problem
To bring up the built-in Printer Troubleshooter, open Run box, type the following and hit Enter:
msdt.exe /id PrinterDiagnostic
Once you have opened the Troubleshooter from Microsoft, connect your Printer and run it. Next, select the Printer and move forward. Once the run is completed and problems detected, it will offer to fix the problems for you.
Read: Printer not printing in color on Windows 11/10.
Cannot print in Windows 11/10
If this does not help and you are still facing problems, your printer may need a new driver. To do this, open  Start, enter Devices and Printers and select it.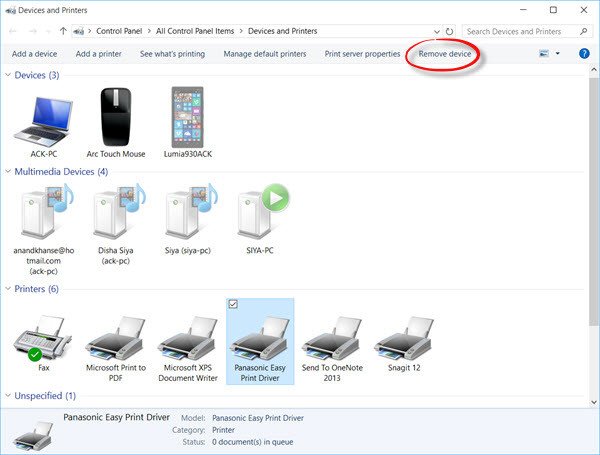 Select your Printer. Then select Remove device from the top of the window.
Now if Windows doesn't automatically find a new driver, search on the device manufacturer's website and follow their download and installation instructions.
Tip: The Touch Keyboard Troubleshooter from Microsoft will help you fix problems with the Touch keyboard.
Other posts that will help you fix printer-related issues: