When you go on to print any documents or images, after clicking on Print, you find that Send to OneNote, Send Fax, Send to SnagIt, Send to Microsoft XPS Document Writer, Save As dialogue box is opened, then you may have to set your default printer.
Print command causes Save As, Send to OneNote, etc to open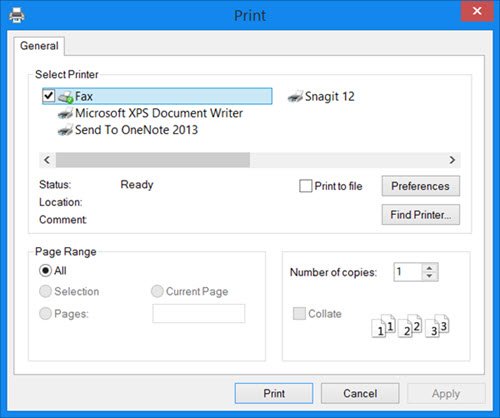 When you normally want to print anything, from the File menu, you select Print. You expect the Print dialogue box to open. But instead, you may get a Print box with some other option pre-selected, like Fax, OneNote, XPS document printer, and so on. You have to manually change the option every time, which can be quite irritating. For Office documents, you may find that a Send to OneNote, Send Fax, Send to SnagIt, Send to Microsoft XPS Document Writer dialogue box is opened. This can be quite irritating.
This happens because other software, like OneNote for example, comes with small print drivers that can direct output from a computer to the printer. But what happens is that such print drivers may override your default printer settings and make every print job send to itself. This could also happen if when you installed such software, you had not installed any physical printer on your Windows computer.
To resolve this issue, you will have to set your printer as the default printing device.
Set default printer in Windows 11/10
Do the following to set your physical printer as the default.
Open Control Panel > Hardware and Sounds > Devices and Printers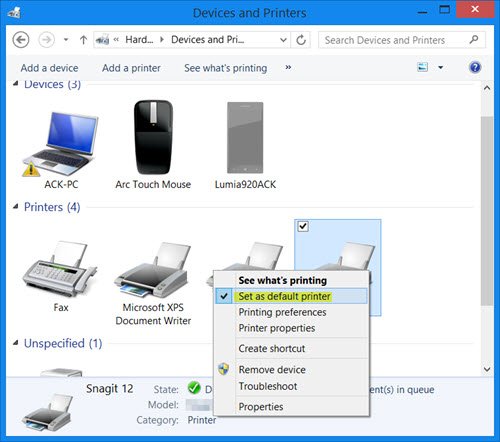 Select your physical printer, right-click on it and select Set as default printer.
What happens when you print to OneNote?
While printing a document, Windows 11/10 shows different options. One of these options is Send to OneNote. When you select this option while printing a document, that document will be opened in OneNote. Now, if you want to print that notebook, you can do so by giving a print command to OneNote. But you have to change the printer in the drop-down in the print wizard.
How do I print a OneNote notebook?
You can print a OneNote notebook by giving the print command to OneNote. Go to "File > Print" or simply press the Ctrl + P keys. When you give the print command, a print wizard will appear in which you have to select your printer from the drop-down. You can also convert the OneNote notebook to PDF by using the Print to PDF option.
Now try again and see if it works. It should.