If you are on the search for some useful UWP Games available in the Microsoft Store for your Windows 11/10 PC, then this post lists multiple game apps in various categories. We have curated all the links to the best games and segregated them, so you won't be scrolling through tons of data. We have already seen the list of some of the best free Windows UWP Apps in the Microsoft Store – now let us take a look at the GAMES!
Best Games in Microsoft Store for Windows 11/10 – Category-wise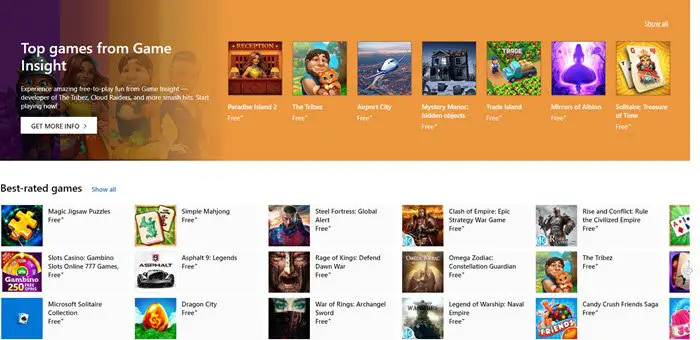 When it comes to games, the Microsoft Store has outdone itself. What makes the Microsoft Store a cult favorite is their check and balance for fake and malicious games software. With a tight grip on security and only allowing the vest of games to be part of their store, you are bound to find any and everything. Choose from the list of games and their categories and discover a gaming world you thought never existed.
Zombie games
Music games
Word games
Action & Adventure games
Escape games
Family & Kids games
Strategy games
Platformer games
RPG – Role-playing games
Shooter games
Card & Board games
Racing games
Tank-Warfare games
Simulation games
Basketball games
Baseball game apps
Fashion games
Football games
Scrabble games
First-person shooter games
Children's games
Pinball games
Puzzle and Trivia games
Fantasy RPG Games
Air Warfare games
Stealth games
Real-time tactics games
Tower Defense Games.
Hidden Object Games
Sudoku
Pirate games
Math game apps
Mountain Sports
Free multiplayer games
Fun Game apps
1] Zombie games
Starting from all kinds of graphics, Lego to Minecraft brick style, to 3D and 3D, you can find all kinds of Zombie Games in a post-apocalyptic world. Battle the evil zombies and conquer your territory today with the best Zombie games on Windows Store.
2] Music games
Who said you can't shake the world of the high score by playing Music Games. Find your unique tune and rhythm, follow the black and white tiles, and score the highest among your friends and family. Discover amazing new beats you never heard before. Here are the best Music games available right now for you.
3] Word games
Be a Grammar Nazi or just wanting to enhance your vocabulary, word games is the way to do it. Choose from all kinds of word games, Scrabble, Cross Words, Built the Word, and much more from the best Popular Word games available for your Windows generation PC.
4] Action & Adventure games
Very few things come close to the satisfaction of winning is a fierce 3D fun battle and managing to secure your land for your people again from mobsters and evil dictators or even warlords. So, to build on that exact thrill of yours here are the best Action & Adventure games right now to download from the Microsoft Store for your PC.
5] Escape games
Prison escape or even a tower escape who cares when you are overflowing the obstacles in front of you, building your very own strategy and storyline. There is a unique kind of satisfaction to get away untouched. So, here are the best Escape games for you to download, form the Microsoft Store.
6] Family & Kids games
Don't know what to this family night? Cousins coming over too? Well, here are the best Family and Kids games to organize your family night that ensures everyone's participation. Making it a time worth a million hearts and lots of fun.
7] Strategy games
One of the main reasons why strategy games are addictive is because they fuel the brain. They make you work out multiple outcomes and the best one through all the hurdles you face in the game levels. And, amazing graphics just make all of that hard work. So, discover the best Strategy games for you to tease your brain today.
8] Platformer games
Miss the Nintendo Mario Games? Well, now you have a shot at the very best of Platformer Games with exciting new levels and high scores to break. Discover the world with the best Platformer games on the Microsoft Store for you.
9] RPG – Role-playing games
What has not been said about Role Playing Games? They come with a full-on action-packed strategy and battle technique to you will find yourself in a lost world trying to write your storyline. The point being that RP Games never grow boring because there is always a level to discover. Find the best Role-Playing games for your Windows native PC now.
10] Shooter games
Looking to enhance those archery skills and regain your deserved place as an awarded shooter? Then practicing your aim with shooter games is not a new thing to you. Here are the best Shooter games for you to download from the Microsoft Store for your Windows suit PC.
11] Card & Board games
What is not to love about a rainy night, a good card game or a board game and some really good homemade coffee? Well, to begin with, nothing. Nothing can go wrong with a plan like that. So, if you are a hoarder of such games, find the best Card & Board games from our list here.
12] Racing games
If you haven't lost a heartbeat at almost making it to the finish line with Need for Speed seasons, then do you love video games at all? For all the racers and car and bike enthusiasts out there find an undiscovered world of the best Racing games available for your Windows PC suites right now to download and play.
13] Tank-Warfare games
Bring out the big boys and march through an army gate of enemies and retain your lost territory. That's the thrill Tank-Warfare games give you. So, if you are looking for these warfare battle games then find the best ones with our best Tank-Warfare games for your Windows PC.
14] Simulation games
Stimulation games, particularly are personalized games designed to understand your unique storyline. So steer the story any direction you want and discover amazing game universes with the best Stimulation games available on the Microsoft Store.
15] Basketball games
A shout to all the LeBron James in the making, and also everyone who loves making the loops worth it. If you are a basketball fan and can't get enough of it, then this list of the best Basketball games is set to fill your thrill for it on your Windows PC.
16] Baseball game apps
Babe Ruth or Ted Williams, Baseball has been the mark of sports for a very long time. No wonder so many video games love Baseball video games. So, here are the best Baseball games for you to play at the comfort of your home and Windows 10 PC.
17] Fashion games
There is something amazing in trying on every dress you have in your closet. Getting your avatar ready and experimenting with designer dresses means you can also use these tricks in real life. Here are the best Fashion games available for your Windows PC.
18] Football games
Okay FIFA freaks we are here with the best games listed for you. Amazing character changes and uses real-life techniques to score your goals with an amazing team. Or even play as your favorite footballer. Find the best Football games right here for your Windows PC on the Microsoft Store.
Read: Best Free Survival Games for Windows PC
19] Scrabble games
There is something romantic about winning at scrabble. It makes you feel good and fill you with this sense of grammatical and vocabulary satisfaction that no other word game can give you. So, if you are a Scrabble addict like me, find the best Scrabble games for your Windows PC.
20] First-person shooter games
A very well designed storyline, amazing weapons and your eye on the enemy is all you need to make the best find of first-person shooting video games. And, here are the best First-person Shooter games for you to discover and master the craft of gaming right at the comfort of your Windows 10 PC.
21] Children's games
These days children's games are far past those dorky graphics and childish demeanor. Children's games are about learning and experiencing the virtual world that enhances their day-to-day skills. So, if you are looking for the best ones then find the best Children's games right here for you to see which suits your child best.
22] Pinball games
Pinball games are known for enhancing concentration and also a very exciting game strategy. Get your aim right and pin those balls to break through your high set score or even play with your friends and family. Here are the best Pinball games for you for your Windows PC.
23] Puzzle and Trivia games
Here is is the list of the most exciting and addictive Puzzle and Trivia games available on the Microsoft Store for Windows 10.
24] Fantasy RPG Games
The larger-than-life storylines, extraordinarily hyped graphics and unattainable moral stances that help your warriors win over the warlords is what makes these Fantasy RPG Games amazing.
25] Air Warfare games
These Air Warfare games all available on the Microsoft Store for free! So download them and start playing.
26] Stealth Games
Stealth games have been popular in the gaming market for quite long.
27] Real-time tactics games
Real-time tactic games are games that focus on known tactics to gain the upper hand in the play and win it.
28] Tower Defense Games
Tower Defense Games aren't fighting or shooting games, but strategy games, just like chess. Players need time to master the skill.
29] Hidden Object Games
Hidden Object Games are a special sub-niche of puzzle games that involve finding certain hidden objects from the image background.
The purpose of this article is to help you find the best UWP apps in their category. Just find your favorite category and discover games and apps built to be your companion and entertainment partner for a long time.
30] Sudoku games
Here are the top ten free Sudoku games available at the Microsoft Store.
31] Pirate games
Here is a list of our favorite pirate games available for Windows 10 PC
32] Math game  apps
Here are some Math game apps that will help your child enjoy the subject.
33] Mountain Sports
Here are 10 free mountain sports games for Windows 10. Enjoy the thrill from the safety of your couch.
34] Free multiplayer games
Here's a list of free multiplayer games available in the Microsoft Store for Windows 10 to play with friends from home.
35] Fun Game apps
Here is a list of five free fun game apps for Windows 11/10. Hope you find them interesting.
36] Golf Games
This post lists some of the best free Golf Games for Windows PC.
TIP: You might want to also take a look at this list of free classic game downloads for Windows PC. These Popular PC games for Windows 11/10 available in Microsoft Store may also interest some.
Let us know in the comments section which ones caught your attention.
What are the best free games on Microsoft?
There are plenty of the best free games on Microsoft Store divided into various categories. From first-person shooting games to RPG games, scrabble games to strategy games, children's games to mountain sports, etc., are available there. The Games section and Apps section is so vast in Microsoft Store. You can explore games by your interest and play them.
Are there any good games on Microsoft Store?
Of course, there are many good games (both free and paid) on Microsoft Store. Asphalt 9: Legends, Minecraft: Java & Bedrock Edition for PC, Roblox, and Asphalt 8: Airborne games are a few examples of featured free games and best-selling games on the Microsoft Store. You can explore the vast list of categories present in the Microsoft Store and play the game you like. To make it easier for you, we have created a list of the best free games in the Microsoft Store by categories in this post. Check them out.
Which is the No 1 game for PC?
The figures change from time to time. If a game has the most active users in a particular month, other games can surpass the numbers of that game in the next month, and so on. So that is very difficult to say which game is number 1 for PC or other devices. While Minecraft is undoubtedly one of the most popular games for PC, other titles like Roblox, Valorant, Fortnite, etc., also attract millions of users. In addition to that, if we talk about the best-selling PC games for PC platforms (Windows, Linux, etc.), Minecraft, PUBG: Battlegrounds, Diablo III, Terraria, etc., titles come at the top.
Is COD free on Microsoft Store?
Call of Duty®: Warzone™ edition is free on Microsoft Store, but there are in-app purchases that range from 700,00 HUF to 7000,00 HUF. Other editions like Call of Duty®: Infinite Warfare, Call of Duty®: Modern Warfare, etc., require a purchase. If you are looking for options, then you can play other free first-person shooter games like Modern Combat Versus, Cold Planet Z, etc., available on Microsoft Store.