If you are looking for the top ten shooter games for PC on Microsoft store, then the decision can be hard. With far too many choices getting the best games list is far from easy. So, if you are around the Windows store looking for the first time, you can easily find your pick in the below list of best shooter games for PC on the Microsoft Store. Even if you are a veteran like me who has been a longtime fan of shooter games, you can still see if your best games made it to the list. And, find a few added ones to try out too.
I have listed them after hours of research and playing them personally to give you the best user experience and game pace Microsoft store has to offer.
Best Shooter Games for Windows 11/10
Well, here goes and let me know which ones you enjoyed most playing.
1] Space Shooter: Star War
If you are looking to take over the sky and invade realms, then this space shooter game is totally for you.
With user-friendly levels and giving you a multitude of options in avatars, you know this one is going to be an addictive game.
The storyline starts with a blissful galaxy under attack from alien invaders. And, it is up to you how to progress and rule the space galaxy you start in. It also frees making it one of the most played shooter games son Microsoft store. You get it for a very small size, so you know you won't be downloading anything heavy on your PC. It is just 22.92 MB.
I have spent days playing this and is definitely our first pick for the top ten shooter games for PC on Microsoft Store.
2] Archery King Master 3D
If you are a shooter game fan who wants to get better at shooting, then Archery King Master 3D is exactly for you. A very competitive archery game, with many modes and even beginner and professional mode and you, get a small install size too.
That doesn't take up much space on your PC, and you can easily spend your time getting better at your shooter aim.
This too is completely free of charge making it one of the best games to test your archery skills. Download the game from the Microsoft Store here.
3] Bottle Shooter 3D
This game reminded me of my childhood carnivals and trying to get better at my aim of shooting. It is a free Bottle shooter 3D game on the Microsoft store with amazing graphics.
So take the gun, grab a class and start shooting. The approximate size is 24.38 MB so it won't be slowing down your operating system either. The game is available on the Microsoft Store.
4] PAC-MAN Battle
Remember the arcade game that drove all of us nuts. The Pac-Man Battle is now available on Microsoft store free of charge.
Now you can earn rocket high, eat your fruit and take a long run from the ghosts all at your windows operating system. This is a full-on addictive shooter game with enhanced arcade graphics. Get this classic game on the Microsoft Store here.
5] Counter Critical Strike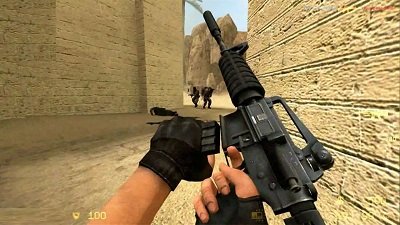 Counter Critical Strike being a #D FPS game, you know you are going to get the most realistic environment to play in ever. With an array of weapon arsenals, like AK47, AWP sniper, shadow gun and much more.
With a very engaging storyline of facing the enemies and getting into enemy camps and taking on all weapons as you get them. You know this shooter game is going to get you stuck to your desktop or laptop all day. Counter Critical Strike can be acquired from the Microsoft Store.
6] Block Strike Crafting 3D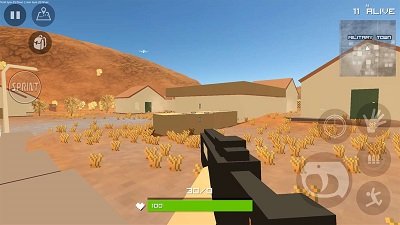 If you are a Minecraft player you know the block graphics are awesome. Now you can play Block Stroke crafting 3D in PUBG style. It is as simple as it gets. You just have to pick your weapon and start your destruction on the ground.
It is an all-out survival adventure game giving you a lot to look forward to as you level up. And, it is free.
You strike swiftly and start killing enemies and acquire the fort. Get Block Strike Crafting 3D from the Microsoft Store here.
7] Flip the Gun
You will love the physics put into this shooter game. Make your gun fly and start shooting. You get five amazing physics-based weapons, very uniquely designed mechanics, and you get to choose weapons from your favorite movies franchises too.  Just simply keep unlocking levels and get your weapons to break the worldwide score. And, it is a free game too. The game could be downloaded from the Microsoft Store here.
8] Darts King 3D
Have you ever walked into a bar and challenged your friends to a round of darts? Well, do that now with Darts King 3D at your windows desktop or laptop. Become the ruler of the game and break the records and reach all levels, that's what's this amazing game is about.
Making it a very easy and fun hobby to have and enhance your aiming skills. Darts King 3D is available on the Microsoft Store.
9] Arrow.io Bowmasters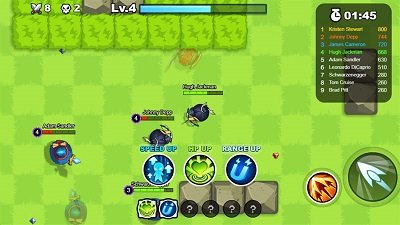 This is another very easy to navigate shooter game. You just set your aim and start shooting your enemies in the leader-board. You embark on an island and keep collecting items and keep shooting enemies all around to reach the top position.
With amazing 3D graphics and only 22.8MB you know you will not be weighing down your operating system. Get this game from the Microsoft Store here.
10] Galaxy Shooter – Space Attack
Are you looking to shoot down alien star wars in an unknown galaxy under attack? This is the ideal choice for you then. Blast enemies and aliens and keep shooting till you conquer the galaxy again. You get many spaceship upgrades with around 100+ missions to complete with 100+ alien invaders.
It is free, and you can set out on your epic saga of reclaiming the galaxy again. It is only 22.8MB and not heavy for your operating system. Just install it and get your friends to compete with you at the highest scores. Galaxy Shooter is available on the Microsoft Store here.
Well, those were our list of top 10 shooter games for PC on Microsoft store. Just get on them and start playing and enhancing your aim. You have it all from galaxy wars to role-playing shooter games.
Happy shooting till then!