Gamers! Are you bored playing the same popular games over and over again? Have you been looking for some thrilling battle scene games to play? How about some aircraft to ride and many more to blow up? That's right; we will give you some of the best air warfare games that you are bound to get hooked on to.
Air Warfare games for Windows 11/10
These Air Warfare games all available on the Microsoft Store for free! So download them and start playing.
Zombie vs. Sniper – Helicopter Air Shooting Attack
Jets Air Strike 3D
Warplanes- WW2 Dogfight
Battle of Warplanes
Drone Strike Combat 3D
Real Fighter Air Simulator
Air Jet Fighter
Gunship Strike Air Battle 3D
Navy Carrier Strike
Wings of War Modern Warplanes
Here is the list of top 10 air warfare games.
1] Zombie vs. Sniper – Helicopter Air Shooting Attack

Have played some air battle games already? Are you looking for something different? Kill zombies from the air! This game has a storyline akin to some popular Hollywood movies. A toxic virus spreads from a defense laboratory, and the entire city is turning into a zombie apocalypse.
You will find the game on the Microsoft Store itself. You get to save the people. You get to use Apache helicopters and be a sniper taking out zombies. There are many sniper rifles to unlock. And you get brownie points for shooting the zombies straight in their head.
2] Jets Air Strike 3D

This game is all about a battle scene where your country is in danger. The enemies have occupied a part of your country and set up a military base camp. But you are not fighting the battle on the ground. You will be taking your enemies down using fighter jets. Defend your country and have fun doing so.
Download this game from the Microsoft Store to enjoy a very realistic game from AV Logix and get lost in the thrilling world of guns and bombs and fire!
3] Warplanes- WW2 Dogfight

This game lets you be a pilot and the squad leader of an air force unit during World War II. Build your strategies, choose your aircraft, choose your squad, or do it all on your own like the loner you are.
This game is very detailed, and the plan of action needs to be well chalked out. If you are looking for a very realistic war simulation, download this one here. Choose from a range of 50 historically popular aircraft. Complete all the missions. You will not want to stop playing this ever!
4] Battle of Warplanes

This is yet another thrilling 3D game where you own a combat plane. This one focuses on the attack. So if you are in the mood for shooting down enemies and relentlessly firing away, this is your game. Find it on the Microsoft Store and play in real time with other players all over the world.
5] Drone Strike Combat 3D

A realistic, tough fight. This is what this game has to offer. Strategize and take out all your enemies to save the day. High accuracy of shot and time management is crucial. Download this game here and enjoy the difficult victory!
6] Real Fighter Air Simulator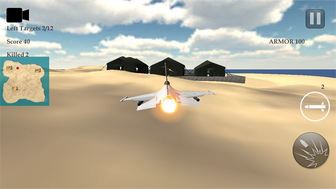 This game is all about initiating yourself and proving yourself fit to carry out an air-based attack. Approach the enemy base camp using an aircraft of your choice and a detailed map. Make sure you don't get lost. Want to get the feel of being in a real fighter plane without risking anything for real? Download this 3D battle simulator game from the Microsoft Store and go crazy!
7] Air Jet Fighter

This game comes with the unique features. You get a unique battlefield setting with a very realistic view of the cockpit and realistic controls. You get all the arson you need to defend the innocent. Download this game here and enjoy taking down enemies at sea and on the desert, all from the air.
8] Gunship Strike Air Battle 3D

This game from Best App Entertainment is all about the war aircraft. You get your RPG to take down enemy helicopters that are also fully loaded with all the fire that can destroy you. You need to plan right before you act to win this game. If that is your thing, download it from the Microsoft Store and wreak havoc on your enemies.
You get to use some of the best aircraft including the Apache Helicopters with the Rotoro engines. You can hear them roar! Be quick like a cat if you don't want to be blown up.
9] Navy Carrier Strike

This game has a more elaborate course of action than just shooting away and collecting bonuses. Here you need to identify if a ship is a threat or not. If you like realistic conditions, even in a game, this one's for you. You get only one aircraft with limited arson and also, terrible weather! Download this game here if you can fight like a real player and play like a real fighter.
10] Wings of War Modern Warplanes

This game lets you pull aircraft stunts while shooting down your enemies. You can compete against the world and play in multiplayer mode or go solo if you please. Download this game directly from the Microsoft Store and dominate the skies with your skills. There are 20 aircraft to choose from and all the arson and artillery you could wish for!
All these games are free, and they come with unique experiences and features. Play them all and enjoy being a war hero!
Now take a look at these best free Windows Apps & Games in Microsoft Store.