It is absolutely shocking to many as to how easily people can get addicted to music games. But, here is the secret about music lovers. Tunes and music compositions can be fun if you are tapping on colorful tiles. That's exactly what these Music Games from the Microsoft Store offer for your Windows 11/10 PC.
I remember I was waiting for my cousin to arrive at the Tube station, and I ended up spending like 45 minutes just tapping on tiles to come up with a music composition that I supposedly liked. But, here is the catch to these music games. It is not all about just compositions; in the battle modes you have to capture all the magical piano tiles. Not just piano, you get a variety of instruments to battle with.
Best Music Games for Windows PC
Without further delay let's get this music games party bus on the road, shall we?
Piano Tiles: Classic Songs
Piano Challenges 2
Music Keyboard
SongArc
Music Quiz Game
Guess the Song – 4 Pics 1 Song
Super Polygon
Song Quiz 4 Pics
Guitar Maestro
Designer Piano
Find the best time killers in terms of music games from the Microsoft Store. You can easily kill away hours on a lazy Saturday afternoon. And, if you are a babysitter trust me these music games would probably help you keep peace with your toddler.
1] Piano Tiles: Classic Songs
If the Turkish March, Mozart, Waltz, Midnight Sonata is your bunch then Piano Tiles: Classic Songs is your pick. It is lightweight to install making sure your device is not bogged down.
Clicking on all the magical tiles may seem easy but it is a difficult challenge, and this is exactly what is set to keep you addicted.
You can now select your music and just battle on with all the magical white and black tiles to break a high score. Get it from here for free.
Read: What is this Song?
2] Piano Challenges 2
There is far than just don't tap the white tiles in music games here. Piano Challenges 2 is set to not just help you spend your idle time but also soar levels to break high scores.
With excellent mahogany graphics, you can find the very best of classical music themes right here. Get it from the Microsoft Store for free.
3] Music Keyboard
Challenge your tapping speed with this Music Keyboard on the Microsoft Store.
With four different levels to master your tapping speed, you can enjoy amazing classical notes and break high scores on lazy evenings. Now you can play hundreds of tunes and turn your screen into your very own keyboard.
4] SongArc
You can now easily test your talents at being a finger dancer and test your tapping speeds too with it. SongArc can be easily found on Microsoft Store for free. With exciting different levels, it almost reminds you of the cult favorite 'Guitar Hero'.
You can just tap on the shapes that will reach the arc and then just follow the beat right through. You can also create a variety of custom sheets for all of your songs individually.
5] Music Quiz Game
If you put music, lyrics, and trivia in a dryer, then you get Music Quiz Game. Keep guessing the lyrics to popular songs from pop, jazz, rock, country, etc.
You can just guess the song, and the name of the song and also the date of release will appear. Try your musical brain out this one. You can get it from here.
6] Guess the Song – 4 Pics 1 Song
So, you think you know all your discographies by heart? This is where it all comes out. Try your trivia at this amazing Guess the Song music game at Microsoft Store.
You will be given four images to put together the puzzle for the song. You can easily spend hours with this game.
7] Super Polygon
This music game may look very simple, but it is deceptive to the core. Hard to master and fun to play, the Super Polygon is a battle between amazing polygons designed to a rhythm.
But, once you figure out the pattern to win; Boy!  are you in for a swell time. Get it for free from here.
8] Song Quiz 4 Pics
Song Quiz 4 Pics is a game in which you need to guess the song title after being presented with four related images. The game is focused on Hollywood music. It tests your intelligence. If you like the caption, check more about it here.
9] Guitar Maestro
This is an amazing game to learn the guitar chords all the way up to the neck of the guitar. Once mastered you can easily try your luck at a real Gibson maybe.
You also have real-time songs to practice form making a beginners guitar pad right here on the Microsoft Store.
10] Designer Piano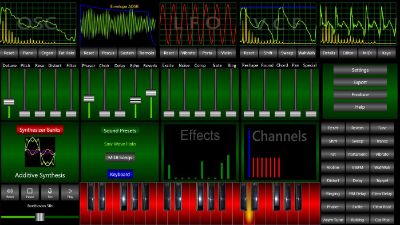 This is for the ones who love the personalization. Personalize and design your own piano and play along with a variety of songs to play from. Simply download it for free from here spend all your idle hours making music.
Well, guys! Those were the best music games available on the Microsoft Store so far. If you are just as crazy about music games like me, the chances are this list is going to come handy.
Happy playing!