Some PC users are reporting the issue whereby after updating Windows 11 or Windows 10, they repeatedly get the error message SearchProtocolHost.exe Application Error when using Microsoft Office app; specifically Outlook email client. The error is also known to occur at Windows startup. This post provides the solutions to resolve this issue.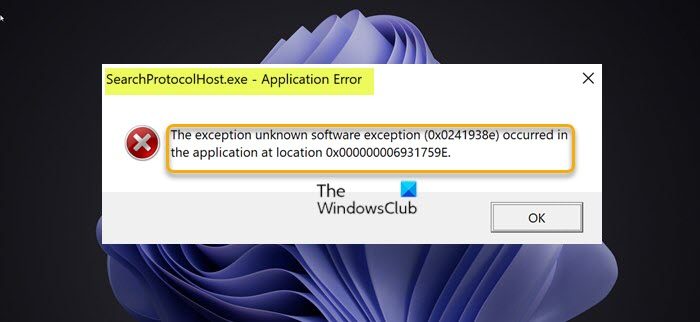 When you encounter this issue, you'll receive the following full error message;
SearchProtocolHost.exe – Application Error

The exception unknown software exception (0x0241938e) occurred in the application at location 0x000000006931759E.
The following are variants of the error that PC users may experience:
SearchProtocolHost.exe does not have a valid signature
SearchProtocolHost.exe stopped working
Microsoft Windows Search Protocol Host has stopped working
Outlook: SearchProtocolHost.exe stopped working
The instruction at 0x00f01e40 referenced memory at 0x00f01e40. The memory could not be written.
What is SearchProtocolHost.exe?
SearchProtocolHost.exe is part of the Windows Indexing Service. It's a process/application that indexes files on the local drive making them easier to search. This is a critical process of the Windows operating system and should not be disabled or removed.
Fix SearchProtocolHost.exe Application Error
If the SearchProtocolHost.exe Application Error has occurred on your Windows 11/10 computer, you can try our recommended solutions below in no particular order and see if that helps to resolve the issue on your system.
Run AV scan
Run SFC Scan
Enable Windows Search Service
Uninstall Windows update
Disable Fast Startup
Run Memory Diagnostics
Change Virtual Memory size
Repair/Reset Outlook or Uninstall/Reinstall Office
Let's take a look at the description of the process involved concerning each of the listed solutions.
1] Run AV scan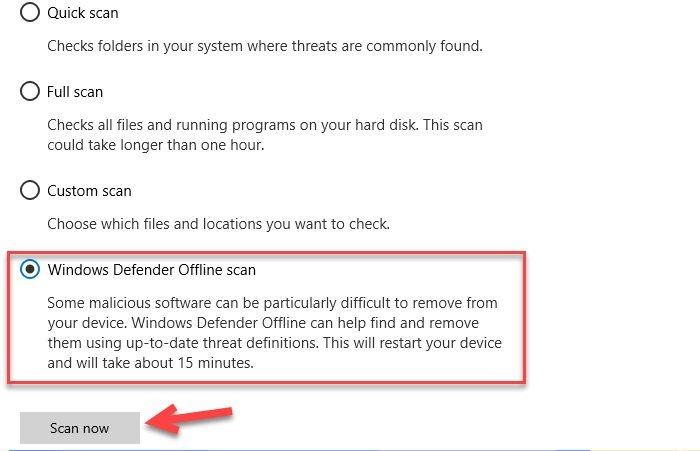 We suggest you run a full system AV scan if your Task Manager is running multiple SearchProtocolHost.exe processes at the same time on your Windows 11/10 device, or/and if it is not located in C:\Windows\System32 folder.
You can run a full system antivirus scan with Windows Defender or any reputable third-party AV product. Also, in severe cases, you can run perform Windows Defender Offline Scan at boot time or use bootable AntiVirus Rescue Media to recover your system if somehow your computer is failing to boot.
Try the next solution If the SearchProtocolHost.exe Application Error isn't resolved after performing this task or if you ascertain your system isn't infected with malware/virus.
2] Run SFC Scan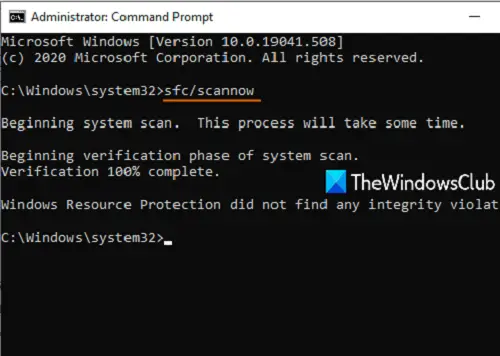 If you have system file errors on your PC you may encounter the error in view. The SFC/DISM is a utility in Windows that allows users to scan for corruptions in Windows system files and restore corrupted files.
This solution require you run SFC scan and see if that helps.
3] Enable Windows Search Service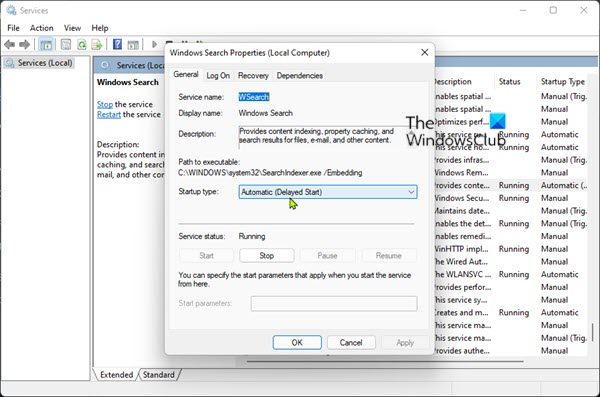 SearchProtocolHost.exe is an executable file and a part of Windows operating system, developed by Microsoft. The process is also known as Microsoft Windows Search Protocol Host.
This solution requires you to enable Windows Search Service. Here's how:
Press Windows key + R to invoke the Run dialog.
In the Run dialog box, type services.msc and hit Enter to open Services.
In the Services window, scroll and locate the Windows Search service.
Right-click the entry and choose Start or Restart, depending on the current state of the service.
Next, double-click on the entry to edit its properties.
In the properties window, click the drop-down on the Startup type and select Automatic (Delayed Start).
Next, make sure the service is started.
Click Apply > OK to save changes.
Exit Services Manager.
Restart PC.
4] Uninstall Windows update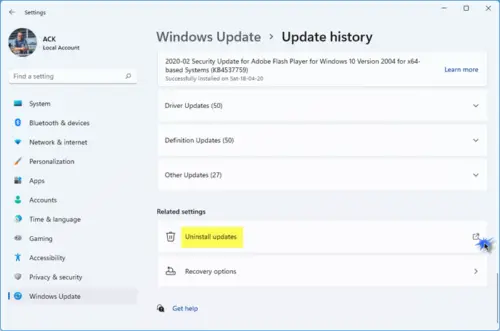 Given that some affected PC users started to receive the error in view after a recent Windows update, a viable solution in this case, is to uninstall the update from your system or perform System Restore and select a restore point prior to updating the computer.
5] Disable Fast Startup
While in most cases Fast Startup is a feature capable of boosting the startup speed considerably – it also means that your PC will never truly shut down. Consequently, you might experience Wake-on-LAN issues, dual boot and virtualization complications, and random error codes during the startup procedure.
Since the issue in hand may occur at Windows startup, you can disable Fast Startup feature on your Windows 11/10 device and see the issue is resolved. Otherwise try the next solution.
6] Run Memory Diagnostics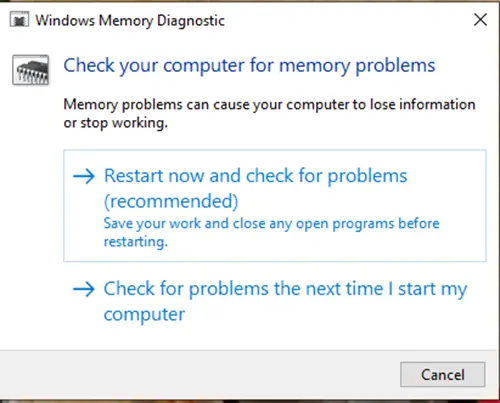 The Memory Diagnostic tool in Windows 11/10 scans your system memory for any potential problems and gives you recommended solutions accordingly, which allows you to take further actions.
You may encounter an instance of the error which is memory-related. In this case, you can try running the Memory Diagnostic Tool and see if that helps.
7] Change Virtual Memory size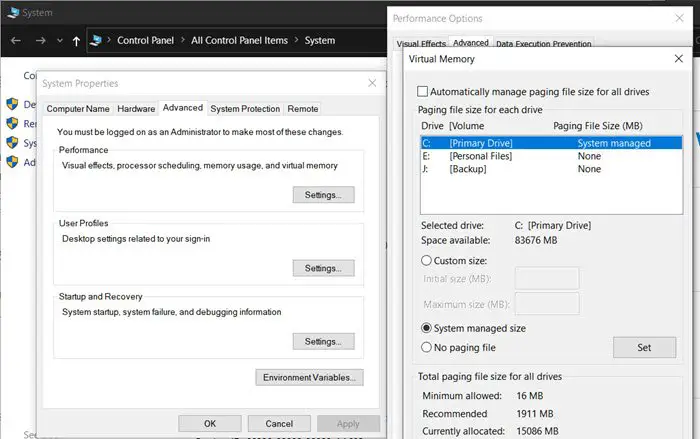 The best practice is to keep the virtual memory 1.5 times larger than your installed RAM. This solution requires you to change the size of the virtual memory on your Windows 11/10 PC and see if the error reoccurs. If so, try the next solution.
Related: Troubleshoot Windows Search Indexing errors.
8] Repair/Reset Outlook or Uninstall/Reinstall Office
As the error is predominant with Office Outlook, you can reset or repair Outlook app. If that doesn't help, you can repair the installed Office suite or you can uninstall Office and then reinstall Office suite on your computer.
If on the off chance performing these tasks wasn't helpful, you can reset Windows 11/10 using the Cloud Reset option.
Hope this helps!
Related post: Igfxem.exe application error – The memory could not be read
What is SearchFilterHost.exe?
SearchFilterHost.exe is a legitimate and safe process file created by Microsoft. It is essential for some functions of Windows Search to work properly. The file is also known as Microsoft Windows Search Filter Host and it is typically located in C:\Windows\System32 by default. Although, malware programmers can create files with malicious content and name them after SearchFilterHost.exe to compromise systems.