This post offers multiple ways to completely uninstall Office 365 or Microsoft Office 2021/2019/2016/2013/2010/2007/2003 from your Windows 11/10/8/7 computer. If you cannot uninstall Office using the Control Panel or Settings on Windows systems, then this post is sure to help you.
How to uninstall Microsoft Office
You can uninstall Office 365 or Microsoft Office from your Windows 11/10 computer, by following any one of the following methods:
Control Panel
Windows Settings
Office Uninstall Support Tool
Microsoft Support and Recovery Assistant
Microsoft Fix It
Using RipOutOffice2007.
Let us see these methods in detail.
1] Using Control Panel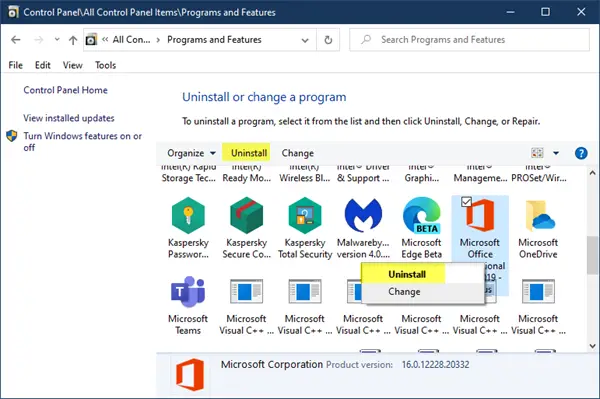 Restart your computer and try to remove Office through the Control Panel > Programs and Features > Uninstall or change a program.
Select your Office installation, right-click on it, and select Uninstall.
Follow the on-screen instructions to uninstall Office.
2] Via Windows Settings
Open Settings > Apps > Apps and features. Search for Office and select it. Click Uninstall to uninstall the program. You can uninstall the Office programs (Click-To-Run or MSI) as well as the Office apps (Microsoft Store) here.
Cannot uninstall Microsoft Office
This could happen if the installation process did not complete when you tried to install a new program or the uninstall process did not go through as expected. Or it is quite possible that the previously installed Office program installation files have got corrupted.
If you cannot uninstall Office, use the following tools.
3] Office Uninstall Support Tool
Download the Microsoft Office Uninstall Tool from Microsoft. Run the o15-ctrremove.diagcab, and it will launch the uninstaller. Use it to completely remove your Office installation.
4] Microsoft Support and Recovery Assistant
Microsoft Support and Recovery Assistant will help you uninstall Office programs as well as resolve Office 365 apps, Outlook, OneDrive, Windows, Dynamics 365 & other problems.
5] Microsoft Fix it
Use Microsoft Fix it to uninstall Office. But first, check if it applies to your version of Windows and Office installation.
You can also use this Troubleshooter from Microsoft that lets you completely uninstall the latest Office or Office 365 version from Windows.
Do note that Microsoft no longer supports the use of the Windows Installer Cleanup utility.
6] RipOutOffice2007
If you are using Office 2007, you could try this utility called RipOutOffice2007. Create a system restore point first before using this software. RipOutOffice2007 is a 3rd party freeware tool to completely uninstall & remove Office 2007 from your PC when the standard uninstall process fails. But it appears from the comments that this tool does not work in Windows 7 properly.
You might want to also check out these related posts: