I do not know when or how it had happened, but sometimes after updating Windows, I found that I was unable to open Word, Excel, PowerPoint or any Office documents. It looked like my Microsoft Office installation had become corrupt.
I tried to uninstall Office through the Control Panel > Programs and Features > Uninstall applet. But it did not work. Right-clicking, selecting Change, and trying to repair Office also did not work.
Read: How to install Office 365 on Windows PC.
Then I came across this tool from Microsoft Fix that lets you easily remove or completely uninstall Office 365 or Office 2021/2019/2016 suites and programs.
Microsoft Office Uninstaller Tool
Download the Microsoft Fix It, exit all Microsoft Office programs and run the Fix It.
It will ask if you'd like to Apply the fix or Skip the fix and continue troubleshooting. To uninstall Office, I selected Apply this fix.
The uninstaller will run for a minute or two.
After a few minutes, the troubleshooter would have completely uninstalled Microsoft Office from your computer.
If you selected the Troubleshoot option earlier, you would be notified of problems found, if any.
Clicking on View detailed information will give you some more information about the problems.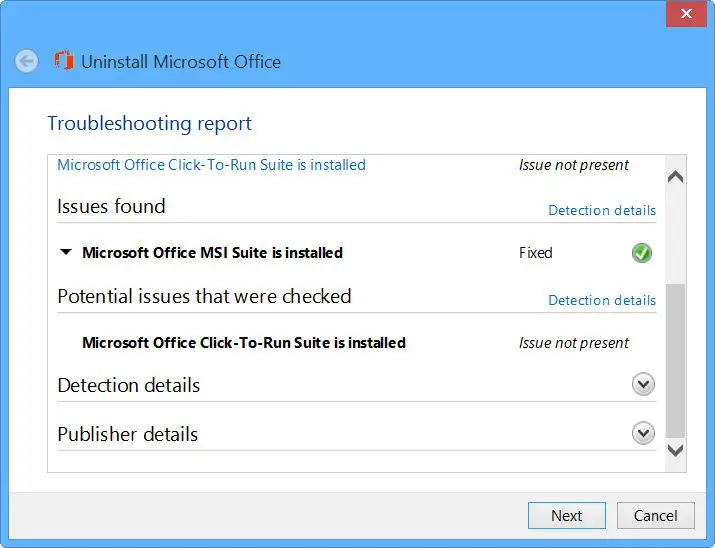 You can download this Tool from KB2739501 and run it to uninstall Office from your Windows computer. You can also use this new Troubleshooter from Microsoft that lets you completely uninstall the latest Office 365 or Office 2019/2016/2013 versions from Windows 10/8/7.
Have a look at Office Configuration Analyzer Tool. It will help you analyze & identify Office program problems.
Related reads: