Microsoft Support and Recovery Assistant will help you resolve Office 365 apps, Outlook, OneDrive, Windows, Dynamics 365 & other problems. If it can't fix a problem for you, it will suggest the next steps and help you get in touch with Microsoft support. Let us see how to use this tool.
Microsoft Support and Recovery Assistant
Download the Microsoft Support and Recovery Assistant (SetupProd.exe) and install it. You'll need an internet connection to use the tool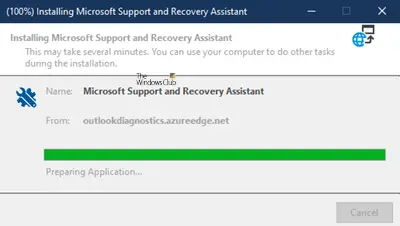 When you run it, you will see the following options.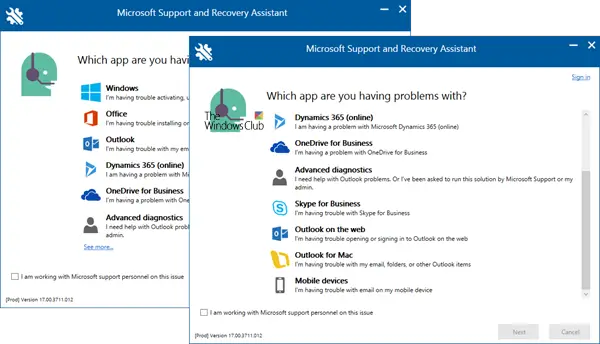 The Microsoft Support and Recovery Assistant tool can help you resolve problems with:
Windows Activation, Updates, Upgrade
Office Installation, Activation, Uninstallation
Outlook email, folders, etc.
Offers Advanced Diagnostics for Outlook
Dynamics 365
OneDrive for Business
Skype for Business
Outlook on the web
Outlook for Mac
Mobile devices.
Windows
The tool can help you with Windows 11/10, if:
You cant activate Windows
You cant Update Windows
You cant install Feature Upgrade on Windows 11/10.
Office
The tool can help you with Office if:
You get an error when you install Office
Can't activate Office
Want to uninstall Office
Can't sign in to Skype for Business
Can't get email on phone
Trouble opening or signing in to Outlook on the web
Can't install, connect, or enable Dynamics 365 for Outlook.
I had an issue with Office installation. So I used it to uninstall Office successfully.
I selected Office and clicked Next. After a while, the following appeared:
I selected the Office software and clicked next to uninstall it.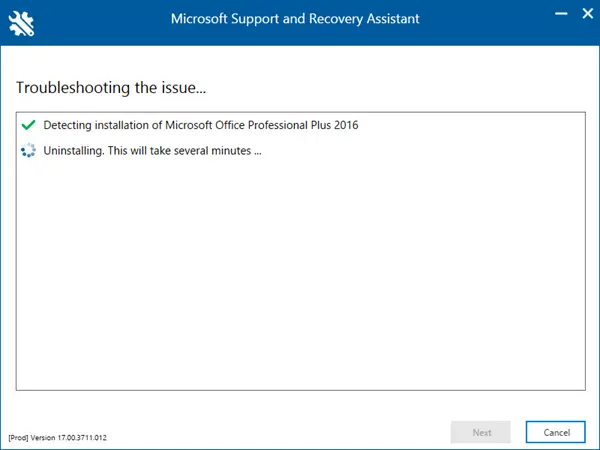 Confirm that you have saved your work and click Next to proceed,
Once the uninstallation is completed, you will be asked to restart your computer.
On restart, I found that Office was completely uninstalled and I could proceed an install the newer Office version.
TIP: Also take a look at Office 365 DNS Diagnostic Tool.
Outlook
The tool can help you with Outlook if:
Outlook won't start
Can't setup Office 365 email in Outlook
Outlook keeps asking for password
Outlook keeps "Trying to connect…" or gets "Disconnected"
Shared mailboxes or shared calendars don't work
Problems with Calendar
Outlook stops responding
Outlook keeps crashing
Can't send, receive, or find the email.
See how you can use Advanced Diagnostics in Microsoft Support and Recovery Assistant to fix Outlook issues.
The tool also helps if you have issues with Outlook on the web, Outlook for Mac, and Mobile devices, plus includes advanced diagnostics for Exchange Online and Outlook. You can download Microsoft Support and Recovery Assistant here from Microsoft.
Read: How to use command-line version of Microsoft Support and Recovery Assistant.
NOTES:
The Office Configuration Analyzer Tool has replaced the Outlook Configuration Analyzer Tool. The OffCAT tool provides all of the same functionality as the OCAT tool, but it also allows you to scan more Office programs.
Office Configuration Analyzer Tool (OffCAT) was removed from the Microsoft Download Center on June 11, 2018. The Outlook scanning functionality of OffCAT is available in the Microsoft Support and Recovery Assistant for Office 365 (SaRA) tool. SaRA offers several improvements, including the ability to identify and fix specific issues in Outlook, Office Setup, OneDrive for Business, and several other Office programs. You can use the SaRA tool is used to scan for issues in Outlook.