Windows Task Manager does not allow you to kill multiple processes in a single click. At times it may fail to terminate a particular process or malware. If you wish to Kill multiple Processes or Tasks in Windows, then these freeware can help you.
Kill multiple Processes in Windows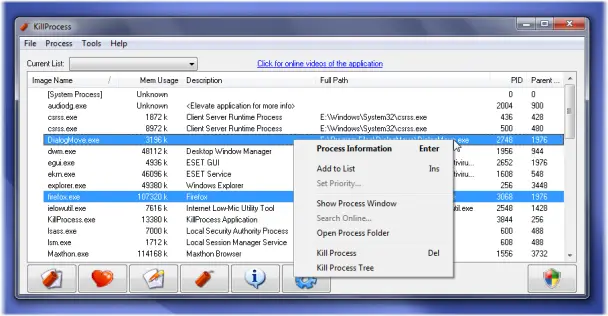 1] KillProcess is a freeware portable application assassin of the extreme kind. It can terminate almost any process on a Windows machine, including any service and process running in the system.  To select multiple processes, press Ctr key, and select.
Even protected Microsoft system processes can be terminated using this free tool. All of this can be done in the matter of milliseconds.
2] Ultimate Process Killer is another portable freeware tool which scans current Process in Windows computer with the parent file path.
You can terminate process & delete the originating file. This tool will also help to delete the virus process with Parent virus file which is running the process.
3] Multi-Process Killer: It lets you kill many processes at once by selecting the checkboxes next to the processes you want to kill and press the kill selected processes button  You can download it here.
This post will show you how to Kill Processes using Command Prompt in Windows.