If you get a message Your system is low on virtual memory; when you try to start any memory-intensive application, like Microsoft Office, Corel, etc., then you may want to consider the option to increase Page File on Windows. The steps are the same for Windows 11, Windows 10, Windows 8.1 as well as Windows 7.
Read: What is the best Page File size for 64-bit versions of Windows 10?
Increase Page File size on Windows 11/10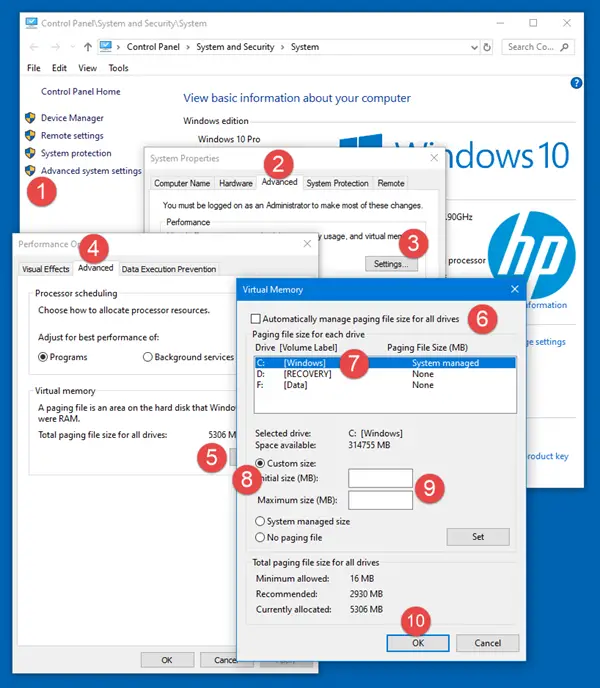 In case you get such an error message, you may have to increase the size of your virtual memory or page file or paging file – although for most users, leaving the Page File size at its default value should be good enough.
Read: How to Back up or Move PageFile.sys.
To increase Page File size via System Properties in Windows 10, follow these steps:
In the Taskbar Search, type "Advanced System". You will see View Advanced System Settings. Click on it.

Or you can navigate to it via Control Panel

In System Properties, click Advanced tab
In Performance section click Settings button
Performance Options will open. Click Advanced tab
Here, under Virtual memory, select Change
Uncheck Automatically manage paging file size for all drives
Highlight your Windows system drive
Select Custom size
Change the Initial size value and the Maximum size value to a higher value
Click Set
Finally, Click Apply/OK all the way.
Page File location
The page file or swap file is also known as Virtual memory, and is situated on your system drive; e.,g. C:\pagefile.sys. In addition to physical memory or RAM, Windows and its applications use it as and when required.
Suggested reads: