Did your laptop's keyboard just stop working? You may at times face this problem. The trackpad or the external devices might still be working, but there could be an issue with the inbuilt keyboard. This post aims to provide you with some useful tips to get that Desktop or Laptop keyboard back and running. These tips could or could not be the exact solution to your problem but can help. This post applies to most of the manufacturers including HP, Dell, Acer, Lenovo, and other Windows 11 and Windows 10 laptops.
Laptop keyboard not working
If your Windows 11/10 Laptop keyboard not working, here are a few things you could try:
Check the keys physically
Clean the keyboard using a brush
Check if the keyboard works in BIOS
Reinstall the keyboard drivers
Reset keyboard settings back to default
Troubleshoot in Clean Boot State
Run Keyboard Troubleshooter
Run the Hardware Troubleshooter
Disable Filter Keys and see.
Let us see them in detail.
1] Check the keys physically
The first thing you can do is, try to find if some keys or keyboard has broken physically somewhere. If there is a physical impact, there is nothing much you can do. You need to carry this laptop to the service center.
Read Keyboard typing wrong letters.
2] Clean the keyboard using a brush
Take a brush and start cleaning the keyboard. Make sure you remove all the dust, and the keyboard is crisp and clean. You can use a laptop cleaning kit, or you may use an old toothbrush. Keep your brush dry and gently clean off your keyboard.
Read: Function keys not working.
3] Check if the keyboard works in BIOS
Another thing you can do to make sure the keyboard works when you have accessed the BIOS menu. Restart the computer and while it is booting up, hit the keys (usually Esc or Del) to open the BIOS menu. If you were able to open the BIOS menu and use the arrow keys to navigate, then we can assume the problem is with the software part and not the hardware part.
Read: Caps Lock key not working.
4] Reinstall the keyboard drivers
Now it is time to reinstall the keyboard drivers. You can temporarily enable the on-screen keyboard or connect an external keyboard if you are not comfortable without a keyboard. You may read this post on how to use the Windows computer without a keyboard or mouse for further details.
Now to update the driver, open  Device Manager from the WinX Menu. Now under 'Keyboards', you will find your laptop's keyboard. Right-click on it and select 'Uninstall'. If you are not sure about your laptop's keyboard, you can uninstall all the keyboards.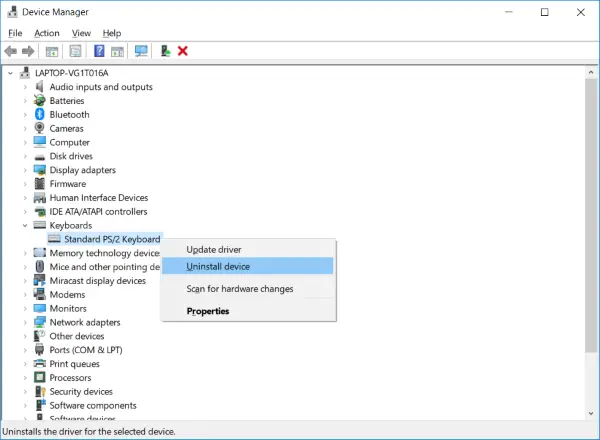 Restart your computer and check if you see its driver installing automatically. If not, again open Devices Manager, right-click on Keyboards and select Scan for hardware changes to install it.
After the driver is installed, check if the keyboard starts working.
Read: Num Lock key not working.
5] Reset keyboard settings back to default
If you believe that some external software or you might have changed the keyboard settings and made it unusable. You can reset keyboard settings back to default.
Read: Shift key not working.
6] Troubleshoot in Clean Boot State
If the keyboard is working but not taking the inputs properly, you can perform a Clean Boot and check. Once there, you can check whether the keyboard is working fine or not. If it is fine, then probably there is some third-party software or service hindering the keyboard in the normal state, which you will have to identify.
Read: Windows key not working.
7] Run Keyboard Troubleshooter
Run the Keyboard Troubleshooter and see if that helps you.
See: Multimedia keys not working.
8] Run the Hardware and Devices troubleshooter
Run the Hardware and Devices troubleshooter and see if it helps you.
9] Disable Filter Keys and see
If you notice a short lag from the time you press a key and a character is displayed on the screen, then you need to disable Filter Keys. What Filter keys do is basically ignore repeated keystrokes to make typing easier for people with hand tremors. But it can cause problems sometimes for normal or fast typing speed. To disable filter keys, go to Settings and then Ease of Access. Select the keyboard from the left menu and find an option to disable filter keys. This might solve your problem.
These were a few tips that can get your keyboard working. Other than these you can try the hardware diagnostics tool that may have been installed on your laptop by your manufacturer itself. If nothing helps, then the best option is to carry the laptop to a certified repair center.
Here are more suggestions that may help you fix the issue of the Keyboard or Mouse not working.
Can you accidentally lock your keyboard?
It can happen when you have enabled the Filter keys, which ignore brief or repeated keystrokes and slows down the keyboard repeat rate. It means if you type too quickly, you won't see anything getting typed. Filter keys are an accessibility feature that ignores any keypress because of shaky hand movements.
How do you unlock the Fn key on a keyboard?
Some OEMs offer a lock key for the Fn key to avoid accidental usage. If your Fn key is not working, check for the lock key that you need to use with the Fn key. Once enabled, you can use a combination of the Fn keys with predefined keys, and it will work as expected.
Is there a keyboard lock button?
Usually no. Windows also offer nothing that can lock your keyboard unless you press a special combo. Some OEMs provide keyboard lock features, but it is still rare. Apart from these, there are desktop apps that provide such features and only let you use the keyboard when you enter or press the access keys.
Related reads:
The spacebar or Enter key is not working.