Playing games on PCs is something that many of us love doing in our leisure time but it becomes a frustrating experience when you can't even access its menu using the keyboard. Find out what you should do when you notice the keyboard is not working while playing games on your Windows 11/10 PC.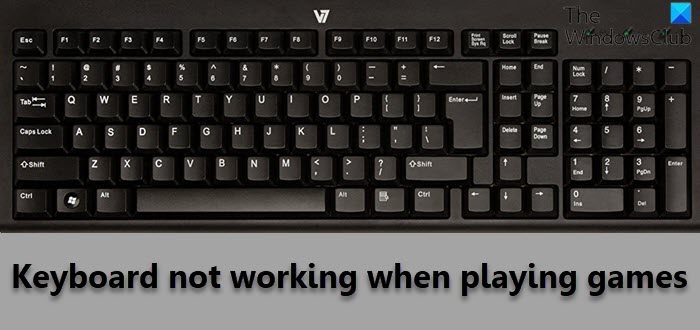 Keyboard not working when playing games
It's necessary to have a keyboard functioning properly while playing games because you'll need it to type those signs and symbols required for entering your email address and password. If your Keyboard stops responding or is not working in-game randomly, or mid-game, then here are a few suggestions to help you
Clean the keyboard using a brush
Run the Keyboard Troubleshooter
Delete the Stored Cloud Files
Disable In-game overlay
Troubleshoot in Clean Boot State.
You are much more likely to encounter a keyboard problem than routine computer freezing in Windows. Nevertheless, it can be fixed easily by following any one of the methods described below.
1] Clean the keyboard using a brush
The first thing you can do is, try to find if some keys or keyboard has broken physically somewhere. If there is a physical impact, there is nothing much you can do. You need to carry this laptop to the service center.
2] Run the Keyboard troubleshooter
The System settings in Windows come with a new option called Troubleshoot. As the name suggests, this setting has some one-click solutions to fix various problems related to your computer. So, if you find games like Fortnite and others not responding to any keypresses, do the following.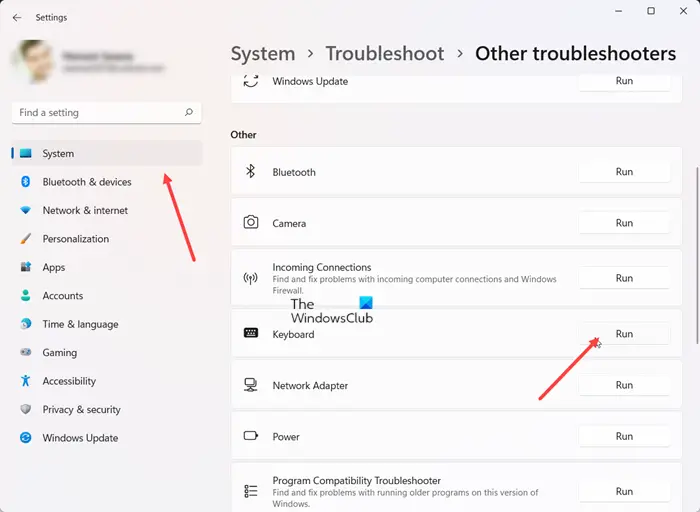 Open Settings, select System and go to Troubleshoot tile.
Expand it to choose the Other troubleshooters tile.
Then under the Other heading, hit the Run button, located next to the Keyboard entry to find and resolve the issue automatically.
Read: Laptop keyboard not typing and working
3] Delete the Stored Cloud Files
If the problem is related to the Steam Games like Warframe and Dragon Age: Origins that are launched through Steam, exit the game and Steam.
Then, locate and delete the remotecache.vdf file under Steam\userdata\SteamID\AppID.
When done, start Steam again and check if the problem persists.
Read: Backlit keyboard not working or turning on
4] Disable In-game overlay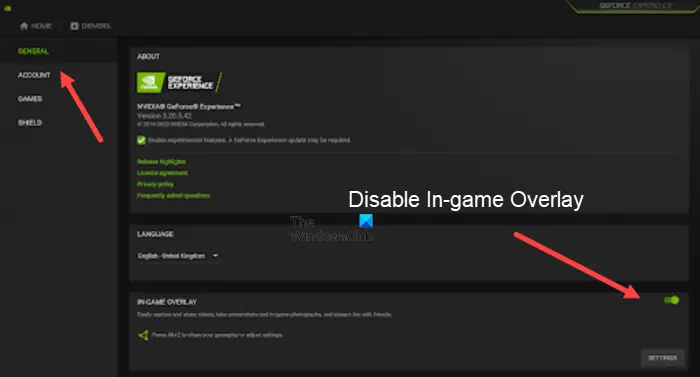 The problem is sometimes also associated with Nvidia graphics on your PC. So, if have Nvidia graphics, open GeForce Experience.
Then, click the gear icon to open Settings.
Under the side panel on the left-hand side, select General, then toggle the switch next to the In-Game Overlay option to the Off position.
Read: Keyboard shortcuts and Hotkeys are not working
5] Troubleshoot in Clean Boot State
If the keyboard is working but not taking the inputs properly, you can perform a Clean Boot and check. Once there, you can check whether the keyboard is working fine or not. If it is fine, then probably there is some third-party software or service hindering the keyboard in the normal state, which you will have to identify.
Related: Keyboard is locked; How to unlock a Locked Keyboard?
Can I play Microsoft games on PC?
Whether you're a beginner or a gaming pro, you can play Xbox games on any Windows PC on your home network. Just Power On your console hit the Start button, and then choose the Xbox Console Companion to get started.
Read: USB Keyboard not recognized
Can a normal laptop be used for gaming?
Normally, any mid-range laptop with decent hardware should be sufficient to play games that don't require high-end graphics. In other cases, you just might need to make some sacrifices to the types of games you play, or the settings you run them at.
Read next: How to reset keyboard settings back to default.