Microsoft Windows 10 is the first operating system with single, unified Windows core enabling one app to run on every Windows device including phone, tablet, PC, Xbox console. The Xbox universal app which is built into Windows 10 enables Xbox users to bring their entire gaming world under one roof. With Microsoft Xbox app in Windows 10, you can seamlessly access your Xbox games, interact with Xbox friends, connect with Xbox One console and enjoy every Xbox service through Windows 10.
If you are using Xbox app on Windows 10 for the first time, this tutorial shall help you get started and to explore all its features. You should know that the Xbox app has now been renamed as Xbox Console Companion app and comes bundled with Xbox Game Bar app.
Xbox Console Companion app in Windows 10
As soon as you launch the Xbox app in Windows 10, you will be greeted with Xbox logo with game characters. Once it gets connected to the internet and is all set, click on "Let's play".
In the beginning, your Windows account will be auto signed; you can change your account by clicking on sign in as the different user.
Messages
The base version of Xbox app lets you communicate with your existing Xbox friends via messages. Just click on the "Messages" icon in the app, and then choose your Xbox friend with whom you should start a conversation with. If you were using Xbox on the console or Windows Phone, all the message history of yours would be visible here.
My Games
In the "My Games" section of Xbox app, all the games which you owned from Windows Store will be shown prominently. You can instantly launch the existing games present in "My Games" by clicking on the "Play" button below the game name listed.
When you launch the Xbox game in Windows 10, you can notice that the games can be played within the same Window, unlike Windows 8 or 8.1, the game wouldn't open in full-screen mode by default – This is a welcome change in Microsoft's Windows 10.
If you have not installed any Xbox games in the past, you can use the "Find games in the Store" option which launches the Windows 10 Store app, where you can search and find games of your choice. Once you install a game from the store, it would be listed here in the "My Games" section of the app.
It is also possible to add an existing PC game or non-store application in "My Games" by clicking on "+" button in the top and importing already existing PC game to the game list present in Xbox app, this keeps all your games organized at one single place.
Achievements
The Achievements section in the Xbox app lists the game score earned, achievements and the progress of the games which you played. This helps you to keep track of the progress of Xbox games in relevance with your Xbox friends performance.
You can also sort the game list in the order of "Most Recent" , "Xbox One" and "Others".
Related read: Xbox Achievements not showing.
Game DVR
The Game DVR option helps you record the games when you are playing. While you are on a game, by simply using the shortcut key "Windows + G" you can take a clip or snapshot of the game. In the "Game DVR" section of Xbox app, you can see all the recent games for which there are associated game clips or screenshots. This is a fool-proof way to show someone how you were really able to "crack" the given game. This post shows in detail how to use Game DVR to record visuals.
You can also explore the various game clips posted by a community of users in Xbox by vising the "communities" under Game DVR section.
Please note, taking game clips requires a specific hardware, if you don't meet hardware requirements, you can still capture the game moments by using "Windows+Alt+P" which takes a snapshot of the game currently being played. You can also share game clips with your friends on Xbox app.
See how to disable Game DVR or Game Bar if you do not need it.
Capture screenshot or record screen
The Windows 10 Xbox app also includes a screen recording feature that lets you record the screen of the active window. To use it, start the Xbox app, click Win+G to open the Game bar and select Screenshot or Start Recording.
Connecting Xbox app to Xbox One on Windows 10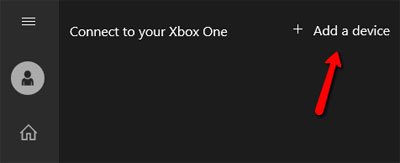 By entering "Connect" section of Xbox app, you can connect any Xbox One device to this application. If the auto-discovering of Xbox one console fails, you can manually add it by specifying the IP address.
Read: How to Report and Block Gamertag, Content, and Messages in Xbox One.
Customizing your Xbox profile
You can change or update your Xbox profile by clicking on "customize" option under the profile tab – which is the very first item in the Xbox app.
You can switch between "gamer pic" or "Xbox avatar" mode, and there are a variety of options available to update your Xbox profile.
Xbox Friends
You can search for any screen name and add them as a friend in the Windows 10 Xbox app using the right-hand side friends panel. You can view their Xbox profile, games which they have played, achievements earned, message them and even invite them for a party.
Now take a look at this Xbox One Tips and Tricks post.