Communication during the multiplayer game on any platform is important. One of the major features which Xbox One got onboard is Party Chat. While games did support in-game chats, this was much better because not only it became available across all major platforms, the kind of control it got on board is fantastic. Personally, it's impossible to play a multiplayer game without Party Chat. This post will see how to use Party Chat efficiently with its features on Xbox One, & Windows 11, and Windows 10 PC, Android, iPhone, and iPad.
What is Xbox One Party Chat
Imagine this like talking to multiple people on the phone using the conference feature. Party Chat is a feature of Xbox One which works with every game. So in case, your game doesn't have an in-game chat, you can invite people using Gamertag and talk to them while gaming. It's also great for having a casual chat, getting into each other parties, meeting friends, and just saying hi!
Note: You will need a Microphone to use this on Xbox One and Windows 11/10 PC. If you own a Kinect, that works, but having a headset delivers a much better experience.
How to use Party Chat on Xbox One
Press the Xbox guide button, and then use the left bumper to navigate to the multiplayer section.
Select Start a party.
This will create the party with you as the owner, and if your microphone is correctly configured, you should see a headphone icon against your profile.
Now use the Invite More option to invite gamers from your friend list.
And you are all set.
It's that simple, but then comes the feature list, which makes it useful for gaming. Let's talk about it one by one:
Invite Party to Game:
This feature lets you invite everyone to join your game. Invitations are sent to everyone, and if they press the Xbox guide button as soon as they receive it, it will launch the game and take them to the multiplayer lobby.
This party chat act as a platform for everyone to discuss strategies or vote for a common goal, and so on. You can even invite fellow games to start broadcasting together on Mixer.
Party Overlay:
When in-game, it was impossible to figure out who was speaking. This was solved by Party Overlay. Whenever somebody used their mic, the Gamertag with an audio sign would appear. It made sure everyone could notice who was speaking. Under the party section, you can turn this on and also define where the overlay should appear. The default was set to the top left.
Invite More & Text Chat:
You can keep inviting more people, and if your party is open to friends, others can join in as well. In case a person doesn't have a microphone, he can always use text chat. I agree that it's annoying to type in because you cannot play simultaneously, but sometimes I have accommodated good players. Their chat does appear in the notifications and overlay, so it worked for small messages.
Party Chat Control:
Xbox offers granular control for Party Chat if you want to have some privacy or have an echo issue from someone, or if you are playing with a group of people and want to mute some of them.
Make party invite-only.
Mute party.
Switch to Game chat. This is useful when you are having trouble with party chat. You don't have to leave the party and still hear each other.
Mute yourself or mute others by pressing X on your controller.
The open profile of gamers who joined the party.
Remove from the party. (Only for those who start the party)
Leave party.
Multiple Ways to Start Party Chat:
Party chat is natively integrated into Xbox One.
You can always start a party from a group conversation and invite everyone.
Create a Looking for Group Post after starting a party, and every time you approve somebody for the game, they get a party invitation.
Invite individual profile to party.
How to Join a Party:
Under multiplayer, there is an invitation section. This lists all games and party invites. In case you have missed it, you need first to look here. If it's not there, you will need to open an individual profile and click on Join > Join Party. If it's disabled, it means the person has its privacy policy set to limit it.
Using Party Chat on Windows 11/10
Party Chat on Windows 11/10 is a completely different beast, but it's way to go if you play Xbox Play anywhere games or any game which doesn't support Xbox Live. It works through the Xbox App.
Just before we start, here are few things you should know. The app offers the same features of Party Chat as on Xbox One. You can invite your friends, invite them to the game, join the party, and so on. It also offers text chat and party options.
Start a Party:
Make sure you have Xbox One App Installed on your Windows 11/10 PC.
Open it, and then click on the Social tab from the top menu
Click on the Headphone icon next to Add contact and search box
Then click on the menu on the top-right and select Add someone
You can then add anyone from the friend list to the part and wait for them to join.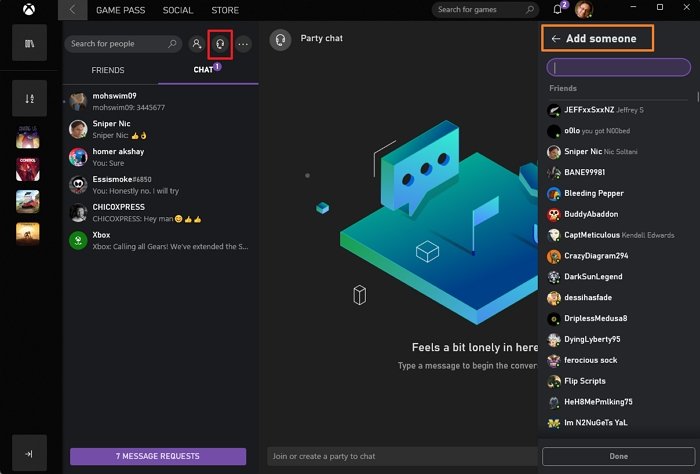 Note: If you don't have Xbox One, you will still get the same options. Just read through what we have explained above, and it should be enough to understand everything clearly.
Party Chat Settings:
Control Volume: Using the slider, you can lower or increase the volume of the party.
Change Audio Devices: This is an extra option we have seen compared to Xbox One. You can change the audio device, i.e., from speakers to headphones, just for the party.
Notifications:  Here, you can control to get notifications for Party Invites.
Don't have a Microphone for Xbox One?
When you launch the Xbox App on Windows 11/10 PC and switch to Party Chate here, it will disconnect party chat on Xbox One but maintain the same state, i.e., you will be in the same party if you were on Xbox One.
So if you don't have a headset for your Xbox One, you can always use Windows 11/10 Laptop to stay at the party and use any microphone to chat.
Which Apps support Party Chat on Windows 11/10
It's an obvious question, but here is the deal. It works for every game.  Any game on Windows 10 and Party Chat is totally different. You don't really get native integration like Xbox One, but you still get to play any multiplayer game on Windows 11/10 and do a party chat. Anytime you need to change anything at the party, you will have to switch between the game and the Xbox App.
Xbox App also has Store integrated, which lets you find games for Windows 11/10, Xbox One, and Xbox Game pass, all separately.
How to use Xbox party chat on Android & iOS
Since its the same Xbox App on both the platform, the steps are common. The biggest advantage of using it on mobile is you don't have to worry about a microphone or to have an external speaker. You can use your plan earphone and stay connected with your friends at the party.
Sign in with the same Xbox account as on your Xbox One.
Switch to the Social tab from the home screen.
Tap on the Microphone icon, and it will instantly start the Party chat
You can then use the menu to add more friends to the Party Chat.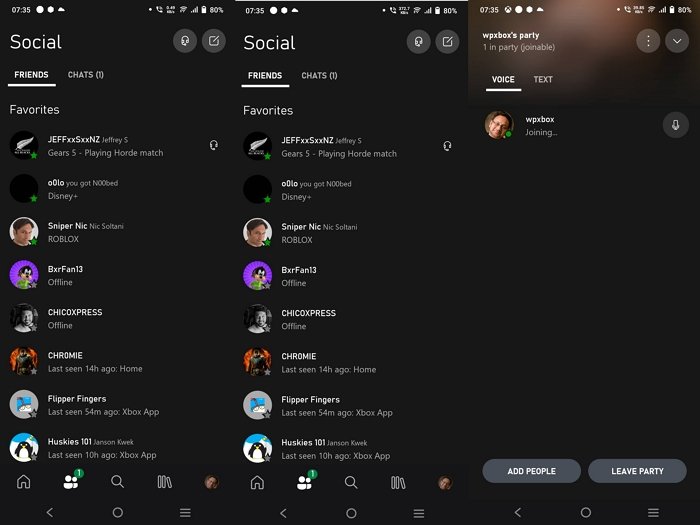 When you send the invite, notifications to your friends are sent everywhere they are signed in to your Xbox App. You can choose to listen on speaker or use a microphone or just like how you take a call.
Can you join an Xbox party on PC?
Yes, you can join the Xbox Party on a PC. Switch to the social section, and then look for the icon that looks like two people next to each other or right-click on any person already in the party and choose to join.
Is Xbox party chat free?
It is completely free, and all you need is an Xbox Account. You can then join the same party from Android, iOS, Xbox, or anywhere the Xbox App is supported.
Why can't I use Xbox party chat on PC?
If everything else, including the internet and your connection to the Microphone, is working fine, then the Xbox Service may be causing the problem. Check Xbox Live Status to find if there is an issue.
I am sure you all use Party Chat. My question is, how are you using it? Do you find any features missing? What are they? Let us know in the comments.