Xbox is one of the most premium gaming consoles used around the world. Both the Xbox and the PlayStation have been established players in the gaming community for years now. Sometimes when you may try to sign in to your Xbox account or install a PC game, an error may restrict this process, Error code 0x800704CF. This error can be very frustrating because, well, you can't play unless you're signed in. More often than not, its root cause lies in your Internet Connection. The error message says something on the lines of 'It doesn't look like you're connected to the Internet.'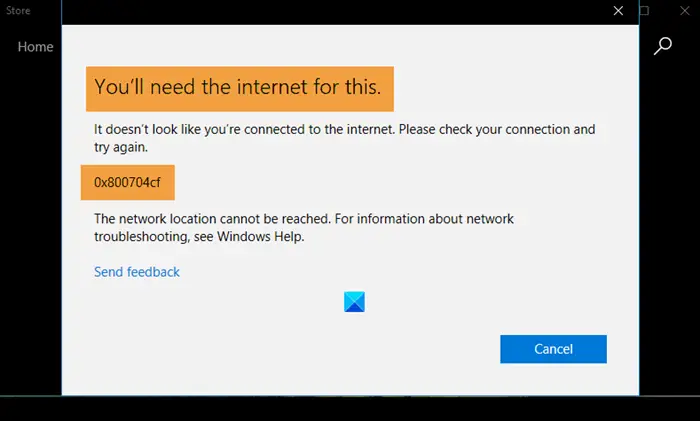 Fix Xbox Error Code 0x800704CF
Today, we'll be telling you how you can deal with the Error 0x800704CF while signing in to the Xbox. Since it's primarily a function of poor internet connectivity with your console, all our solutions will be centered around that.
Here's how you can Xbox Error 0x800704CF, It doesn't look like you're connected to the Internet, while signing in, when installing or playing a PC game.
Check the Service Status
Clear XBox's local storage
Clear your MAC address
Check for console updates
Reset the console without deleting the apps or games
1] Check the Service Status
Since this issue is related to your network connectivity, the first logical step is to check where your Xbox Service stands. If there is something that might've triggered this error, it would show up.
If you see an issue, you can turn on the message to be notified once it has been dismissed, since they don't last for very long.
2] Clear XBox's local storage
You can temporarily delete the local storage data on your Xbox. Once the error has been fixed and you're able to log back into your Xbox account, it will sync in your data again. To delete your local storage:
Go to Settings on the top-left and further click on All settings
Click on System from the options pane to your left and select Storage
Click on Clear Local Xbox storage and restart the game. This can fix your internet connection, so check if the network's working fine
3] Clear your MAC address
A MAC (Media Access Control) address is an identifier unique to your network controller which is meant to facilitate communication. You can try reshuffling it too.
Open settings > General Settings > Network Settings
Under Network Settings, you'll see Advanced Settings. Click on it and further select Alternate MAC Address
You'll then be given a choice to either manually input a MAC address or clear it. Select Clear and confirm these changes
A prompt will ask you to Restart the console. Do so and hopefully, the error will be gone after this
4] Check for console updates
It is not unordinary for the Xbox to be a little glitchy if you do not have the latest version running. Check for updates by following the steps below:
Go to Profile & System and click on Settings
Go to System
Select the Updates option and check if there are any
5] Reset the console without deleting the apps or games
If you Reset just your console while keeping the apps and games, this connectivity issue may be resolved.
Open the guide and visit System
Select Settings and go to System > Console info
You will see a Reset Console option here
Click on the Keep apps and games option and proceed. Power up your console and chances are that the internet is working just fine this time around.
We hope that one of the above solutions was of help to you and that you are now able to play games on your Xbox without any problems.
Similar error codes: