You may encounter the NVIDIA GeForce Experience or ShadowPlay failed error on your Windows 11 or Windows 10 PC when you run the NVIDIA installer on your device. This post provides the most suitable solutions affected PC users can apply to easily resolve the issue.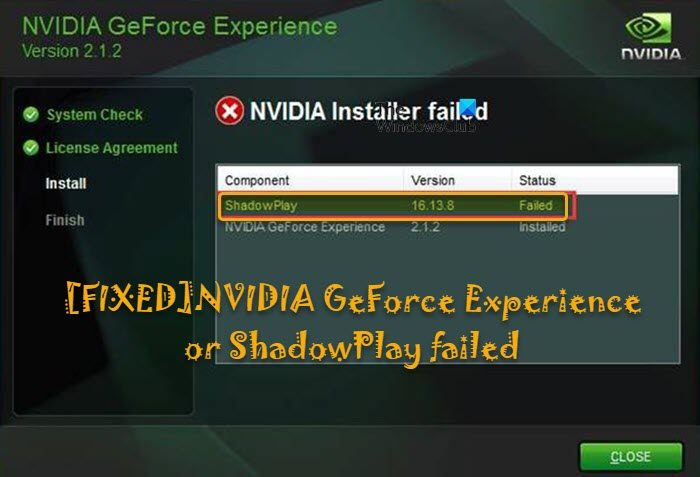 When the NVIDIA installer fails, the components ShadowPlay and GeForce Experience app will fail to install on your system. This issue can occur due to one or more of the following reasons:
Corrupt registry keys
Bad Service
Integrated Graphics
Insufficient administrative privileges
Compatibility Problems
Corrupt user account
Missing DirectX libraries
Windows Media Player
Windows OS problems
NVIDIA GeForce Experience or ShadowPlay failed
NVIDIA GeForce Experience is the companion application to your GeForce graphics card. It keeps your drivers up to date, automatically optimizes your game settings, and gives you the easiest way to share your greatest gaming moments with friends.
ShadowPlay is a utility that can be used for gameplay recording manually or automatically in the background if configured by the user. The utility can also be used for live streaming and can work as an FPS counter overlay.
If NVIDIA GeForce Experience or ShadowPlay failed to install on your Windows 11/10 device, you can try our recommended solutions below in no particular order and see if that helps to resolve the issue on your system.
Initial checklist
Update/Install latest DirectX version
Update graphics adapter driver
Install Windows Media Player on K, N and KN editions of Windows
Create new User Account
Modify (delete Logging key) registry
Install NVIDIA GeForce in Clean Boot state or Safe Mode
Let's take a look at the description of the process involved concerning each of the listed solutions.
1] Initial checklist
Before you try the solutions below, as a possible quick solution, you can do the following, and after each task see if NVIDIA GeForce ShadowPlay can install on your device without issues:
Check system requirements. Make sure that your PC fulfills the system requirements for ShadowPlay. For the complete list of system requirements, visit nvidia.com.
Run SFC scan. This will fix any corrupt system files that might be interfering with the utility installation.
Run GeForce installer with admin privilege. In addition, if you are installing an older version of GeForce Experience, run the installer in compatibility mode.
Temporarily disable antivirus or add an exception for the NVIDIA installer.
Disable RGB Lighting. You can do this in BIOS or lighting control applications (e.g; Asus Aura) for some motherboard manufacturers.
Disable integrated graphics card. If there is more than one graphics card installed on the system (dedicated + integrated), and the integrated card is turned on during the installation of ShadowPlay, the installation will fail. You can disable the integrated graphics card via Device Manager or BIOS.
2] Update/Install latest DirectX version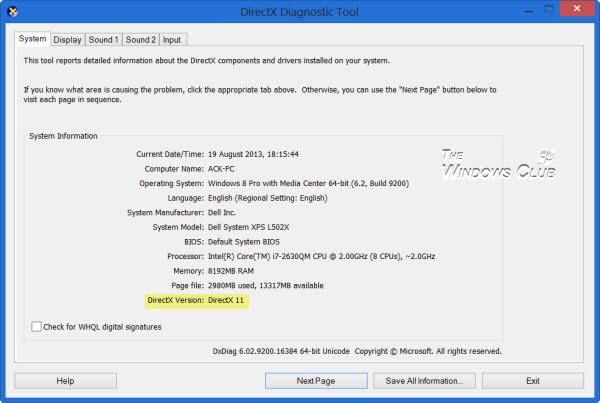 If NVIDIA GeForce Experience or ShadowPlay Install Failed on your Windows 11/10 device, it could be due to outdated or DirectX is not installed on your system. In this case, to resolve the issue, you can manually update or install DirectX on your device.
If the issue is unresolved, try the next solution.
3] Update graphics adapter driver
Both the NVIDIA NVFBC & NVIFR API are used by ShadowPlay to capture gameplay directly bypassing the graphics API. So, if the display driver is outdated then it can become incompatible either with Windows or GeForce Experience, which can result in ShadowPlay installation failing.
4] Install Windows Media Player on K, N and KN editions of Windows
Even though it appears there is no apparent link between Windows Media Player and ShadowPlay, investigations revealed instances where if the WMP wasn't installed, the GeForce Experience installation will fail to install ShadowPlay component.
So the issue of failed installation of ShadowPlay can occur if your system (K, N and KN editions of Windows) doesn't have Windows Media Feature Pack. In this case, to resolve the issue in hand, you can download and install Windows Media Player for K and KN editions.
5] Create new User Account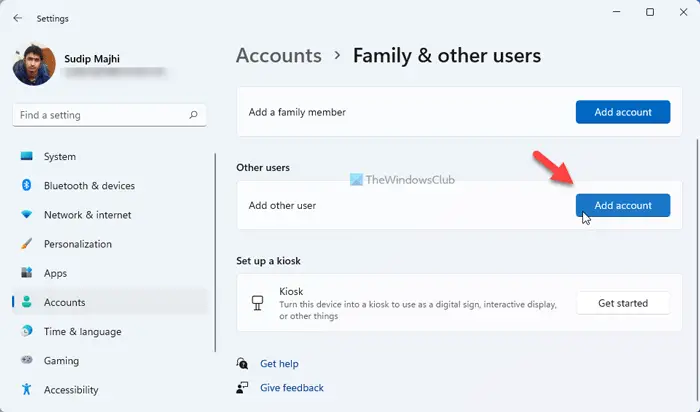 Newer versions of the GeForce Experience app does not support user profiles that are not on the drive on which Windows is installed. So, the issue in focus is likely to occur if you are using a profile that is not on the system drive. In this case, to resolve the issue, simply create a new local user or administrator account on the system drive, log into the new account and see if you can successfully install GeForce Experience from that account.
6] Modify (delete Logging key) registry
Since this is a registry operation, it is recommended that you back up the registry or create a system restore point as necessary precautionary measures. Once done, you can proceed as follows:
Open Task Manager and kill all running NVIDIA processes.
Press Windows key + R to invoke the Run dialog.
In the Run dialog box, type regedit and hit Enter to open Registry Editor.
Navigate or jump to the registry key path below one after the other:
HKEY_LOCAL_MACHINE\SOFTWARE\NVIDIA Corporation
HKEY_LOCAL_MACHINE\SOFTWARE\Wow6432Node\NVIDIA Corporation
At each of the locations, on the right pane, right-click the Logging registry key.
Select Delete from the context menu.
Exit Registry Editor.
Restart your PC.
On boot, see if ShadowPlay can now be installed successfully. If not, uninstall any NVIDIA program via Settings app or Control Panel, then repeat the steps above and try reinstalling ShadowPlay through GeForce Experience.
If the issue in the highlight persists, try the next solution.
7] Install NVIDIA GeForce in Clean Boot state or Safe Mode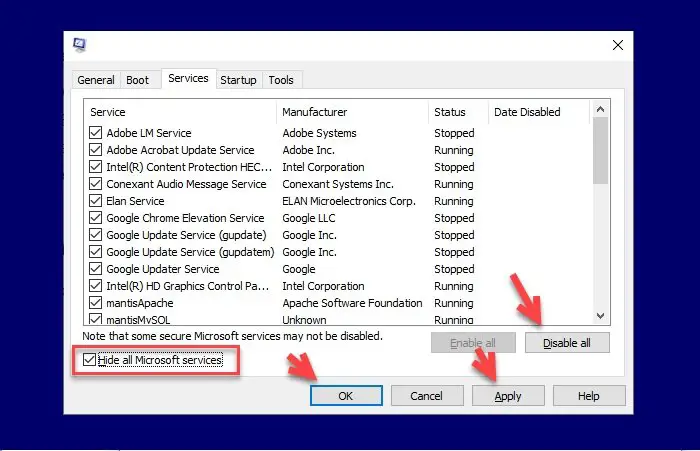 This solution requires you to Clean Boot (an environment where only basic and essential services run and there is no issue being triggered by third-party applications or additional built-in features) your device OR boot your PC into Safe Mode (an environment where all but the most basic operating system components are disabled and not loaded on startup) and then try installing GeForce Experience app and see if the procedure completes successfully without issues.
Hope this post helps you!
Related post: NVIDIA Installer cannot continue on Windows 11/10
Why can't I install the new NVIDIA drivers?
It could be the NVIDIA graphics card is not detected properly. It's also possible that your NVIDIA driver isn't compatible with your Windows version, so you'll have to roll back your NVIDIA drivers to fix that.
Can I install NVIDIA drivers without GeForce Experience?
You can do so by either accessing the NVIDIA Driver Downloads page, or by using the more detailed GeForce Drivers page. Choosing the 'Drivers Page' will also require you to manually look for the right driver.
Is ShadowPlay and GeForce Experience the same?
NVIDIA has rebranded "ShadowPlay" as "NVIDIA Share" and changed how the interface looks. You can control NVIDIA Share (ShadowPlay) from the NVIDIA GeForce Experience overlay. To open the overlay, press Alt+Z. If you don't see anything, open the "GeForce Experience" application from your Start menu.
Why is NVIDIA ShadowPlay not working?
Make sure ShadowPlay is activated and then set the mode to Manual. Head over to the Account section (Log In) and then logout from Twitch. Open a game and try opening recording with ShadowPlay using the hotkeys to confirm if it works.