Due to the different laws and regulations of other countries or countries like the European Union, China, and Korea, Microsoft has to remove certain features or add some local features to its Windows 10 editions meant for those regions.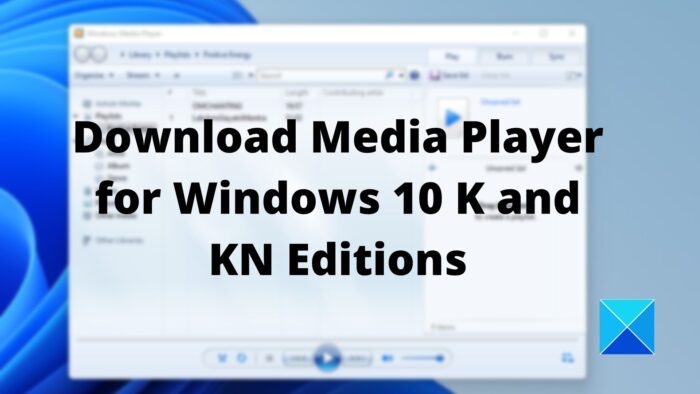 Download Media Player for Windows 10 K and KN Editions
Windows 10 N deprives you of the media player and Internet Explorer and is required (by law) to allow users to choose the browsers of their own choice. It is for the European region.
Windows K is for the Korean region, and according to law, Microsoft must add at least two local government websites to the operating system. Though it can carry Internet Explorer, it doesn't have a media player.
Windows 10 KN is a combination of Windows 10 N and Windows 10 K editions – where you won't find either WMP or IE. And it contains two shortcuts for local government websites.
To play back media, you have to install the multimedia software separately. Microsoft released a bundle containing Windows Media Player and specific other multimedia software for all three editions: Windows 10 N, Windows 10 K, and Windows 10 KN editions. You can install this bundle from the Microsoft website, or you can choose to ignore the Microsoft players (and browsers in the case of Windows 10 N edition) and install something like VLC. Here is a list of browsers for users of the Windows 10 N edition. Before installing VLC, you may want to look at the review of the VLC player that we covered on The Windows Club.
While VLC is a great program to play back DVDs and record streaming videos, it can be too complex for novices. Its equalizer does not move smoothly, and I had to spend almost an hour tweaking the sound for my liking. Plus, it has other enhancements that are hard to grasp. In short, it can be used by anyone, but if you intend to get the best sound and playback, you have to tweak it, and that is where you get stuck because there are way too many options.
Media Player for Windows 10 N, K, and KN editions
I prefer Winamp for listening to music, but since the creators are not pursuing the product anymore, I have my second choice as Windows Media Player. It has options to customize audio and video playback, and unlike VLC, they are too easy to set up. The equalizer in Windows Media Player can be easily tuned in minutes because it has the facility to move the sliders in the group – unlike VLC or Winamp, which makes you move each slider independently.
If you are running Windows N, Windows 10 K, or Windows 10 KN, you can download Windows Media Player and install it. It will also affect other programs, such as Live Movie Maker if you can run it on Windows 10. The codecs used by Movie Maker are installed when you install the Windows Media Player. Another way to get the codecs is to search the web manually, but it is a challenging game because you do not always know the name of the codecs required.
I recommend downloading Windows Media Player as it has a range of tweaking options, it can play both audio and video, and it has easy configuration settings for the equalizer, SRS, normalizing, etc. You can also set up the colors of the video being played, and of course, there are many plugins you can download from the website for DSP and Visualizations. In addition, WMP downloads artist and album information in the background when you play a song.
To download the Windows Media player and other related apps, visit Microsoft, select your language and click on download.
You can also download Media Feature Pack for Windows 10 N version.
How do I download Windows Media Player Feature Pack for Windows 11?
You can download it by going to settings > Apps > Optional features. Select View features next to Add an optional feature, and then select the Media Feature Pack in the list of available optional features. You can also install additional apps & extensions such as VP9 Video Extensions, Web Media Extensions, HEIF Image Extensions, Skype, Movies & TV, Xbox Game Bar, and Windows Voice Recorder.
Is there a better media player than VLC?
It is probably the best, not just for the number of formats it supports, but also for the number of formats it supports better than VLC. MP4, MKV, and MOV files can be played by essentially any media player software, but KMPlayer can also handle RTS, AAC, and OGG files.