If your Windows desktop or laptop keyboard is not working properly and may be typing wrong characters, then run the built-in Keyboard Troubleshooter in Windows 11/10 to fix the problems automatically. Troubleshooters are the automated tools in Windows PCs that help users fix some common issues on their computers. Microsoft has developed dedicated troubleshooters to resolve different issues. You can access all the troubleshooters from Windows 11/10 Settings. Keyboard Troubleshooter is one of these troubleshooters. You can run it to resolve keyboard-related problems.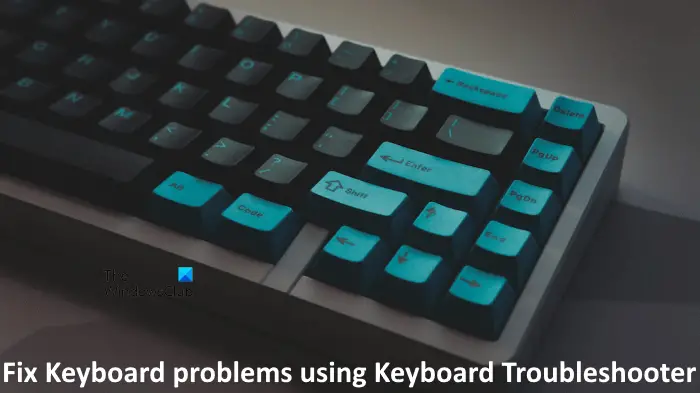 Keyboard Troubleshooter in Windows 11/10
You can fix Keyboard problems easily. If you are a Windows 11 user, follow the steps below to run the Keyboard troubleshooter on your system:

Launch the Settings app in Windows 11 by right-clicking on the Start menu.
Scroll down the right side till you find the Troubleshoot tab. Once you find it, click on it.
Now, click on the Additional troubleshooters tab.
You will see a list of all troubleshooters available in Windows 11. Locate the Keyboard troubleshooter.
To launch the Keyboard troubleshooter, click on the Run button next to the Keyboard.
To run the Keyboard Troubleshooter in Windows 10:
Press Win+I to open Settings
Select Update and Security
Select Troubleshoot from the left panel
Click Additional troubleshooters
Locate and run Keyboard Troubleshooter.
Let us see what the Troubleshooter does exactly.
Press Win+I to open Windows Settings.
From the available options, select Update and Security.
Now from the left side, select Troubleshoot. This will open the Troubleshooters page.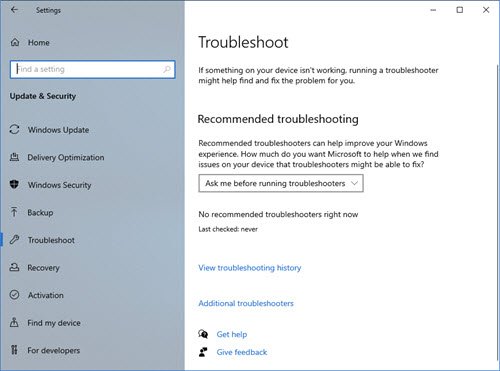 Scroll down a bit and you will see an Additional troubleshooters link. Click on it and a new panel will open,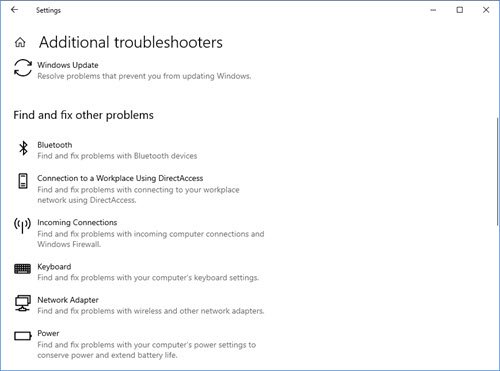 Here scroll down until you see the Keyboard Troubleshooter.
Select this troubleshooter and then click on Run the troubleshooter button.
The Troubleshooter will jump to life and start scanning.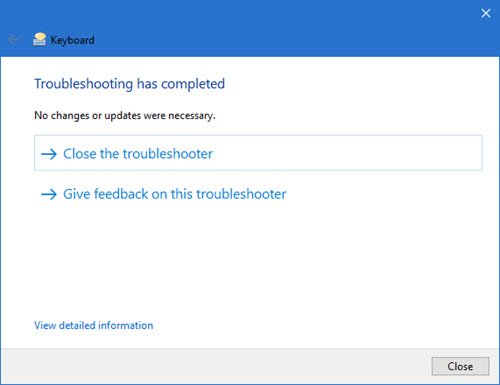 The Keyboard Troubleshooter will check if all your keyboard settings are OK and set to default values. It will check if the Text Services Framework is running, and if not, then fix the problem for you automatically. It will also check if Text services such as input method editor, handwriting recognition, and speech recognition that depend on Text Services Framework are working fine.
Once the scan is completed, you will be presented with a list of findings. Click on View detailed information to get the details.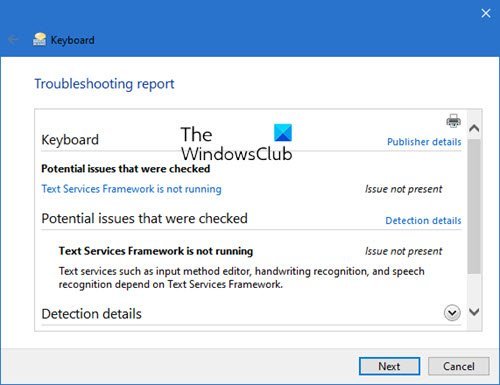 If any problems have been fixed, you will be informed accordingly.
Click on Next/Close.
Restart your PC if asked for.
Cannot find Keyboard Troubleshooter in Windows 11
If you do not see the Keyboard Troubleshooter in Windows 11 Settings, try this.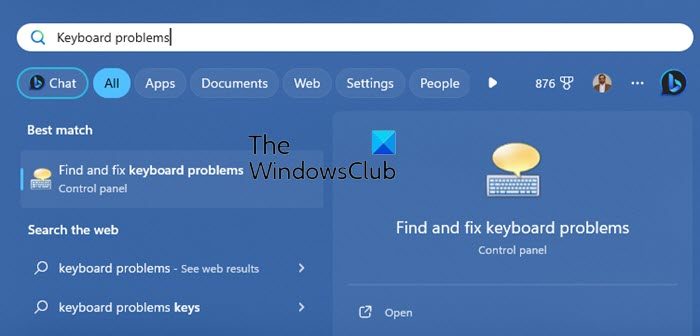 Open Start and search for "keyboard problems". You will see "Find and fix keyboard problems". Click on it.
TIP: If you are facing issues with your Touch keyboard, you can use the Windows Touch Keyboard Troubleshooter from Microsoft.
How do I troubleshoot my laptop keyboard?
If some of the keys of your laptop keyboard are not working, make sure that there is no dust accumulation. The dust acts as a barrier between the keyboard keys and the laptop circuit. Due to this, the keys do not make contact with the circuit and the CPU does not receive the user's command. Clean your keyboard. Keyboard Troubleshooter is an automated tool in Windows PCs that help users troubleshoot keyboard-related problems. You can also run this tool to fix your problem.
Tip: These free keyboard tester software let you test your keyboard functionality.
Why keyboard suddenly cannot type?
There could be many reasons why your keyboard is not typing.  If you have a USB keyboard, connect it to another USB port and see if it helps. If you have a wireless keyboard, change its batteries and then see if the problem disappears. One possible cause of the problem is corrupted or outdated keyboard drivers. Visit your keyboard manufacturer's website and download the latest version of your keyboard driver. Now, open the Device manager and uninstall your current keyboard driver. After that, run the installer file to install your keyboard driver manually.
How do I fix unresponsive keyboard keys?
The main cause of unresponsive keyboard keys is the accumulation of dust inside the keyboard. It is suggested to clean your keyboard and other peripherals at regular intervals so that they could function properly in the long run. If you have unresponsive keyboard keys, first, clean your keyboard. If this does not help, update or reinstall your keyboard drivers. If you have a Bluetooth keyboard, change its batteries or unpair and pair it again.
Hope this helped!
Read next: Keyboard not working when playing games on PC.