In this article, we have covered some best free Keyboard Tester software for Windows 11/10. These are helpful to check if your laptop keyboard keys or external keyboard keys are working fine or not. You can check all types of keys such as function keys, typing keys (alphanumerical), Numpad keys, control keys, etc. While you can use Notepad or any other text editor tools to test alphanumeric keys, not all keys can be checked using such tools. Therefore, these keyboard tester tools are handy.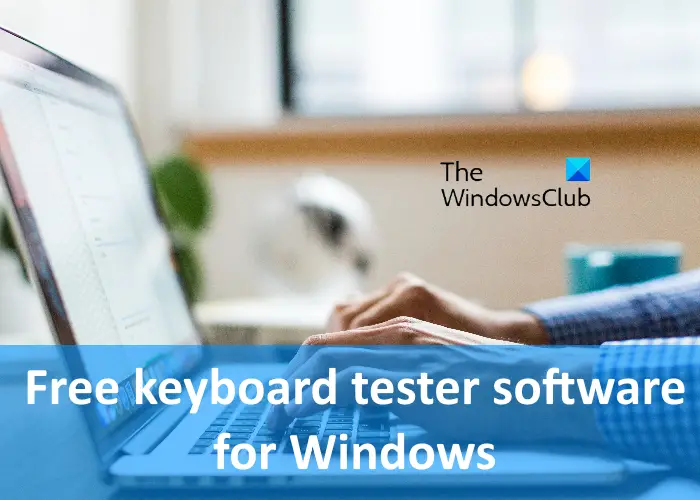 Though a keyboard usually has a long lifespan, over a period of time, users doubt or find that some keys are not working as expected. These free tools will help you find out about that.
Best free Keyboard Tester software for Windows 11/10
Here is a list of the best free Keyboard Tester software for Windows 11/10 added in this post:
Keyboard Tester
PressWhat
Aqua'S KeyTest
Keyboard Test Utility.
Let's check these tools.
1] Keyboard Tester

Keyboard Tester is probably the simplest tool on this list. This is a portable tool to easily find out which keys of your keyboard are functioning properly and which are not.
You can download this tool from sourceforge.net. Simply launch the tool and start pressing the keys on your keyboard. When you press a key, it displays its name so that you can know if the correct key is pressed and whether that key is working properly or not.
2] PressWhat
PressWhat is another free keyboard tester software for Windows computers. It has a very basic interface where you will see some usage instructions.
You can grab this tool from sourceforge.net. Download this tool, install it, and launch it. After launching it, just press a key, and it will display the name of the key you pressed.
Some keys are not added to the database of this tool, like the volume keys, Print Screen key, play and pause keys, etc., which is a downside of this tool. When you press such keys, it displays an error message. Apart from that, the rest of the functionality of this tool is good.
A portable version of PressWhat is also available. If you want, you can download it from softpedia.com. The biggest advantage of portable software is that you need not install them on your system. They run with a click of your mouse. Also, you can take portable software with you in your Pen Drive and run it on another PC without installing it.
TIP: You can also use some free online keyboard checker tools to test keyboard keys.
3] Aqua'S KeyTest

Aqua'S KeyTest is a portable tool to test the functionality of a keyboard. It displays the layout of a keyboard which looks good. When you press a key, it highlights that key with yellow color on that virtual keyboard. This will let you know that the particular key is working properly.
Some other features are also present in this tool. For example, the bottom of the software displays the BIOS key code, Windows key code, and the last key you pressed. You can also delete all the history stored by this tool and start again using the Clear button.
This free software is available on softpedia.com.
4] Keyboard Test Utility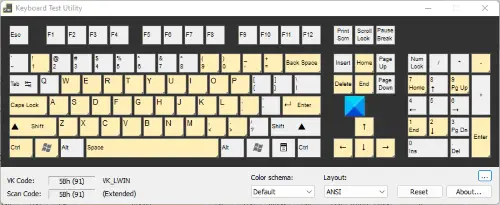 Keyboard Test Utility is another portable software that comes with three different types of keyboard layouts, namely, ANSI, DP- 72, and SL- 91. In addition to this, it also has black and white themes which you might like. Because it is portable software, you need not install it on your system. Just double-click on the downloaded executable file to launch Keyboard Test Utility.
This tool also displays a virtual keyboard and it highlights the keys that you press with yellow color so that you will come to know that the keys are working fine. The keys which are not highlighted by the software may be damaged.
This free keyboard tester software also displays two types of codes (VK Code and Scan Code) for the keys that you press along with the name of those keys. The Reset button deletes all the history and brings the software to the initial stage.
To download Keyboard Test Utility, visit softpedia.com.
How do I install a keyboard tester?
To install a keyboard tester, you just need to visit the official website of that particular tool and download its EXE file. If the tool is present in a ZIP file, then first you need to extract that file, and then execute its EXE file. Once you have executed the EXE file of the keyboard tester tool, follow the installation steps and done.
If you want, you can also grab portable keyboard tester tools like those mentioned above in this post, and use them without installation.
How do I test a key on my keyboard?
You can easily test a key on your keyboard with the help of some free keyboard testing software. We have already mentioned some good free keyboard tester tools on this list that you can try. The list that we have mentioned here also contains a portable Keyboard Tester software. Therefore, if you do not want to install any third-party software on your system, you can try these portable keyboard testers. Or you can go online to test your keyboard. Many websites offer free keyboard tester tools that you can use to test your keyboard's functionality for free. But for this, you should have an active internet connection.
How do you know if you have a bad keyboard?
If you have a bad keyboard, you may experience one or more of the following symptoms:
One or more keys won't work properly
You have to press some keys hard to type
Most commonly keyboard issues occur due to a corrupted keyboard driver. Every hardware device that we connect to our Windows computer requires a dedicated driver. The driver helps the hardware device communicate with the operating system. When a driver malfunctions, this communication link gets broken and we cannot use that particular hardware device. If you have a bad keyboard, updating or reinstalling the keyboard driver may fix it.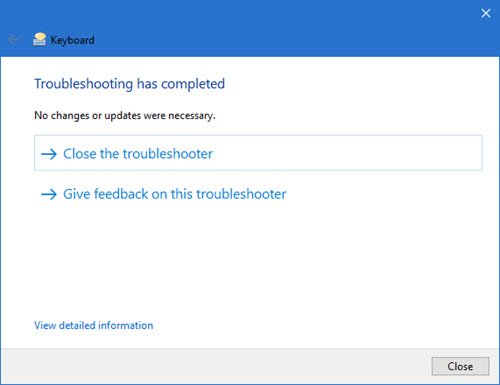 In addition to this, you can also try running the Keyboard Troubleshooter. Troubleshooters are automated tools developed by Microsoft. You will find different troubleshooters on your system. Each of these troubleshooters is dedicated to resolving a specific issue on a Windows computer. When you start experiencing issues with your keyboard, you can run Keyboard Troubleshooter to fix the problem.
That's it. Hope it will help.
Read next: How to perform Mouse Latency Test in Windows computers.