If you are planning to take your PC for a repair because your keyboard has stopped working suddenly, wait – your keyboard might have got locked accidentally. Yes, the keyboard gets locked if you use Win+Ctrl+L, there are a few other reasons like an outdated driver, dirt, physical damage, or lose connection, if you are using a wired keyboard. Let's see how can we fix this.
Keyboard is locked on Windows computer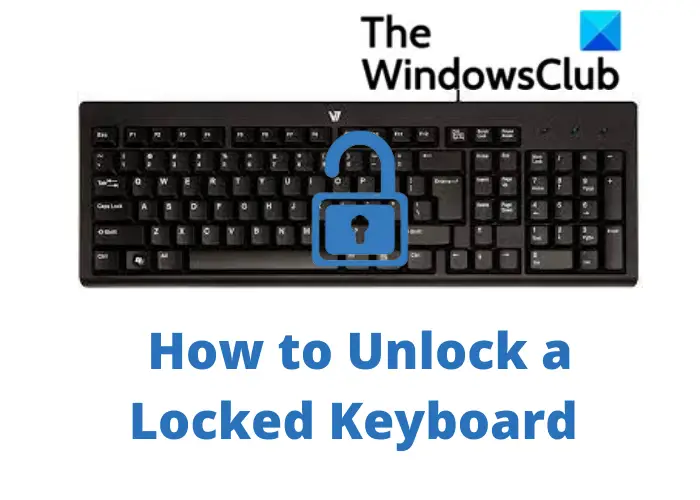 How to unlock a Locked Keyboard on PC
Try the following suggestions to resolve the issue on your Windows computer:
Filter keys
Restart your computer
Check batteries
Check for physical damage or dirt
Check for the connections
Update your drivers.
1] Filter Keys
This is the first reason why your computer keyboard gets locked accidentally. Filter Keys turn on if you press the right shift key for 8 seconds, which of course can happen accidentally. When your Filter Keys are on, your keyboard won't work at all. All the keys including the function keys, and num lock key, everything will stop working.
Go to Settings > Accesibility > Keyboard and turn them off.
If your keyboard is still not working, check the other fixes below.
2] Restart your computer
Restarting your computer can fix most of the temporary bugs and that includes your locked keyboard too. Simply close the applications running on your system, save your work and restart your computer. If your keyboard is stuck due to any temporary bug or issue, this will most definitely solve your problem. If it didn't, check the next Fix.
3] Check batteries
If you are using a wireless keyboard on your PC or laptop, make sure the batteries aren't drained out. Change the batteries and check again if it is working or not.
4] Check for physical damage or dirt
Check if your keyboard is physically damaged or broken. Check if there is dust or dirt under the keys blocking them. Clean your keyboard and check again. If you can't see any damage, try using another keyboard with your PC and see if that works. If it does, it means the problem is with your keyboard and not the computer.
Read: Tips to physically clean your PC, mouse, and keyboard
5] Check the connections
If you are using a wired keyboard with your system, check that it is properly connected and if you are using a Bluetooth keyboard, check if the Bluetooth connection is working fine or not. A bad/damaged USB cable or port can also be the reason why your keyboard is not working. Plugin your keyboard into another USB port and check.  Again, you can check this by using another keyboard on your machine. Fir Bluetooth keyboards, unpair your keyboard, restart the Bluetooth and pair it again. It should work if there was an issue with your Bluetooth connection.
Read: Bluetooth keyboard or mouse keeps going to Sleep
6] Update your drivers
If none of the above-mentioned fixes is working for you, the issue might be with the keyboard drivers on your PC.  A faulty or outdated driver can certainly be the reason why your keyboard has stopped working. Follow one of the methods below to update your device drivers:
Why my keyboard has stopped working?
There can be many different reasons like Filter keys turned on, outdated keyboard drivers, dirt clogging your keyboard, etc. Check for the fixes above to unlock your keyboard.
How to open the On-Screen Keyboard?
You can open the On-Screen keyboard simply by pressing Win+Ctrl+O on your keyboard. If your keyboard is locked or is not working for some reason, you can go to Settings > Accessibility > Keyboard, and turn on the On-Screen Keyboard.