Microsoft has done a lot of work when it comes to Accessibility. It's a way where software features can help people with physical issues. Filter Keys is one such feature which tells the keyboard to ignore repeated keystrokes. People with hand tremors might hit the same key again, and again, this is where Filter Keys help. In this guide, we are sharing how to turn on or off Filter Keys in Windows 11/10. We will also show you how to use the various levels of Filterkeys.
Turn on or off Filter Keys in Windows 11/10
Windows 11 users have to follow the below-listed steps to disable the Sticky and Filter keys: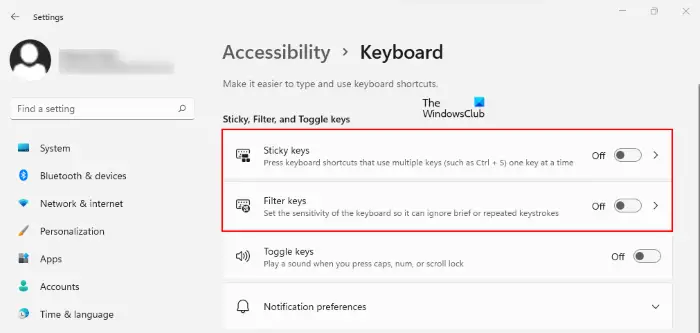 Right-click on Windows 11 Start menu and select Settings.
In the Settings app, select Accessibility from the left pane.
Now, take your cursor on the right side of the page and scroll down till you find the Keyboard tab.
On the Keyboard page, you will find both Sticky keys and Filter keys tabs. Turn off the buttons next to these tabs to disable both of these features.
If you click on the Sticky keys and Filter keys tabs, you will see different options, like keyboard shortcuts for both of these keys, a beep sound when these keys are pressed, etc. If you want, you can also turn off these options.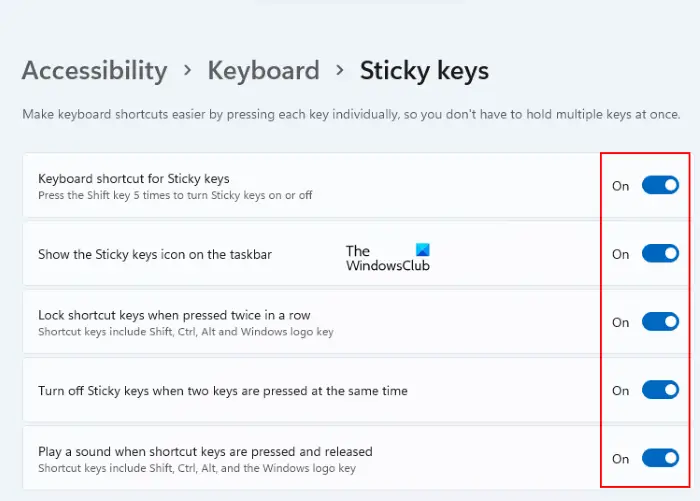 This Control Panel method working in Windows 11 as well as Windows 10.
You can enable Filter Keys using the right SHIFT key. When you keep it pressed for 8 seconds, it will activate the Filter Keys. However, you need first to turn it on for it to work.
To turn on Filter Keys:
Type Control Panel on the search box, and click to open it.
Then open Ease of Access > Change how your keyboard works > Filter Keys and click on it to open "Setup Filter keys."
Check the box "Turn on Filter keys."
To turn off Filter Keys, you have to uncheck the box.
Alternatively, Windows 10 users can open Settings > Accessibility > Keyboard.
Here toggle the Use Filter Keys switch to the On position.
That covered, let's take a look at other parts of Filter Keys. All these options are under Filter Options.
Filter Keys options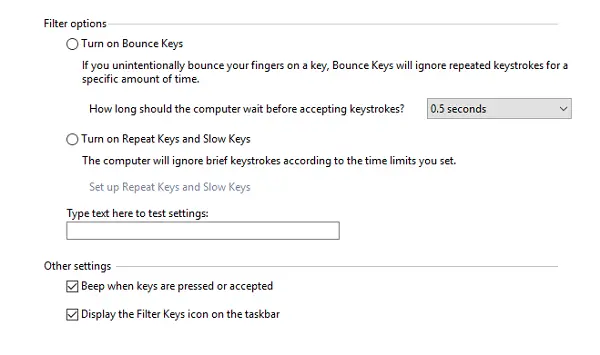 Hand tremors can create a lot of problems. It includes double strokes of the same key, accidental press, and if you keep a key pressed, it repeats the keyboard input. Filter Keys have the option to nullify all of thee actions.
Bounce Keys – It instructs Windows to ignore unintended keystrokes. It is useful when you accidentally press the same key twice. You can configure to ignore these keystrokes for 0.5 seconds to 2.0 seconds before the computer accepts it as a correct keystroke.
Slow Keys -It's useful when the keyboard is very sensitive. Windows can ignore them for a certain period.
Repeat Keys – Sometimes hand tremors result in a key pressed for some time. The default reaction is to type the same input repeatedly. The filter lets you adjust the repeat rate or disable it altogether.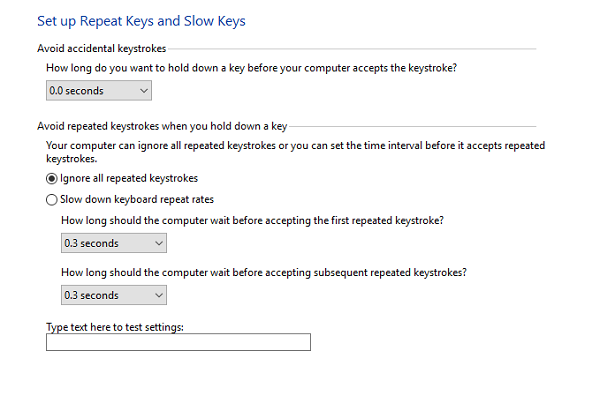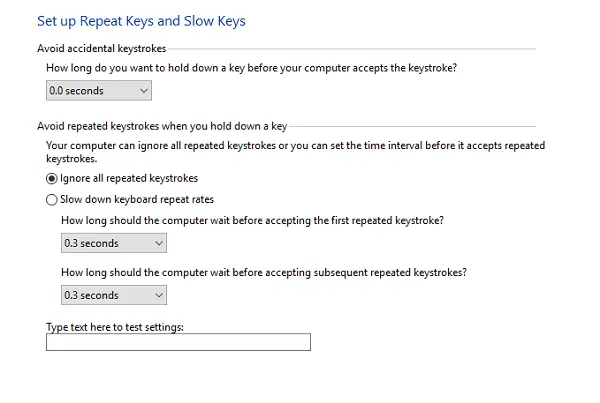 The filter options offer a configuration of both the slow keys and repeat keys under one section. First, check the box which says "Turn on Repeat Keys and Slow Keys," then click on the link "Set up Repeat Keys and Slow Keys."
In the configuration screen, you can setup:
How long a key should be in pressed before the computer accepts it.
Choose to ignore repeated keystrokes completely.
Configure how many seconds it should wait to accept first repeated keypress and subsequently repeated keystrokes.
Once the options are set, you can try it in the preview text box.
| Keyboard Shortcut | Action |
| --- | --- |
| Right Shift for eight seconds | Turn Filter Keys on and off |
Tones Produced by the Filter Keys
Since it is an accessibility feature, Windows offers sounds so you can instantly figure out. If you press the right SHIFT key for 4 seconds, it will send out a beep. It's like a warning that you are about to enable the Filter Keys.
If you keep it hold for 8 seconds, you will hear a rising tone. It will enable the following Filter Key settings:
RepeatKeys: On, one second
SlowKeys: On, one second
BounceKeys: Off
If you still hold it for another 8 seconds (sixteen seconds in total), you will hear two rising tones. It will trigger what Microsoft calls as Emergency Level 1 Filter Keys settings:
RepeatKeys: Off
SlowKeys: Off
BounceKeys: On, one second
If you still keep holding the right SHIFT key for another 4 seconds (16 + 4 seconds total), you will hear three rising tones and invokes the Emergency Level 2 setting with the following parameters:
RepeatKeys: Off
SlowKeys: On, two seconds
BounceKeys: Off
Read: How to Turn On or Off Sticky Keys in Windows 11
Backup Filter Key settings
To open Registry Editor and navigate to the following key:
HKEY_CURRENT_USER\Control Panel\Accessibility\Keyboard Response
Right click on Keyboard Response key in the left pane and select Export. Save the .reg file in a safe location.
You can use it to restore your Filter Key settings.
Filter Keys are one of the best options available on Windows 10 for those who need accessibility. It makes sure that those with hand tremors can still use Windows 10 like everyone else. So if you have such an issue or know who has, and they are struggling, you should enable it for them. Make sure to try it out on Notepad or Word to double-check if it is working as expected.
Related: Keyboard is locked; How to unlock a Locked Keyboard?