Windows 11/10 requires some new skills to use with ease, and those seniors who may have been used to Windows 7 or Windows XP would need to learn a few new tricks. If you are looking on how to configure Windows 11/10 for your elderly family members to carry out basic things like checking email, browsing and watching YouTube on a computer, then this guide offers some pointers on how to go about setting up a PC for the elderly.
Set up a Windows 11/10 PC for senior citizens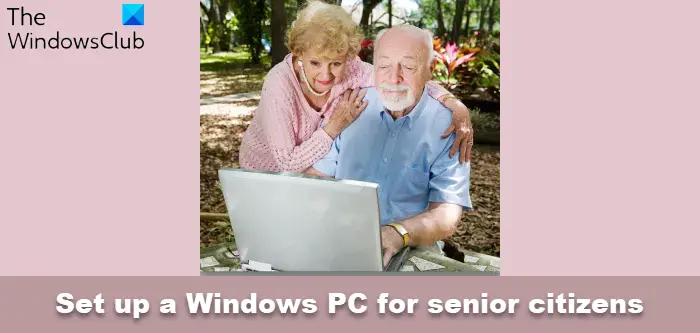 Unlike young people, older adults find it hard to get accustomed to technology.  It is difficult for seniors to keep in pace with technology and using Windows 10 can make things even more complicated. Setting up a computer for your elderly people requires your ideas and efforts. Fortunately, Windows provides a few ways that make the system easy for senior citizens which requires less work from elderly people, and keep every effort smooth over accessing the computer.
In this article, we outline some tips and tricks to set up a Windows 11/10 computer for senior citizens to ease their system accessibility and ensure that they have a trouble-free time using their Windows computer.
Install a good Antivirus
Change Ease of Access settings
Uninstall unwanted apps and disable unwanted programs from running in the background
Remove Preinstalled Bloatware
Set up an Internet connection
Install the necessary software
Update Windows 11/10 OS & the installed software & Device Drivers
Remove system password on wake up  from sleep mode
Setup the Mouse Properties to show the location of a pointer
Install Open Shell.
Let us take a look at these suggestions in detail.
1] Install a good Antivirus
While the default Windows Defender & Firewall are robust enough to protect your PC, some of you may want to consider installing a good free Internet Security Suite or a free Antivirus as it can prevent a system from getting attacked by harmful malware and offers several other protection modules. Since the software is free, there will not need to renew the subscriptions – which the elderly are likely to forget! It is recommended that you install an antivirus before handing over the computer to seniors. The anti-virus alerts the user with a pop-up message when the computer has an incoming threat. This data security utility ensures that an elderly can have a stress-free time browsing the internet, checking email, and watching YouTube.
2] Change Ease of Access settings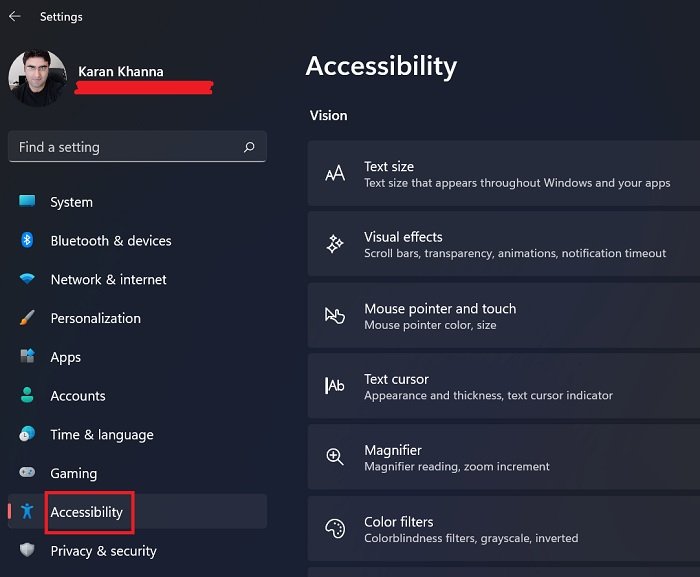 Ease of Access is now referred to as Accessibility settings in Windows 11, and you can access these settings under System settings > Accessibility as shown above.
Ease of Access oe Accessibility is a feature that provides an option to set up accessibility settings from the login screen. The seniors can make use of these features that help them to use the computer without a display using a narrator, magnify the content on the screen using a magnifier and use the keyboard to toggle sticky keys, Filter Keys, and on-screen keys. Additionally, it helps users to increase the font size, mouse pointer size, make the screen brighter, and turn on mouse keys to use the keypad.
You will all these options via Windows 10 Settings> Ease of Access section as shown below.
You can also maximize and make effective use of Screen Real Estate if you wish.
3] Uninstall unwanted apps & disable unwanted programs from running in the background
Ensure a trouble-free time for seniors while using a computer by saving the battery and data usage. To do this, all you need to do is, stop unwanted programs from running in the background.
Go to Settings and navigate to Privacy.
Click on Background Apps.
Turn off the toggle button for all the apps to prevent apps from running in the background.
You may also remove unwanted Startup programs.
4] Remove Preinstalled Bloatware
If you are setting up a new Windows system for the elderly, it is recommended that you remove all the unnecessary preinstalled software also known as bloatware. Bloatware consumes a lot of memory space and RAM which can eventually slow down your system. Moreover, the numerous and unnecessary bloatware that are spread all over the place on your desktop can confuse the elderly while using the computer. You may use a Crapware Removal Tool.
5] Set up an Internet connection
You need to set up an internet connection for the PC. Check if it is WiFi or Ethernet and proceed accordingly. Make them aware of some Online Safety Tips Guide for Seniors.
6] Install the necessary software
You might want to consider installing 3rd party software – like maybe a browser like Firefox or Chrome, 7-Zip, Microsoft Office, VLC media player, an email client like Microsoft Outlook, Skype, etc.
7] Update Windows OS & the installed software & Device Drivers
Installing the latest drivers on your PC is always a good idea if you are handing over your system to the elderly. Running the latest driver updates on your desktop makes your machine safe and ensures that your elderly have a trouble-free time using the computer. It is necessary to make sure that the hardware of your computer is compatible with the latest updates, as Outdated and faulty drivers can cause system lag, hardware, and software issues. That being said, performing a full driver update can solve all the problems with the device and boost the system performance.
8] Remove system password on wake up  from sleep mode
As part of the security measure, we usually set the system to ask for a password every time the computer wakes from sleep mode. This can cause confusion to older adults when the system displays a prompt for the password every time it resumes from sleep mode. To ease the use for the elderly, configure the options to remove the Sleep password so that one can directly login to Windows after exiting sleep mode.
9] Setup Mouse Properties to show location of pointer on pressing CTRL Key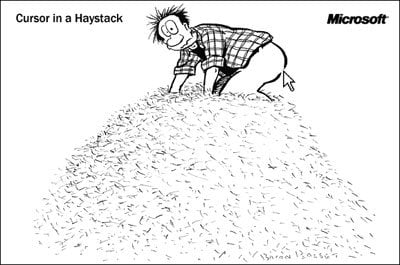 If your computer screen is large, it is quite possible that a mouse pointer can go missing. In cases like these, it is difficult for seniors to locate the pointer on the computer screen. Thankfully, Windows provide an option that will show the location of the cursor or pointer immediately on pressing CTRL key. Follow the below steps to activate this option.
Navigate  to Control Panel and click Hardware and Sound
Under the option Devices and Printers,  click the Mouse to open the Mouse Properties window.
Go to Pointer Options tab and select the option Show location of pointer when I  press the CTRL key
Click OK to apply the changes.
10] Install Open Shell
Use Open Shell. It is a free software that can help seniors to quickly access recently used files and applications. Using this software, one can customize the start menu with different styles. Additionally, it allows the user to search for documents and programs easily.
Anything we missed? Do share!
Read next: Basic Windows 11 tutorial & tips for beginners.