When you get a new Windows computer, the first thing you would want to do is set up an Internet connection. If that's the case, you should know that Windows 11/10 offers many ways to connect to the Internet. In this guide, we will share how you can set up WiFi or an Ethernet/Broadband connection.
How to set up an Internet connection on Windows 11/10
How to connect to a WiFi Network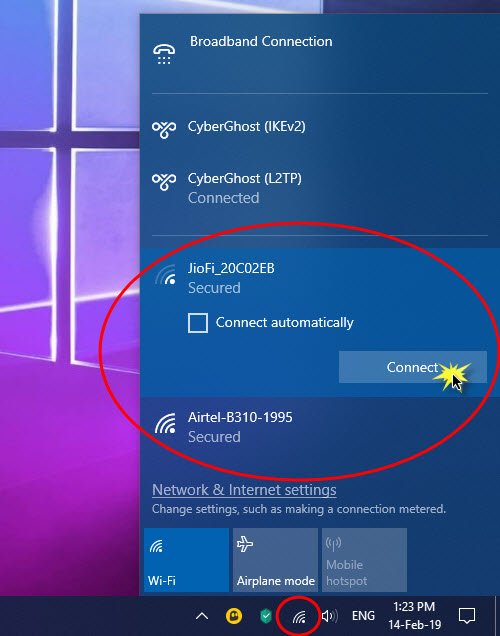 Press WIN+A to open the Action Center.
Click on the wireless icon in the Quick Actions list.
It will reveal the names of all the WiFi networks available around you.
Click on the wireless network you want to connect to.
You may choose to connect to the WiFi automatically.
Click Connect.
Enter the Password or the network security key on the next screen.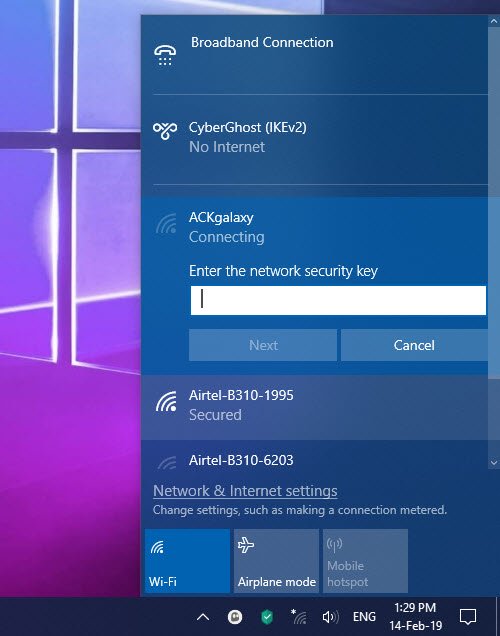 If the credentials are correct, you will be able to set up Wireless Network Connection and connect to it.
Related: How to add a new Wi-Fi Network Profile in Windows 10.
How to manually connect to WiFi in Windows 11/10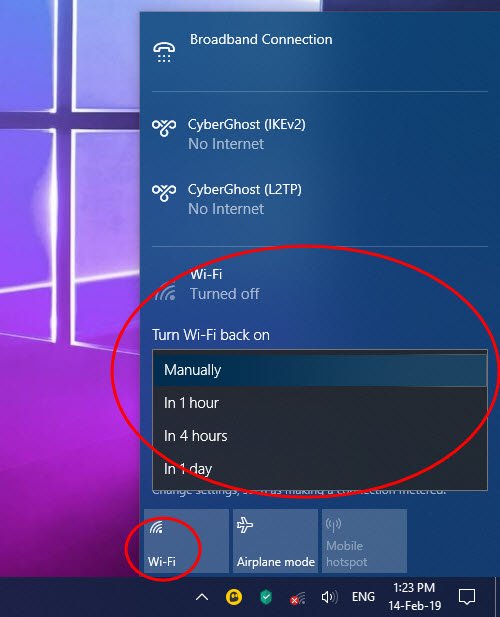 Sometimes you may need to stay away from the internet. It could be your work, or you want to save battery. Even when not connected, the WiFi adapter keeps looking for networks, and it consumes battery. While Windows 10 offers the option to automatically connect to WiFi when you set it up manually – but if you did not, there are two options. First, choose the options which can automatically re-enable the WiFi adapter. The second option Manually.
Click on the wireless icon on the bottom right of the taskbar.
Next tap to turn the WiFi off.
It will reveal a setting where you can choose when to turn WiFi back on.
You can choose to turn on WiFi Manually, in one hour, in four hours or one day.
Choose Manually.
When you want to connect to the internet, turn it back on, and then choose which network to join.  It will automatically connect to a system which the adapter was previously configured to connect. However, if you decide to connect to the WiFi network manually, you can that as well.
How to set up a Broadband (PPPoE) connection in Windows 11/10
Many network providers offer Broadband connection or PPPoE which allows multiple computers to connect to their network. Windows 10 has inbuilt support for PPPoE.
Go to Settings >Network & Internet > Dial-Up. Click on "Set up a new connection." It will launch the connection setup Wizard.  It usually works with computers connected using Ethernet.
Click on Connect to the Internet.
Select Broadband (PPPoE).
Next, enter username, password, name of ISP to connect.
Make sure to select to share the connection. It will allow other users on this computer to connect to the Internet as well. It is possible that your ISP has a shared DNS IP address. You can set them in the Network adapter.
Here is a tip when using PPPoE. While you can set it up on your computer, it is advisable to set up on your router. It will be helpful when you have multiple computers that need an internet connection.
How do I set up an Internet connection on Windows 11/10?
You can set up various types of internet connections on Windows 11/10, including Wi-Fi, Ethernet, mobile hotspot, USB tethering, etc. All the methods are mentioned in this article, and you can follow them as per your requirements.
How do I get Internet on Windows?
To get internet on Windows 11/10, you must connect to a valid internet source. It is possible to use the internet from your Wi-Fi router, Ethernet connection, mobile, etc. Depending upon the availability, you can choose any of the aforementioned options to get internet on your computer.
Why My PC is not connecting to WIFI?
There could be numerous reasons why your PC is not connected to a Wi-Fi router. Start the fix by checking if your router has a valid internet connection or not. Following that, you can follow these solutions to fix if your Wi-Fi connection is not working.