Wireless networks allow you to work independently – without the tension of plugging in long wires that not only look bad in the house but also are a safety hazard. Since wireless signals travel in all directions and travel fast, you can use a wireless network to work from your bedroom or the porch of your home. This article explains how to set up a wireless network connection in Windows 11/10/8/7.
Inventory required to Set Up Wireless Network Connection
Since we are talking of a completely wireless network, we need the following items to set up a wireless network connection:
An operating system that supports wireless networking. Windows is a good operating system that allows you to create wireless networks without any problems.
A fast Internet connection: You can go for either a DSL or cable broadband. In most cases, the cable or DSL router (see point 3 below) is provided by the ISP who also sets up an Internet connection. Normally, the connection from the wall jack (in the case of DSL) and hub (in the case of cable) is wired to the router from where wireless signals take over for communication.
A wireless router: Since we need a wireless network, we will need a wireless router. Check to see if your ISP can give you one. If not, you can get a wireless router from any computer market. Make sure you buy a reputed product for better results. Routers are available in different technologies. I suggest 802.11g or 802.11n for better connectivity and good signals. Routers using the mentioned technologies are more compatible with network adaptors of different companies. Make sure that you are buying a wireless router and not wireless access points. The latter is used to expand existing wired networks and does not serve the purpose of wireless routers.
Wireless Adaptors: Most computers now come with built-in wireless adaptors. They are usually towards the front of laptops and computers and carry a switch that you can turn on and off to enable and disable network connectivity. If your computer does not have one, you can buy wireless adaptors from a computer store. I suggest that you buy USB wireless adaptors as they are quick and easy to install. Also, you can use them with different computers, unlike the card-type adaptors that need to be installed on the motherboards. Also, when buying wireless network adaptors, make sure they match the network technology of the router you are using in the network. That is, if you are using an 802.11n router, your network adaptors should also be 802.11n. This ensures better connectivity.
To check if your computer has wireless network adaptors, proceed with the following steps:
Open Control Panel
Double click Network And Sharing (available under Network and Internet if you are using Category view)
In the left pane, click on Manage Network Adaptors
If your computer has a wireless network adaptor, it will show you a network icon saying Wireless Network Connection.

Setting Up Wireless Internet Connection on Windows PC
Most ISPs set up an Internet connection when you take a new connection. If your ISP did not set up the Internet for you, follow these steps (assumes your modem includes a wireless router):
Plug one end of the phone wire into the phone jack provided on the router's back
Plug the other end of the phone wire into the wall jack of the phone connection. If you are using a splitter, connect this end of the phone wire to the splitter socket that says DSL. You can then use another phone wire to connect the splitter to the wall jack of the phone
Plug the router into an electrical socket.
Turn on the main computer that you will use to set up admin privileges.
Open Control Panel. If it is not in the Icon view, switch to the Icon view.
Click Network And Sharing Center
Below View Your Active Networks, click Setup A New Connection or Network
Double click Connect To Internet and follow the steps in the Wizard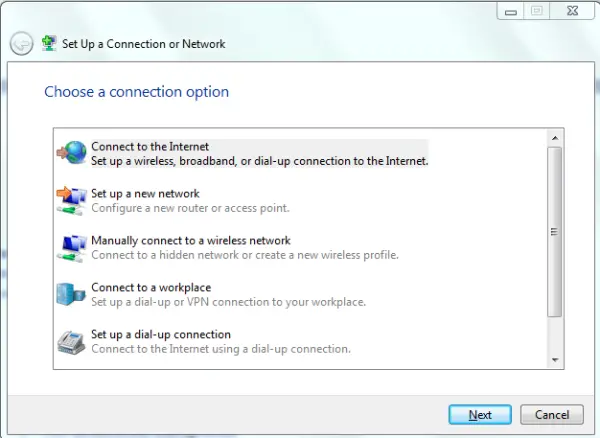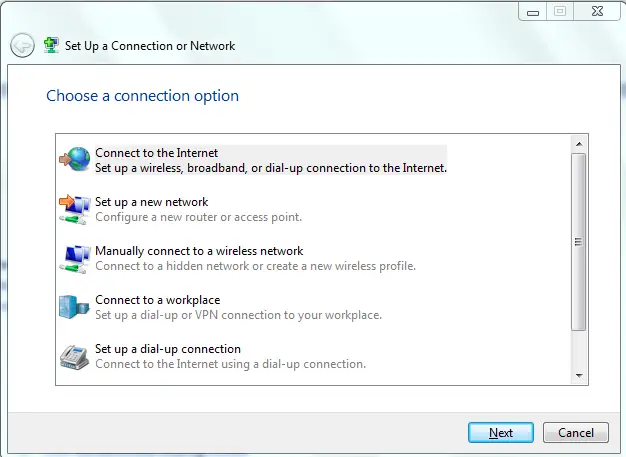 If your modem is different from a wireless router, you will need to connect a phone wire – one end into the modem and another end into a phone jack or splitter. You can then connect the modem to a wireless router using a network cable. You can then follow steps 4 to 7 mentioned above. It should look somewhat like the image below.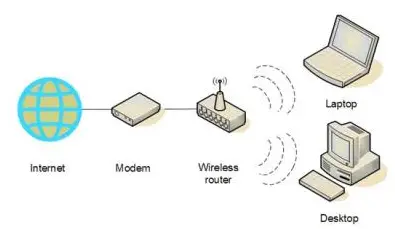 At this point, your main computer should be able to connect to the Internet. If it is not connecting to the Internet, the connections must be wrong. Check the Network and Sharing window in Control Panel to see if Windows 7 can detect the wireless network (see figure 1 above). If not, make sure the modem/router is properly connected and switched on.
Related: How to add a new Wi-Fi Network Profile in Windows.
Securing The Network
Assuming that the main computer is now able to connect to the Internet, we will go ahead and configure the network for security.
Click the Network icon in the Windows system tray
Click Open Network And Sharing
Click Setup A New Connection Or Network
Double click Setup A New Network
The wizard will walk you through a series of steps to configure your network
If your router supports WPA2, the wizard will show it in the list under Security Level. Set the Security Type to AES. Type a password under Security Key and click Next
Copy the security key to some safe place so that you can use it when setting up other computers in the network. You will also need it later when you wish to make changes to the network
Setting Up Other Computers On The Network
Click the Network icon in the Windows System Tray
Select your network (recognized by the name you provided in the wizard above)
Windows will ask you for the password. Enter the password you saved in step 7 above.
Setting Up Sharing On The Network
You have to turn on sharing on all computers, including the ones having devices such as printers and scanners so that you can use them from any computer on the network. The following applies to each computer on the network
Click the Network icon
Click Open Network and Sharing Center
Click Choose Homegroup and Sharing Options. A wizard will walk you through setting up sharing for files and devices attached to the computer.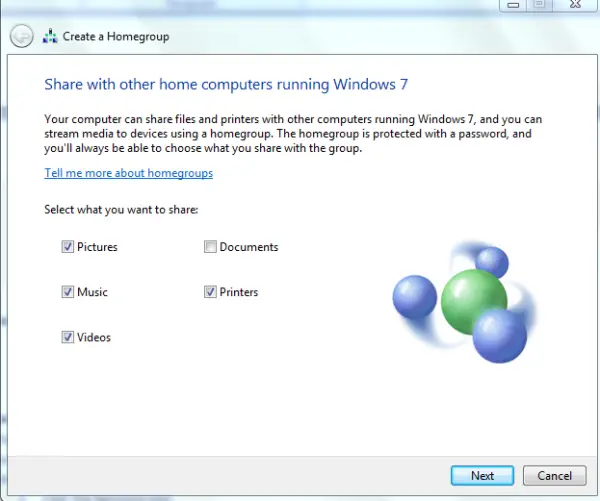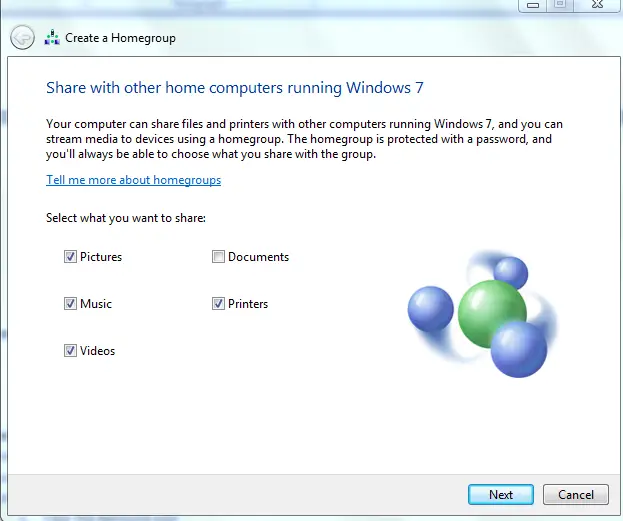 Note that you can share files by copying them into Public folder in Windows 7. The Public folder is available in C:\Users folder.
This explains how to set up a wireless network connection in Windows 11/10/8/7. If you face any problems, we will be happy to assist. Just drop a note in the comments stating the problem and your version of Windows.
Related read: How to set up a Broadband (PPPoE) connection in Windows.