Crapware refers to applications that come preinstalled on a new computer when you purchase a branded one. Also, when you purchase a used computer, you find software that you may not use. In short, programs that are not of relevance to you are crapware for you. Removing each one manually can be a tiresome job, especially in the case of new computers. Examples include and are not limited to the branding of Internet Explorer and other browsers. You may also find a video player of some company, but you know you will never use it so it is crapware for you.

Free Crapware Removal Tools
Everyone wants to avoid Crapware & Bloatware from getting onto their computer. If you buy a new Windows 10/8/7 computer, you may want to exorcise your new Windows computer first, before you start using it, since crapware is known to make PC's take twice as long to boot! Here are the top handpicked applications that help you remove crapware from Windows.
The PC Decrapifier
WinPatrol
CrapKiller
BCuninstaller
Decrap My Computer.
1] The PC Decrapifier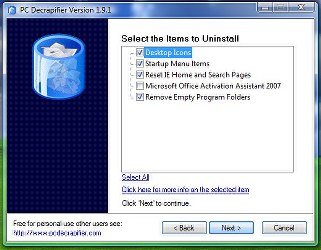 As the name suggests, the software provides for removing all unwanted programs. You can select multiple items and then uninstall them with one click. The PC Decrapifier is free for personal use while the commercial version would cost you USD 25.
The best thing about PC Decrapifier is that you need not install it to your desktop. You can run it from a pen drive.
2] WinPatrol
Though not automatic, WinPatrol helps you disable unwanted startup programs. You can also remove Internet Explorer add-ons and unwanted Windows services. The application is available in both free and paid (PLUS) versions. The free version is good enough but if you go for the PLUS version you get additional features such as support and looking up items displayed in the startup section.
With WinPatrol, you can disable unwanted software and also delay startup programs to speed up your computer. You can download it from winpatrol.com. I recommend it as a must-have program on Windows operating system.
There are more:
CrapKiller is a free crapware cleaner script
BCuninstaller is a simple lightweight Bulk Crap Uninstaller for Windows

Decrap

My Computer will help remove bloatware
Should I Remove It will identify crapware for you
These Toolbar Removers will remove unwanted toolbars.
Please let us know if you have used any other anti-crapware and found it satisfactory – so that we may share it with others.