Windows 11/10 comes with plenty of preinstalled apps. Most of these apps are useless for most users and take up unnecessary space on the C drive which you need to install upgrades in future and to install programs that you wish. There are temporary files, unwanted folders, caches, etc, that you can remove safely.
Remove unwanted Windows programs, features & junk
Free up more disk space in Windows 11/10 by removing pre-installed Microsoft Store apps and unwanted programs. This post also explains how to gain more speed by removing unwanted Windows features, by using these methods:

Uninstall Preinstalled Microsoft Store Apps
Use Storage Option to Free up Disk Space
Empty the Temp Folder completely
Remove Unwanted Windows features & components
Delete MSOCache.
Let us take a look at them.
1] Uninstall Preinstalled Microsoft Store Apps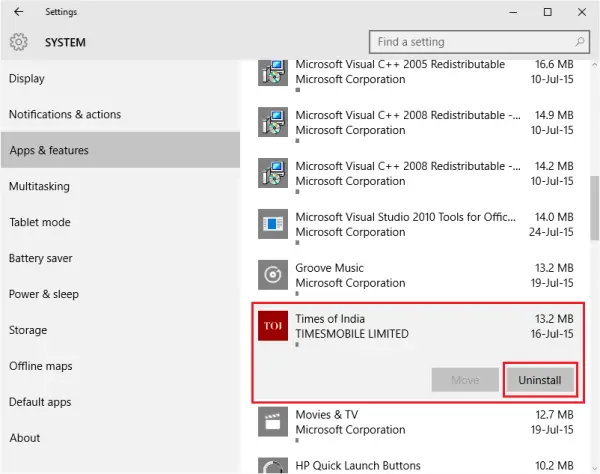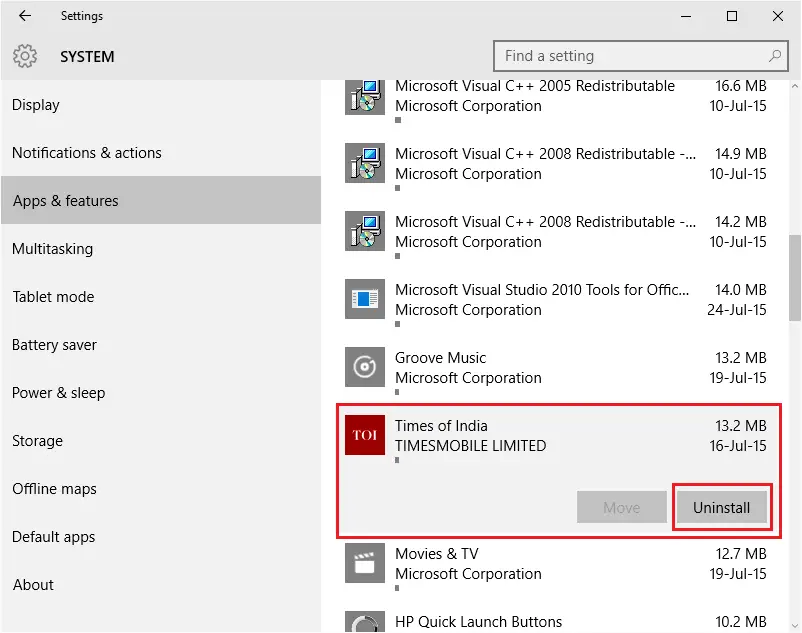 There are plenty of preinstalled Windows Apps that are of no use to most of us. You can always remove them from the Settings app.
Click on Start Menu to open it
Click on PC Settings to open the Settings window
In the Settings Window, click on System
Click on Apps and Features; the window towards the right will be populated with the list of preinstalled Windows apps that you can remove
Click on an app to see the options Move and Uninstall.
Click on Uninstall to remove the application
After removing all the apps, close the Settings window.
NOTE: The Uninstall feature is not available for all Microsoft Store apps. Some of them, Windows thinks, are essential to you, and hence you will not see the Uninstall button next to them.
2] Use Storage Option to Free up Disk Space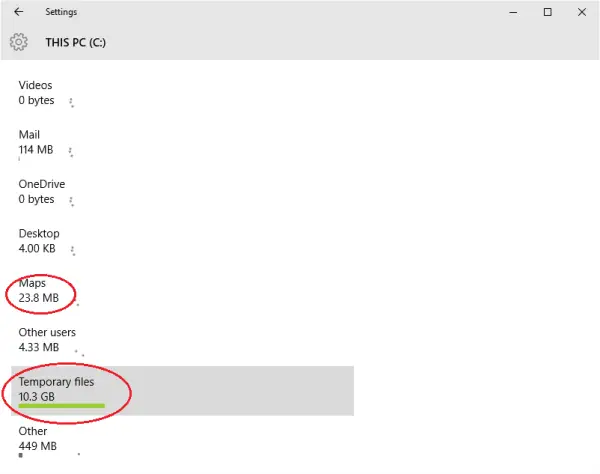 Storage Sense is somewhat similar to the Disk Cleanup tool we discussed earlier in our post about Junk files in Windows.
Open Settings app
Click on System
Click on Storage in Left panel
In the right panel, click on C Drive to see what all is taking up space on the drive
After an analysis, you get details of what is taking up space on C Drive
Click on an item to get more options: If you click on Apps, you will get the Remove Apps dialog as explained in the above section; if you click on temporary files, you will get a window that has options to delete to temporary files
Clean up This PC using your discretion based on the options available
Close the Settings window.
3] Empty the Temp Folder completely
Empty the folder containing the Temporary files. While Disk Cleanup removes temporary files, it omits the most recent temporary files created in the last 7 days. To delete all the temporary files,
Press WinKey+R
Type

cmd

and press Enter
In the command line window, type DEL %temp%\*.*
Some files won't be deleted as they may be in use, but it is perfectly safe to delete other temporary files
Type Exit to close the command line window.
4] Remove Unwanted Windows features & components
You can remove unwanted Windows features to speed up Windows 11/10. For example, if you do not have a need to convert documents into XPS, you can remove the feature from Programs and Features.
Open the Programs and Features in Control Panel and click on Turn Windows Features On or Off
Check out what all features are installed and uncheck the features that you wish to remove
Click on OK to remove the features
Note: You can reinstall the features using the same method if you feel the need for any of the removed features.
Read: What can I delete from Windows folder in Windows 11/10?
5] Delete MSOCache
If you use MS Office desktop applications, you will see a folder called MSOcache in the root drive. The root drive is from where the Windows OS works – it is often the C drive on almost all computers unless you have configured a dual boot and installed Windows 10 on a separate drive.
MSOCache is nothing but a cache of files related to Microsoft Office. Removing it will not affect your computer. You can remove it without any worries. Often, the MSOCache folder does not use all the files in the folder. It keeps on increasing the size as you work on MS Office applications. Deleting it won't slow down your MS Office either. To remove the folder, right-click on it and select Delete from the context menu. You can also select it and press the DEL key on the keyboard.
NOTE: If you delete MSOCache, you will not be able to repair Microsoft Office programs. You may even find it difficult to uninstall them, should you feel the need to do so.
In addition, you can remove unwanted and obsolete Windows Registry entries to gain space. There are many third-party Free Registry and Junk Cleaners available. If you are interested in freeing up more space, you may want to read how to increase Disk Space in Windows.