The Windows operating system offers several additional features that most of us may not need. But they are there if you need them! In this post, we will see how to Turn Windows features On or Off via the Control Panel, and how to add, remove or manage some Optional Features using Windows 10 Settings.
Manage Windows 10 optional features
While the default installation is good for most of us, there may be some features that IT Pro's, System Administrators or Developers may need. Windows allows you to install and activate such features. You can turn some features on or off using the Control Panel, or you may need to use the Settings app in Windows 10 if you need to add some optional features.
Read: Windows 10 Optional Features explained.
1] Turn Windows features On or Off
From the Start Menu, open the Control Panel and click on the Programs and Features applet.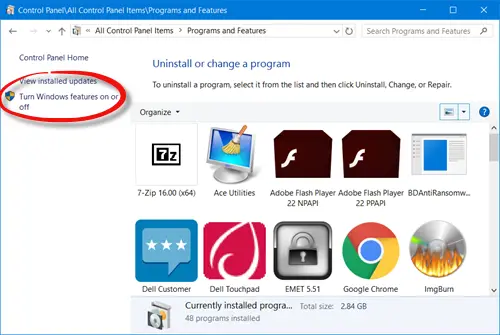 Here on the left side, you will see a link – Turn Windows features on or off. Click on it to open the following panel.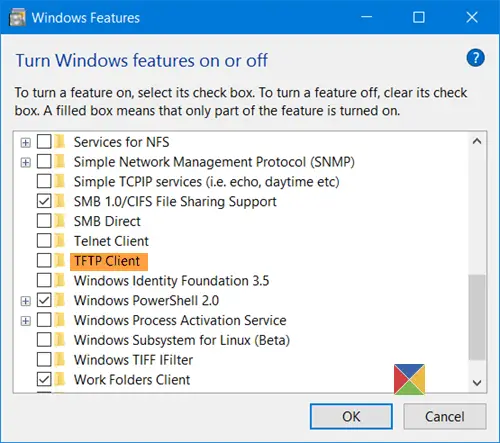 Here you will see the features that are available to you. You may expand a feature by clicking on the '+' sign and select only those features you want to enable. Once you select the feature you want to turn on or deselect one which you want to turn off, click on OK. Windows will start applying the changes and ask you to restart your computer if need be.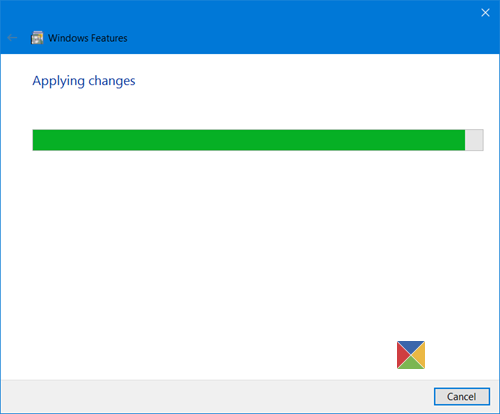 On a Windows 10 Pro PC, you will see the following features that you can enable or disable at will.
.NET Framework 3.5
.NET Framework 4.6 Advanced Services
Active Directory Lightweight Services
Containers
Data Center Bridging
Device Lockdown
Hyper-V
Internet Explorer 11
Internet Information Services
Internet Information Services Hostable Web Core
Legacy Components like DirectPlay
Media Features
Microsoft Message Que Server
Microsoft Print to PDF
MultiPoint Connector
Print and Document Services
RAS Connection Manager Administration Kit
Remote Differential Compression API Support
RIP Listener
Services for NFS
Simple Network Management Protocol
Simple TCPIP services
SMB 1.0/CIFS Sharing Support
SMB Direct
Telnet Client
TFTP Client
Windows Identity Foundation 3.5
Windows PowerShell 2.0
Windows Process Activation Service
Windows Subsystem for Linux
Windows TIFF IFilter
Work Folders Client
XPS Services
XPS Viewer.
See this post if your Turn Windows Features on or off is blank or empty.
2] Manage optional features via Windows 10 Settings
Windows 10 lets you add, remove or manage optional features via its Settings. To access this part, from the WinX Menu, open Settings > System and select Apps & features from the left side.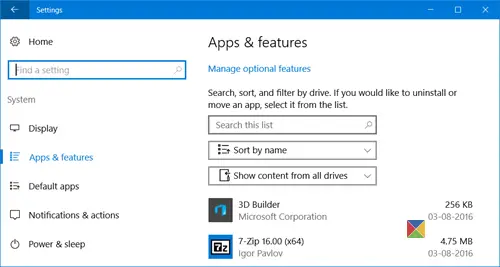 Clicking on the Manage optional features link will open the following box for you.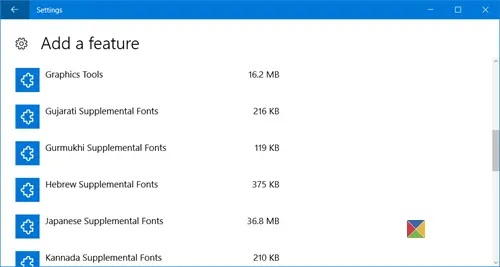 To remove an app or a feature, select the feature and click on the Uninstall button.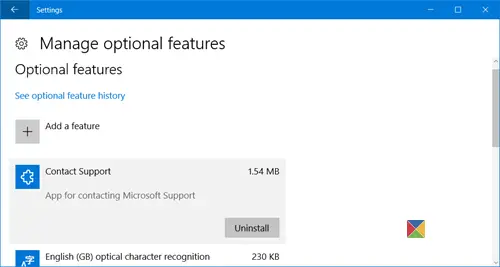 To add a feature, click on the "+ Add a feature" link as shown above. The following window will open.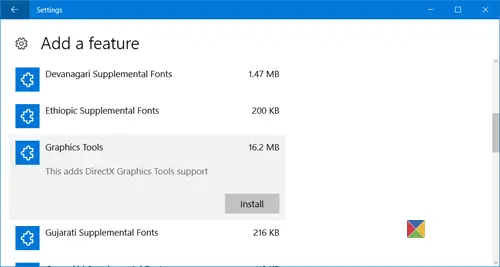 Here you can select the feature and click on the Install button.
Clicking on the See optional feature history will open the following panel, where you will be able to see a history of all the optional features that you added or removed.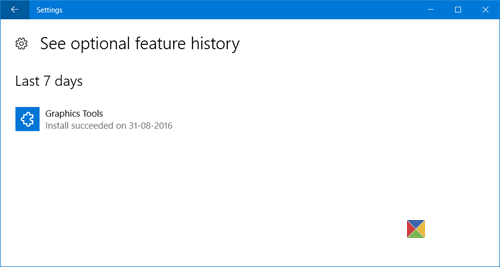 In this way, you can install Graphics Tools, Windows Developer Mode, Fonts and several other optional features like it.
TIP: You can also enable or disable Optional Windows Features using Windows Powershell, Command Prompt or an external installation source.
Hope this helps!