We're all aware of the revolutionary impact Notepad has had. While there is an umpteen number of text editors these days, each one better than the next, Microsoft's own pre-installed Notepad for Windows is where it all started. When something has been around for as long as Notepad has, it's natural for it to have had its fair share of bugs and issues. Some users have reported an issue where they are not able to launch Notepad from the executable .exe file or that Notepad is missing altogether from their Windows 11/10 PC. Today, I'm going to demonstrate how you can bring back WordPad or Notepad on your PC if you find it to be missing.
Fix Notepad is missing on Windows 11/10 PC
The workaround here is pretty simple, thanks to Microsoft. They have now made apps like Notepad, Wordpad, and Paint Optional features on Windows. This means that now they can be uninstalled and reinstalled as and when you wish to do so. Not only this but Notepad has now got a Microsoft Store page of its own, so people can update the app separately from the OS. This change has come after having these apps pre-installed and irremovable from Windows PCs after a long time. Here's how you can bring Notepad back to your computer.
1] Using Optional Features settings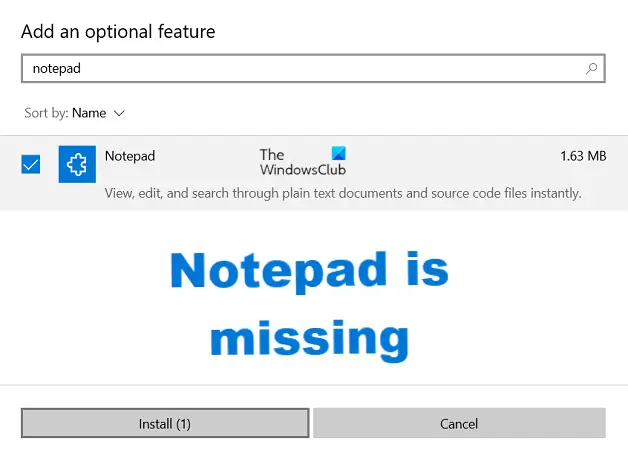 Our first method will help you reinstall Notepad, in case it is missing entirely from your computer. As already mentioned it has now been made an optional feature so simply follow the steps below and you'll get Notepad back on your PC:
Click on Start and open the Windows Settings
From the options present there, click on Apps and further select Optional Features
Here, click on the Add a feature button at the top of the Optional Features page
Type 'Notepad' in the search field and if it's missing from your PC, you'll find it listed there.
Click on it and select Install.
This shall have you set up working with Notepad just fine. If the above method doesn't work for you, you can download Notepad from the Windows Store too since it has got a place there now.
2] Using the DISM-command line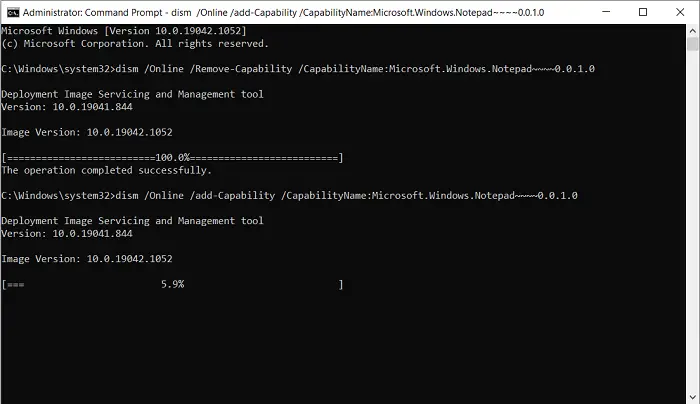 This method is for those who have Notepad on their PC but the file has somehow been corrupted and thus, they're not able to open it. In this case, it is advisable to uninstall and then reinstall the app using this command line.
Simply open the Command Prompt as administrator and paste the following code to uninstall Notepad.
dism /Online /Remove-Capability /CapabilityName:Microsoft.Windows.Notepad~~~~0.0.1.0
Once completed, paste and enter the following code to reinstall it:
dism /Online /add-Capability /CapabilityName:Microsoft.Windows.Notepad~~~~0.0.1.0
It is recommended for users to run the Uninstall command first and to completion, otherwise, the Reinstallation won't be clean.
Another thing to note here is that this process requires you to have an internet connection since the system will download the package via Windows Update. You'll face an error if you run this command offline.
Related: Free Notepad replacement software for PC.
3] Download Windows Notepad from Microsoft Store
Notepad is not available in the Microsoft Store and you can download and install it.
WordPad is missing on Windows PC
If you face the same error with WordPad, then follow the same steps as above: Search for WordPad from the Optional Features or replace Notepad with WordPad. This post will show you how to reinstall WordPad.
Read: WordPad takes a long time to open or not opening
We hope you found this post helpful and are now having no troubles using Notepad.