Applications like Notepad and Notepad++ were built to handle small files. When you try to open large files, you will receive an error— File is too large for Notepad or File is too big to be opened by Notepad++. In this post, we will learn why and what alternatives you can use to open large files.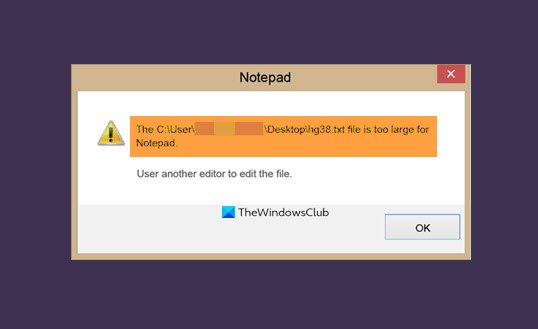 The Notepad application is able to open files at least as large as 512 MB (megabytes) but fails to open 1 GB (gigabyte).
The Notepad++ 64-bit could go to at best 2GB.
File too large or big for Notepad or Notepad++ to open
When trying to open a large file, around 500 MB to 2 GB, applications like Notepad and Notepad++ fail as they do not support these file sizes. Notepad was meant to take a quick look into smaller log files, and while Notepad++ is an enhanced editor, it reportedly supports a maximum file size of 2GB. The limitation is due to the core editor—Scintilla. To be honest, that's a lot of text, and any file that goes beyond that limit is definitely not optimized to be handled by these editors.
There is another reason why this application gets into the problem when opening large files. To open a file, the app will need memory. The large the file is, the more is the required memory. If this goes beyond what is allowed, the OS itself denies it and hence the error.
How to open Large Text Files in Windows 11/10
Use the browser
If you do not want to install anything, drag and drop the file into the browser, and if it's a simple text file, the browser can handle it easily. It will take its time to load for heavy files, and you may have to wait a bit, but it works in the end.
Use alternative freeware
Here is the list of alternatives:
Glogg: It has been built as a log file explorer that supports up to 16GB.
Bare Tail: Similar to Glogg, it supports easy reading of log files. It offers real-time viewing, network support, and line-wrapping.
EditPad Lite: Unlike the above two, it's a full editor which also offers clipboard access. You can search, replace and do a lot of stuff available with standard editors.
These are a few of the many Notepad alternatives that you can use to view large log files.