Windows 11/10 has a lot of optional features intended primarily for business networks and servers. You can turn them on and off using the Windows Features Dialog. In this post, we will explain what these optional features are.
Windows 11/10 Optional Features display functionality that you can decide to enable if you wish to. Although some features are designed only for business or administrator use where they need greater control over the computer network. Turning these features on an individual network will not have the greatest impact.
Recently, a couple of Windows legacy tools were grouped into optional features. These include the Windows Media Player, WordPad, and Internet Explorer. They can be enabled through the optional features.
You can manage Windows Optional Features in two places namely, in the newer Settings area, and the Control Panel. They are available in the overlap. Although, some of the features are unique to each.
List of Windows Optional Features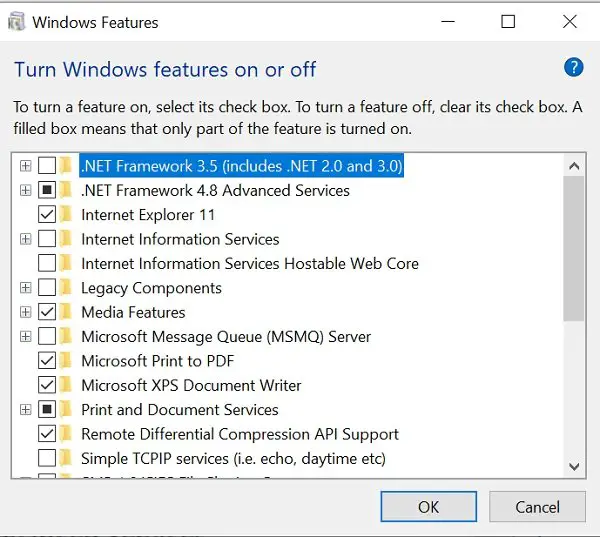 We have here put together a list of some common features that are available on Windows 11/10 for your use. They may however vary depending on your Windows 11/10 edition, version and hardware:
.NET Framework 3.5 (involving .NET 2.0 and .NET 3.0): This feature is needed to run applications that are written for various versions of .NET. Windows automatically installs them when required.
.NET Framework 4.6 Advanced Services: These features are also automatically installed when required to run necessary applications.
Active Directory Lightweight Directory Services: This gives a Lightweight Directory Access Protocol (LDAP) server that can run as a Windows service and also provide a directory for authenticating users on a network. It is an alternative to a full active directory server and is useful only on particular business networks.
Embedded Shell Launcher: It is required to replace Windows' Explorer.exe shell with a custom shell. Microsoft documentation recommends that you use this feature for setting up a traditional Windows desktop application in kiosk mode.
Containers: It is required to provide services and tools to create and manage Windows Server Containers.
Data Center Bridging: Standards developed by IEEE for data centers.
Device Lockdown: This feature protects against drive writes, unbranded boot screen, and filter keyboard strokes which are designed for machines in public settings.
Guarded Host: It helps configure guarded hosts and run shield virtual machines on a server.
Hyper-V: This feature is Microsoft's virtualization tool. It includes an underlying platform and services with a graphical Hyper-V Manager tool to create, manage, and use virtual machines.
Internet Explorer 11: You can disable Internet Explorer if you do not need Microsoft's legacy browser. (Removed in Windows 11)
Internet Information Services: It provides Microsoft's IIS web and FTP servers with tools to manage the servers.
Internet Information Services Hostable Web Core: It enables applications to host a web server via IIS inside their process. You will need this if you run an application that requires it.
Legacy Components: DirectPlay – Part of the DirectX application programming interface.
Media Features: Windows Media Player – It is one of the initial Windows features, an audio and video player.
Microsoft Message Queue (MSMQ) Server: An old service to improve communications when working with unreliable networks.
Math Recognizer: This Math Input Panel converts handwritten math into digital text.
Microsoft Paint: This tool is nothing but a basic image editing program.
Microsoft XPS Document Writer: Provides support for XPS file format.
Microsoft Print to PDF: It is a tool to export a file to the PDF format.
Microsoft Quick Assist: It is a feature that enables Microsoft support to connect to your device and see the screen.
Microsoft WebDriver: It automates Microsoft Edge testing and hosts the EdgeHTML platform.
Notepad: It is a basic plain text viewer and editor.
OpenSSH Client: This feature is used for secure key management and access to remote machines.
Print Management Console: This feature is required for the management of printers, printer drivers, and printer servers.
Print and Document Services: Make it possible to use and manage printing, faxing and scanning devices.
Remote Differential Compression API Support: Allows fast comparisons between synchronized files, which detects the data removed or added from their contents.
Steps Recorder: It helps in capturing steps with screenshots for troubleshooting.
Simple Network Management Protocol (SNMP): It is a legacy protocol created for administering devices that are connected to a network.
SMB 1.0/CIFS File Sharing Support: This feature enables the sharing of files and printers with computers running older versions of Windows.
Services for NFS: This lets you access files that use the Network File system protocol.
SMB Direct: Allows network adapters to use Remote Direct Memory Access to improve file sharing process when using SMB 3.x file sharing protocol.
Simple TCP/IP services: Collection of old command-line tools that include character generator, daytime, discard, echo, etc.
Telnet Client: It is a command-line feature to manage another system remotely. It is not a completely secure tool so try not to use it unless you know what you are doing.
TFTP Client: A command-line tool that can be used to transfer files via the Trivial File Transfer Protocol.
Virtual Machine Platform: Part of the native virtualization system.
Windows Defender Application Guard: Lets you isolate untrusted sites, resources, and internal networks.
Windows Fax and Scan: It is an integrated fax and scans application.
Windows Hypervisor Platform: This API is used by third-party virtualization software
Windows Hello Face: it is Windows 10's biometric login tool.
Windows Identity Foundation 3.5: A software framework for building identity-aware applications. The .NET Framework 4.5 includes a newer version of this framework.
Windows PowerShell 2.0: This tool is similar to Command Prompt but is more advanced and enables task automation.
Windows PowerShell Integrated Scripting Environment: It is a graphical editor for PowerShell scripts.
Windows Process Activation Service: Used for message-based applications and components that are related to Internet Information Services (IIS).
Windows Projected File System: Lets apps create virtual file systems.
Windows Sandbox: Allows users to run a virtual machine within Windows 10.
Windows Subsystem for Linux: Lets you install and use the Linux distributions such as Ubuntu, Debian, openSUSE, etc.
Windows TIFF IFilter: It is an index-and-search Tagged Image File Format (TIFF) used for Optional Character Recognition.
Wireless Display: It allows the wireless projection of other devices to your computer.
WordPad: It is a text editor that is more advanced than Notepad.
Work Folders Client: Lets you sync a folder and its content, from the corporate network to their personal devices.
XPS Viewer: It is a tool used to read, copy, print, sign, and set permissions for XPS documents.
The majority of Windows users won't need to visit this window and manage these features. Windows 11/10 automatically install features and tools when required. Hence, it is handy to know when you can turn them on or off. We hope it helps you.
Related: Turn Windows features on or off stuck on Please wait.