If you try to access the Windows Features or the Turn Windows Features On or Off, through, the Control Panel or by simply typing optionalfeatures.exe in your start search box, the following dialogue box is expected to open. But if it is blank or empty, this post will help you troubleshoot the issue.
Windows throws up funny errors sometimes. You click open Control Panel, click open Program & Features and go on to turn Windows features on or off. While on a normal day you will see options to turn on or off, Windows features like Hyper-V, Internet Explorer, IIS, Media features, .NET Framework, etc, I am sure you will be surprised if you were to find the window blank or empty!
While this could happen on very rare occasions, you should know how to fix it if you or your friend's computer were to ever face this problem.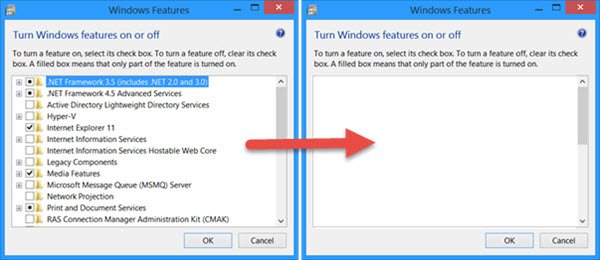 We have seen what to do if the Windows Update page is blank or the Control Panel is blank. In this post, let's see the potential solutions to this problem.
The Windows Features or the Turn Windows Features On or Off  box of the Control panel, lets you turn off or turn on several features of the Windows operating system. Turning off a feature does not uninstall the feature – nor does it free up disk space. It only disables the feature.
Turn Windows Features on or off blank
1]  Run System Restore
See if a System Restore helps you. Going back to a prior good point is the easiest way.
2] Run System File Checker
Run sfc /scannow or System File Checker to replace corrupted Windows 11/10 system files.
3] Create a new administrator account
Create a new administrator account and see if it resolves the issue.
4] Check Windows Modules Installer Service status
Make sure the Windows Modules Installer service Startup status is set to Automatic and it is currently running. To do this, type services.msc in Run box and hit Enter to open the Services Manager. Look for Windows Modules Installer and check its status. Double-click on it to change its Properties if required. This Windows Service enables installation, modification, and removal of Windows updates and optional components. If this service is disabled, install or uninstall of Windows updates might fail for this computer.
5] Delete this Registry key
Open an elevated command prompt, type the following and hit Enter:
reg delete HKLM\COMPONENTS /v StoreDirty
But this may or may not work for all.
6] Run DISM
If this Turn Windows Features On or Off box appears completely blank, it is quite possible that the Component Store that contains information about Windows components has been corrupted – so see if fixing this corruption helps you.
While one can use the CheckSUR tool to resolve this issue, the way it works in Windows 10/8 is different, says TechNet. The Inbox Corruption Repair in Windows 8/10 and Windows Server brings the functionality of CheckSUR into Windows.
To repair the Component Store corruption open an elevated command prompt and run the following command, and restart your computer:
DISM /Online /Cleanup-Image /RestoreHealth
If things work for you, you will be able to see the Turn Windows features on or off populated with the options.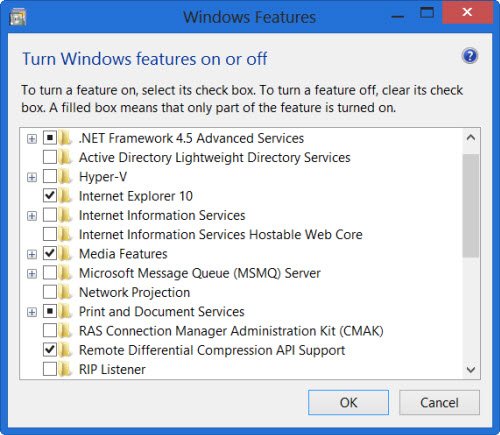 If nothing helps, you may have to Repair Install Windows 7 or Refresh Windows 8 or use the Refresh Tool for Windows 10.
Hope something helps!