Windows 11/10 comes with pre-installed or built-in apps including Tips, Mail app, Calendar, Messaging, Feedback Hub, OneNote, and much more. Some of those apps are useful, while there are many other apps that most of us rarely or never use. Even worse, there are some hidden apps in Windows 11/10 which we aren't aware of. Such bloatware occupies disk space unnecessarily and you can't uninstall them from the Microsoft Store of Settings app because there is no straight uninstall or remove option available for these apps. Therefore, we need some other ways to uninstall built-in and sponsored apps in Windows 11/10.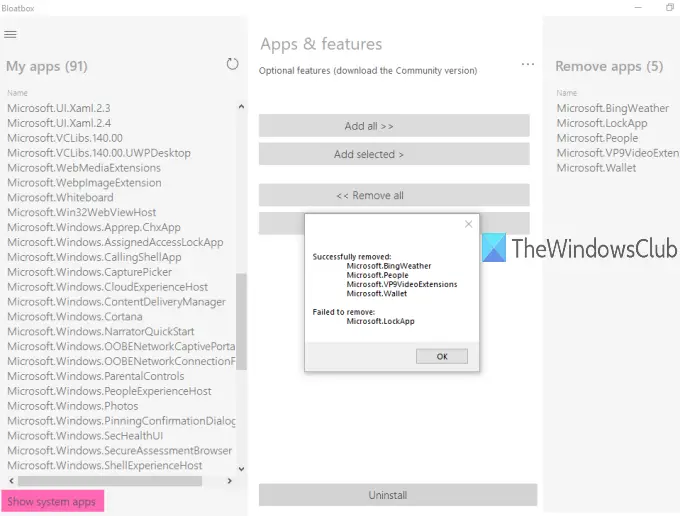 There exist some good third-party crapware removal tools that can help us get rid of built-in and hidden apps from Windows 10. One of such tools is 'Bloatbox'. It is an open-source tool that helps to remove Windows 10 bloatware with ease.
You can first add apps of your choice and then remove all those apps in a click. It is also a portable tool that you can run without installation. Before you use this tool, you should create a system restore point so that you can overcome unwanted changes.
Note: This tool works well but it can't remove a few built-in apps like Microsoft Edge. In such a case, you should use our 10AppsManager freeware or use PowerShell script to remove built-in apps. Also, it may display some hidden apps (like LockApp which displays Lock Screen in Windows 10) but such apps can't be removed too because those are part of the operating system and necessary for Windows0 experience.
The image above shows the tool interface using which I removed some built-apps from my Windows 10 PC.
Bulk uninstall Built-in & Sponsored apps in Windows 11/10
Download the zip file of this Bloatbox tool and extract that archive from the link given towards the end of this post.
After that, go to the extracted folder, and run Bloatbox.exe with administrative privileges. You can do that by right-clicking on the Bloatbox.exe file and using Run as administrator option. If the User Account Control box pops-up, press Yes to run the tool.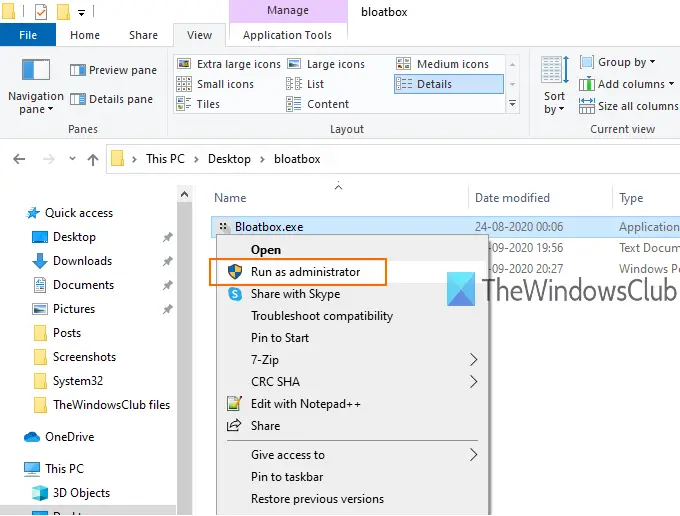 It has a simple interface and there are only three sections. You need to use the left section first. This section shows the list of sponsored/hidden apps.
To view system apps, press the Show system apps button present on the bottom part in that section. Now you can see the total number of apps (My apps list) that you can uninstall. Just select apps of your choice.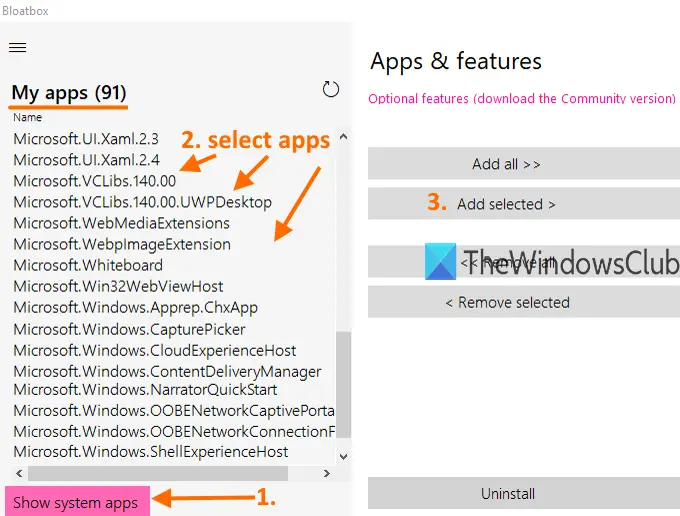 After that, use the middle section, and press the Add selected button. This section also helps to add all the apps to the remove list. However, you should not add all apps to that list as some apps might be useful to you. Even if you have added some apps mistakenly, you can remove all or selected apps from the remove list using the middle section.
Now you can see the list of apps that you need to uninstall in the right section. Again, if some apps are added by mistake, select them, and use the Remove selected button in the middle section to move those apps back to My apps list.
This is the final step. Press the Uninstall button, and sit back and relax. This will silently uninstall those apps and complete the process.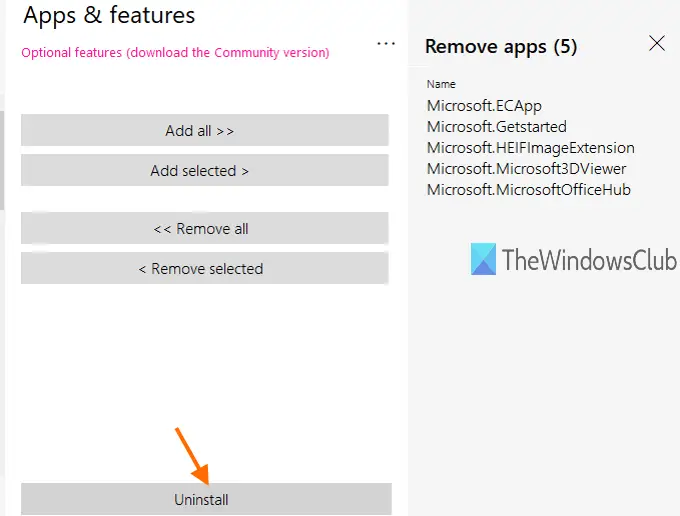 You can follow the above steps to remove more apps.
You can grab this Bloatbox tool here. BloatBox is meant for Windows 10. They offer a tool called JunkCtrl that should be used for Windows 11.
In addition to that, this tool also offers an optional Community version that uses Windows10Debloater PowerShell script to debloat Windows 11/10. If you want, you can download its community version using the link given on the tool interface and run that script. Or else, you can simply use the standard and portable version of this tool and remove Windows 11/10 built-in apps.
This tool is easier to use and can be very helpful to remove sponsored, hidden, and built-in apps from your Windows PC. Just select apps that you don't want or use and get rid of those Windows 11/10 apps with just one click.