Do you find it difficult to press multiple keys at once? Sticky Keys lets you use Shift, Ctrl, Alt or Windows logo keys by pressing one key at a time and make it easier to press multiple keys in Windows. Today we will see how you can use this built-in Windows Accessibility feature and set up Sticky Keys.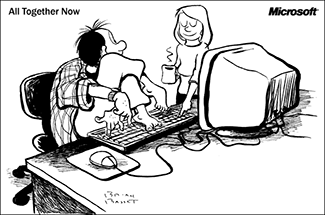 Set up Sticky Keys in Windows 11/10
If pressing CTRL+ALT+DEL is an acrobatic feat, you can turn on and set up Sticky Keys. With Sticky Keys, you can hit one key at a time in a keyboard shortcut. You can even set it to make a noise, so you know it's working. This way, you can press a modifier key and have it remain active until another key is pressed.
You can set up Sticky Keys in Windows 11, Windows 10, Windows 8, Windows 7, Windows Vista or Windows XP.
Press your "SHIFT" key 5 times in a row, and the following box will appear.
Click on Yes to turn on Sticky Keys.
You can also click on the Go to the Ease of Access Center to disable the keyboard shortcut to open its Control Panel settings.
You can also directly access Set up Sticky Keys option via All Control Panel Items > Ease of Access Center > Set up Sticky Keys.
To toggle on or off the StickyKeys feature, the user may again press the Shift key 5 times in a row.
Windows 11 users can also follow the below-listed steps to disable the Sticky and Filter keys: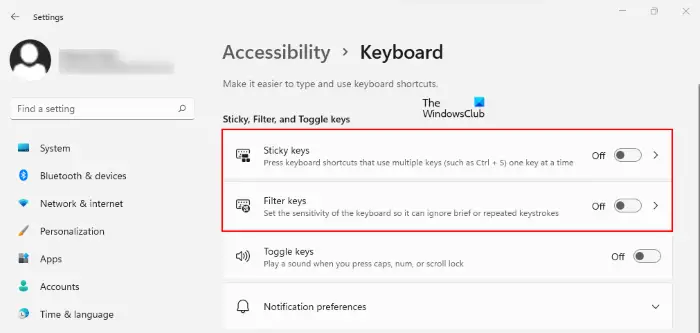 Right-click on Windows 11 Start menu and select Settings.
In the Settings app, select Accessibility from the left pane.
Now, take your cursor on the right side of the page and scroll down till you find the Keyboard tab.
On the Keyboard page, you will find both Sticky keys and Filter keys tabs. Turn off the buttons next to these tabs to disable both of these features.
If you click on the Sticky keys and Filter keys tabs, you will see different options, like keyboard shortcuts for both of these keys, a beep sound when these keys are pressed, etc. If you want, you can also turn off these options.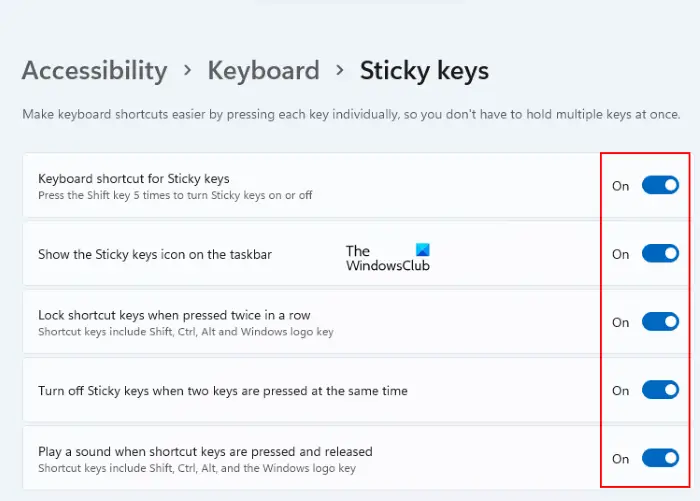 PS: If the Help window keeps opening automatically when you start any program, you may have to disable Sticky Keys.