Does it happen then that whenever you open Explorer.exe or any other software or application on your Windows computer, Windows Help and Support keeps opening automatically? If you are facing this issue, you may want to do two things after you have run your antivirus software and checked for malware.
Windows Help and Support keeps popping up
If Windows Help and Support starts automatically in Windows 11/10, when you open Explorer.exe or in any program, follow these suggestions:
1]  Perform a Clean Boot & Troubleshoot
Perform a Clean Boot and see if the problem goes away or still remains. If the problem goes away, it means that some non-Windows service or entry is causing this issue. This will help you isolate the problem. If the clean boot helped you fix the error, fine! Else in the General tab, also click to clear the Load System Services check box and see.
2] Check your startup programs.
Use Windows 7 MSCONFIG or Windows 10/8 Task Manager to manage them. If you see Windows Help Program or WinHlp32.exe in the startup list, remove or disable the startup program.
3] Turn off Sticky Keys or Filter Keys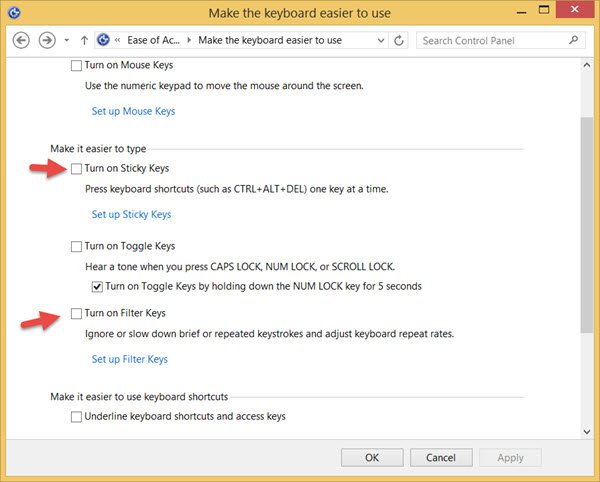 Check if the F1 key, which is the key to bring up the Help file, in your keyboard is working OK and not physically stuck or something.
Also, check if the F1 key has been designated as a Sticky key or Filter Key.
StickyKeys is an accessibility feature that is useful when you need to press and hold down multiple keys at a time. It lets you press one key at a time. Eg. Ctrl, Alt, Del. Just in case some of you are interested, this post tells you how to set up Sticky Keys.
FilterKeys lets you make Windows ignore keystrokes that occur in quick succession or keystrokes that maybe be held down for several seconds.
Open Control Panel\All Control Panel Items\Ease of Access Center\Make the keyboard easier to use and Turn off Sticky Keys and Filter Keys.
4] Disable Windows Search
Disable Windows Search via Control Panel, Registry Editor, or Group Policy.
I hope something helps.
Related: How to Get Help in Windows keeps popping up
If it does not, you may want to restore your Windows computer to a prior good point – and or consider a Refresh or Reset PC operation in Windows 10/8 or a Repair Windows operation in Windows 7.
See this post if Start Menu keeps popping up or opens randomly.
TIP: How to disable Search Results Over Metered Connections may also interest you.